This post may contain affiliate links. As an Amazon Influencer, I earn from qualifying purchases.
There is something alluring about a sweet potato crisped up like a chip, at least my girls thinks so. They will eat sweet potato chips all day long!
For some reason, I haven't gotten around to this baking adventure. But, I took the plunge, bought a mandoline and now I am officially in the chip business. 🙂 (By the way, I love my new gadget and would highly suggest investing in a good one. They are not very expensive.)
First up on the chip baking agenda: sweet potatoes. The whole process is quite easy (although they do take quite a while to cook.) I learned a few tips along the way which might shorten your learning curve. A few nuggets of knowledge plus directions for a cute origami serving cup are detailed below.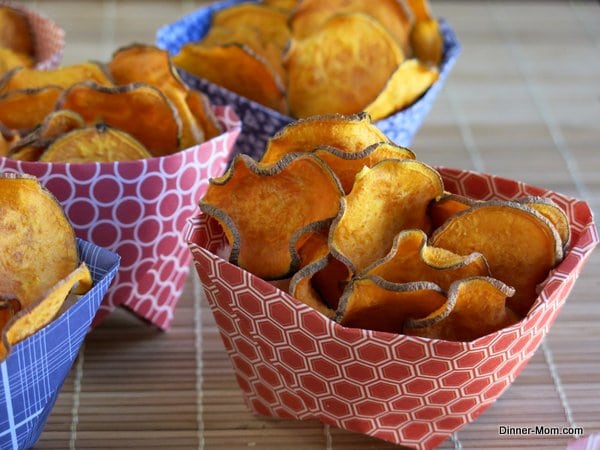 These sweet potato chips won't last long!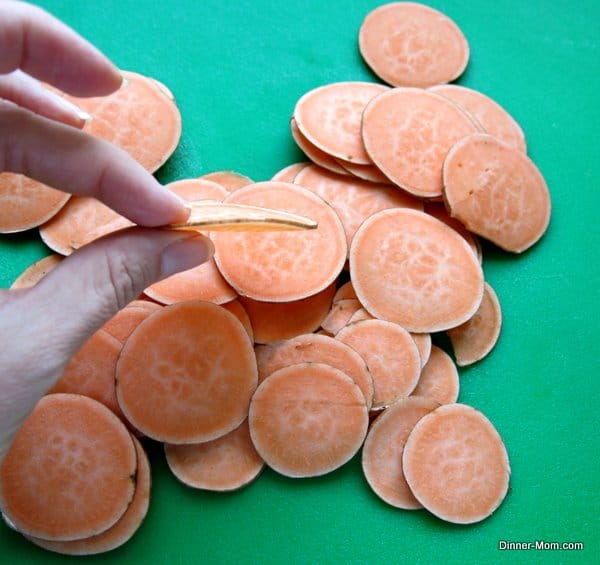 After washing and drying the sweet potato, use a mandoline to cut thin slices. I used a setting of 2, which was pretty thin. It is difficult to get thin and even slices with a knife...but, that's an option too.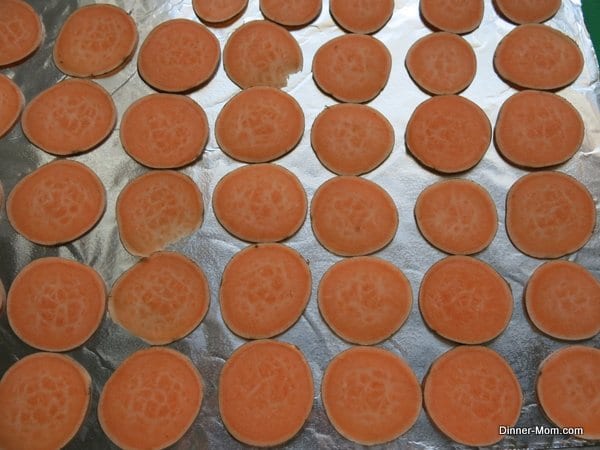 Next, lay the slices out on a baking sheet that is lightly covered with cooking spray. (Every time I did this step it reminded of a memory game where you turn two cards over at a time and tried to get a match!)
I used an insulated baking sheet specially made for cookies. Once I put some overflow slices on a light brown baking pan and they promptly burned.
Lightly coat the sweet potato slices with olive oil using a pastry brush. (And, I do mean lightly.)  Sprinkle a little sea salt over the slices. (I didn't use much at all.) Bake them in a 225 degree oven for 1 ½ to 2 hours. (Yes, you read that right!)
Experiment with the temperature, if you dare. I tried a batch at 250 degrees, but some of the chips browned too quickly and the total cook time didn't change much. But, the 225 degree temperature worked every time in my oven.
The downside of making your own sweet potato chips is that it takes a lot of oven. It took 3 cookie sheets for one large sweet potato. I put the two racks in the middle of the oven, a few inches from each other, and cooked all 3 cookie sheets at once on the two different levels with no problem at all. I did switch the bottom pan to the top once during the cooking process, just to be sure.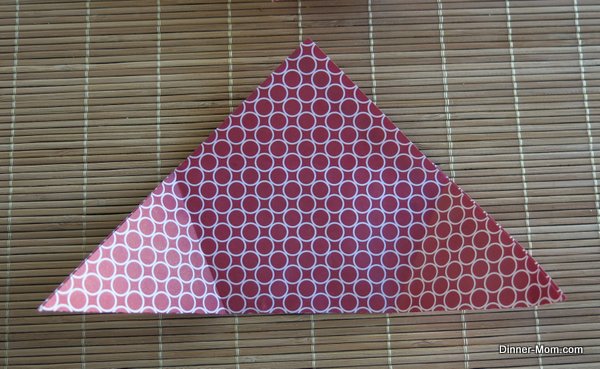 While the chips are cooking you will have plenty of time to dream up creative ways to serve them. In a pretty cupcake liner? Scattered next to Healthy Warm Artichoke Dip? Possibly in a cute little origami cup?
Remember those? A square piece of paper is transformed into a cup that can magically hold water.
Follow these easy steps: Fold the paper in half to form a triangle.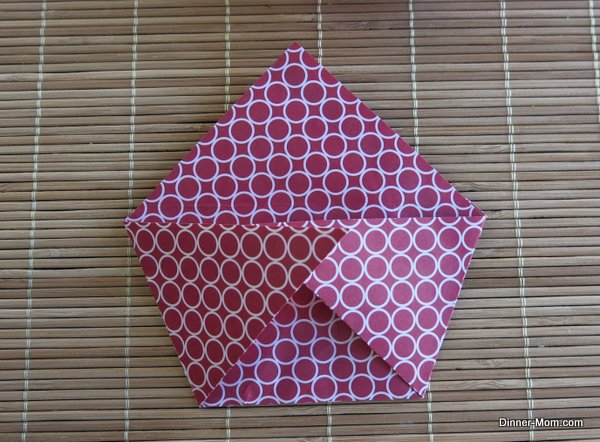 Fold the two side points to the middle.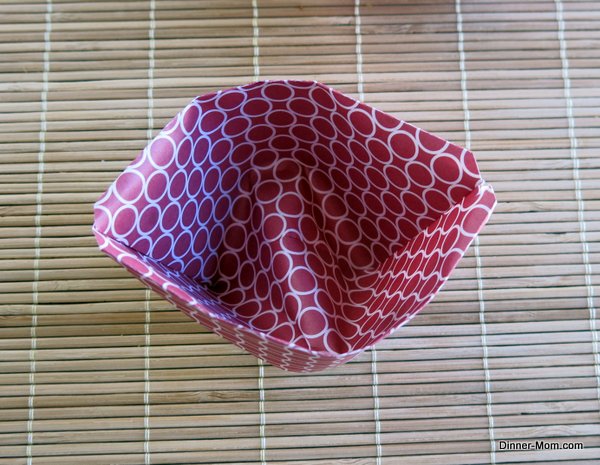 Fold the top flaps down. Now open the cup and give it a nudge...the bottom will pop up a bit and the cup will stand by itself...like magic.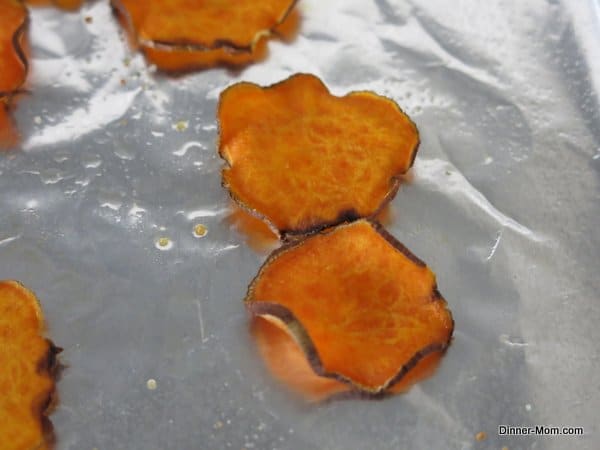 Meanwhile, keep an eye on the chips while they are cooking. I checked them at one hour and flipped each one over. I then began checking the progress every 15 minutes or so. The cooking time will differ  depending upon the thickness of the sweet potato slice, the individual oven and amount of oil brushed on the sweet potato slice.
These are looking pretty good, firm and just starting to curl at the edges.
After about 1 ½ hours, a nice bowl of sweet potato chips! As long as your home for a few hours, it sure doesn't hurt to have a batch of these in the oven!
📋 Recipe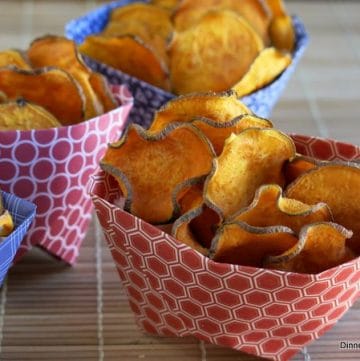 Baked Sweet Potato Chips
Sweet potato slices are perfectly crisped in the oven and ready for dipping, topping or snacking away. Easy to make with these tips and tools.
Email Ingredients + Recipe
Print
Pin
Rate
Ingredients
2

medium sweet potatoes

1

Tablespoon

olive oil

Sea salt
Instructions
Place oven racks in the middle two levels, right next to each other.

Wash and dry sweet potatoes.

Thinly slice potatoes with a mandoline (setting of 2) or knife.

Place potatoes in a single layer on a baking sheet coated with cooking spray.

Use a brush to lightly coat potatoes with olive oil.

Lightly season with sea salt.

Bake in oven for 1 ½ to 2 hours, flipping potato slices at 1 hour and checking for doneness every 15 to 20 minutes after the one hour mark. Cook until slices are crisp, not burnt, and lightly curled at the edges.
Notes
Store sweet potato chips in an air tight container for several days, if you have any left!
Grab 5 Low-Carb Sauces
and get more easy, healthy recipes! JOIN HERE
Nutrition
Calories:
86
kcal
|
Carbohydrates:
13
g
|
Protein:
1
g
|
Fat:
3
g
|
Sodium:
35
mg
|
Potassium:
219
mg
|
Fiber:
1
g
|
Sugar:
2
g
|
Vitamin A:
9220
IU
|
Vitamin C:
1.6
mg
|
Calcium:
19
mg
|
Iron:
0.4
mg
Nutritional and Food Safety Disclaimer
If you are counting, no points! (Okay...maybe 1 for the olive oil depending upon how many you eat.)

Enjoy!