I wondered…is it possible to make tasty, stevia-sweetened fruit salsa and cinnamon chips without anyone knowing that table sugar is not involved?
Yup…you sure can. Blueberries, apples, strawberries and kiwi fruit are lightly glazed and served on tortilla chips sweetened with a stevia/cinnamon mixture.
Could you use regular sugar instead? Absolutely.  But, I was wearing my sneaky, healthy mom hat (not to mention I was going for low WW points.)
Not sure your peeps will buy it? Then, just replace part of the sugar with stevia…every little bit makes a difference. You can hop down to the full recipe at the end of the post or see the details below.
Fruit Salsa and Cinnamon Chips Step-by-Step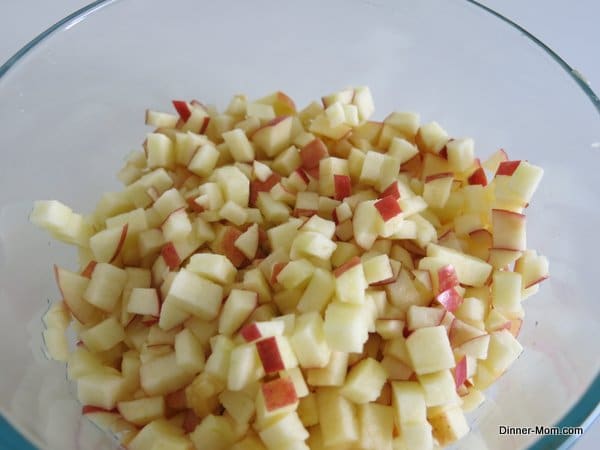 The key to making this mixture salsa-like is cutting the fruit into very small pieces.  Use nice, crisp apples to extend the life of the salsa.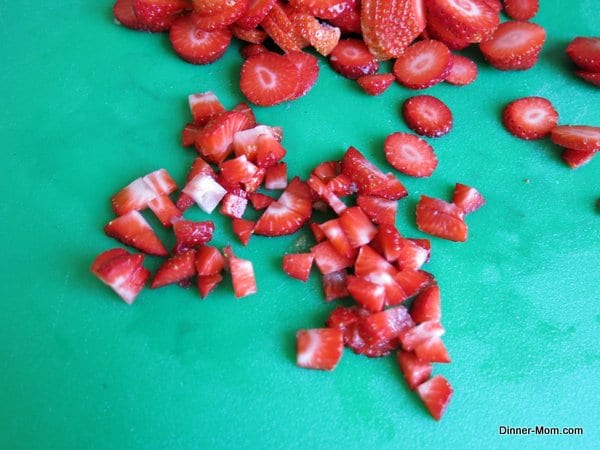 Ditto for the strawberries.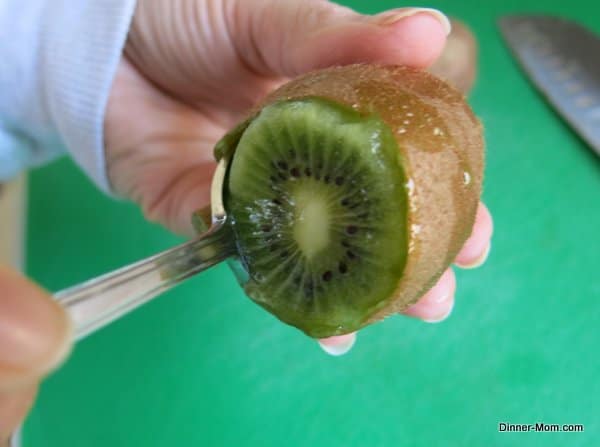 Next, dice the kiwi. Here's a neat trick for peeling this delectable little tropical fruit.
Cut each end off the kiwi fruit. Slip a spoon between the skin of the kiwi and the flesh and slide it all around the edge. I did this very gingerly. But, it was very easy to do.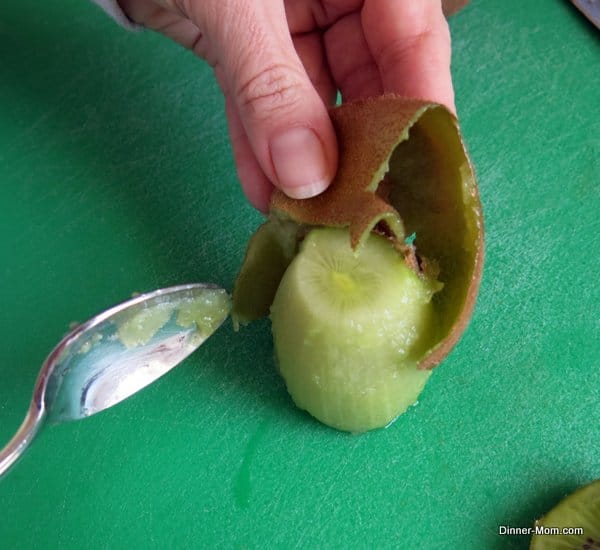 Like magic, the peeled kiwi fruit will drop from the skin. Dice it in small pieces too.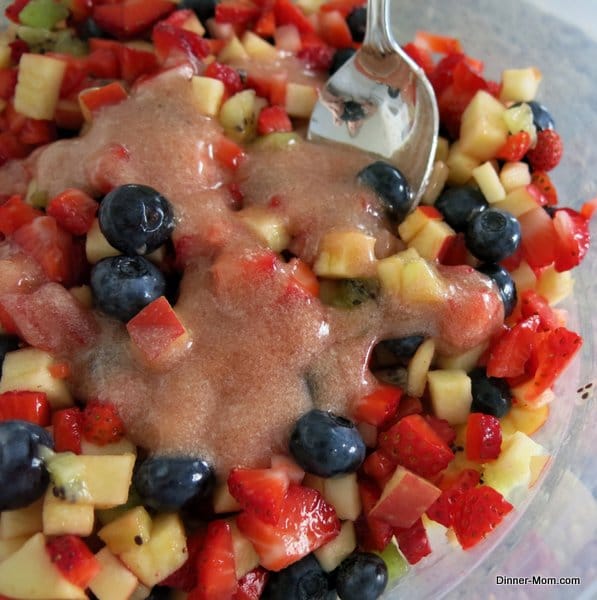 Stir all the diced fruit in a big bowl and add the blueberries. To make the glaze, combine equal amounts of jam and stevia. I used Smucker's Strawberry Simply Fruit and Stevia Sweetener Bakeable Blend.  Agave nectar would also be a good option.
The salsa will become juicier over time, so I started with a small amount of sauce.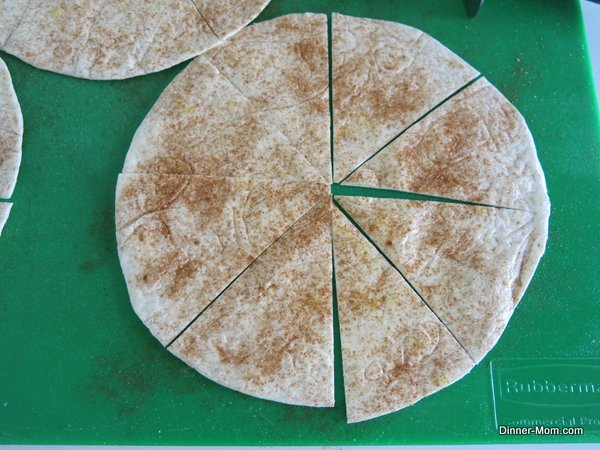 To make the chips brush the tortillas with melted butter. I used a vegan substitute to keep everything dairy and soy free. Combine 1/4 cup of a bakeable stevia blend with 1 tablespoon of cinnamon. Sprinkle the cinnamon mixture over the tortillas and then cut the tortilla into wedges (a pizza cutter makes quick work of this task.) Bake the wedges in a 350 degree oven until crisp, about 8 – 9 minutes.
A word on sweeteners…a stevia bakeable blend, and there are several good brands out there, seems to work best when sprinkling.
Fruit salsa and cinnamon chips. Absolutely yummy!
I first saw this recipe at The Girl Who Ate Everything who in turn found it in Allrecipes.
Thanks for inspiring this adaptation!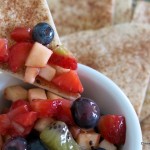 Fruit Salsa and Cinnamon Chips – Stevia Sweetened
Blueberries, strawberries, apple and kiwi are finely diced and coated with a stevia-sweetened glaze. The tortilla chips are dusted with a stevia-cinnamon blend too!
Ingredients
2

apples

diced small

1

quart

strawberries

cored and diced small

1

pint

blueberries

2

kiwi

peeled and diced

2

Tablespoons

strawberry spreadable fruit or jam

2

Tablespoons

+ 1/4 cup Stevia Bakeable Blend

divided

1

Tablespoon

cinnamon

2

Tablespoons

butter or vegan spread

melted

8

flour tortillas

8-10 inch size
Instructions
Preheat oven to 350 degrees.

Combine prepared fruit in a large bowl.

Mix spreadable fruit and 2 Tablespoons Stevia Bakeable Blend together.

Pour sauce over fruit and stir to glaze the fruit.

Use a pastry brush to coat one side of tortillas with melted butter.

Combine 1/4 cup Stevia Bakeable Blend with cinnamon, preferably in a shakeable container.

Sprinkle cinnamon-stevia blend over tortillas.

Cut tortillas into wedges using a pizza cutter.

Place wedges on a non-stick baking sheet.

Cook tortilla wedges for about 8-9 minutes or until crisp.

Enjoy!
Recipe Notes
Replace all or part of the stevia with sugar if desired. Best when made and served the same day!
Do you have a favorite combination for fruit salsa and cinnamon chips?