Chicken Meatloaf Stuffed Peppers have a cheesy, healthy filling that your family will beg for! We'll show you all the tricks to make them fast so you can put them on repeat.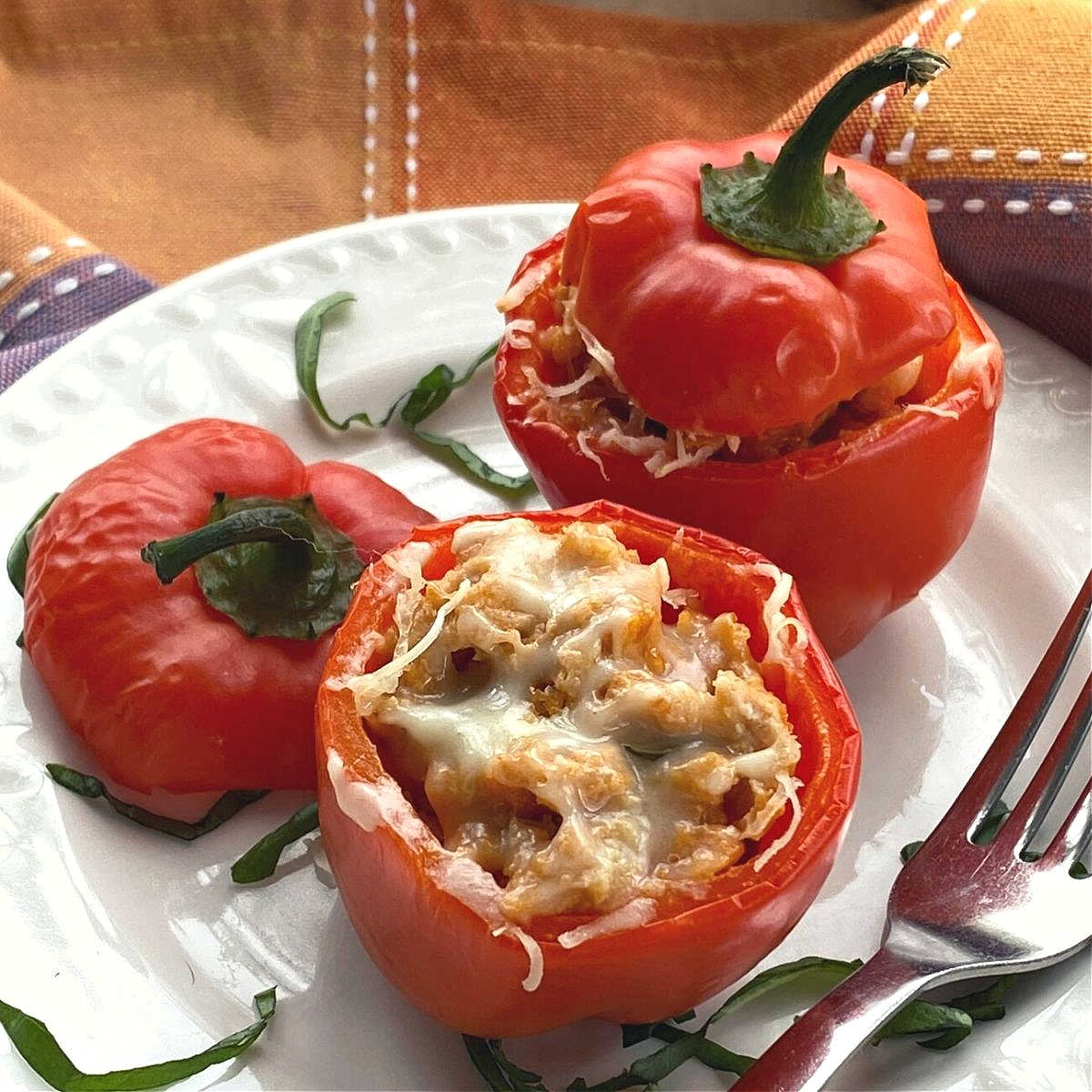 You may have seen ground chicken stuffed peppers in the fresh meat section at the grocery store. They're all the rage at Publix. They're also a popular make ahead and freeze recipe. Our family-friendly version is naturally lower in carbs and gluten-free.
While we never made them at our stores, I have been using our cheesy ground chicken meatloaf recipe to make all types of variations:
Using baby bell peppers - so cute and would be perfect for young kids or as an appetizer.
Using uncooked meat - freeze some for later.
Using leftover meatloaf- super fast and easy to make.
Jack-O-Lanterns - much easier than carving a pumpkin!
My mantra: keep healthy meatloaf in the freezer and you always have a dinner plan. It's so easy to transform it into something totally new!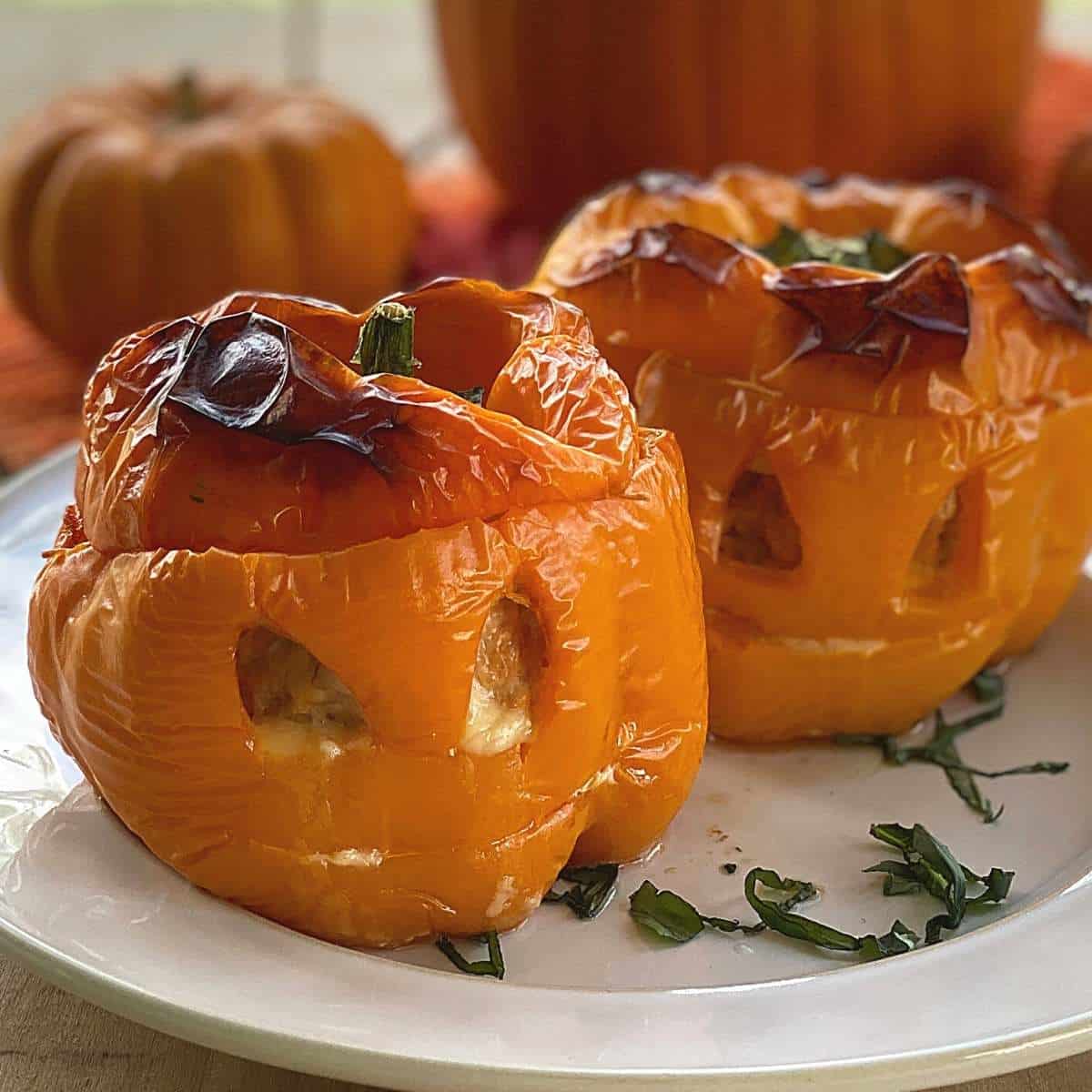 Ingredients and Variations
If you have some meatloaf tucked in the freezer, then this recipe becomes a 3 ingredient dish! If you don't, here's what you'll need:
Bell peppers - Green, yellow, orange, red or any color in between! The color changes as they ripen and so does the taste. Green peppers are bitter and red ones are the sweetest. But, the yellow and orange ones are THE BEST in my opinion. Both standard-sized and baby bell peppers will work. But, you will need to adjust the cooking time.
Ground chicken - Ground chicken does not give off much fat while it cooks so you won't have to deal with excess liquid. I usually use ground chicken breast and turkey would work as well. I have not tried it with ground beef. If you try this variation, poke a little hole in the bottom so there is a place for the juices to run out.
Meatloaf mix-ins - the rest of the ingredients: oatmeal, mozzarella cheese, Parmesan cheese, ketchup, egg, and basil. Substitute breadcrumbs for oatmeal if desired.
Other meatloaf variations to try:
And, if you want to use beef instead, check out Meatloaf Stuffed Peppers by Mostly Homemade Mom!
How to Cut Bell Peppers for Stuffing
Traditionally, stuffed peppers have the top cut off. But, they can also be cut in half through the stem. It takes less time to cook them the second way!
Either way, use a paring knife to remove the white center and seeds. If the bottoms are uneven and you want them to stand upright, just slice off a little bit!
The tops can be used or discarded.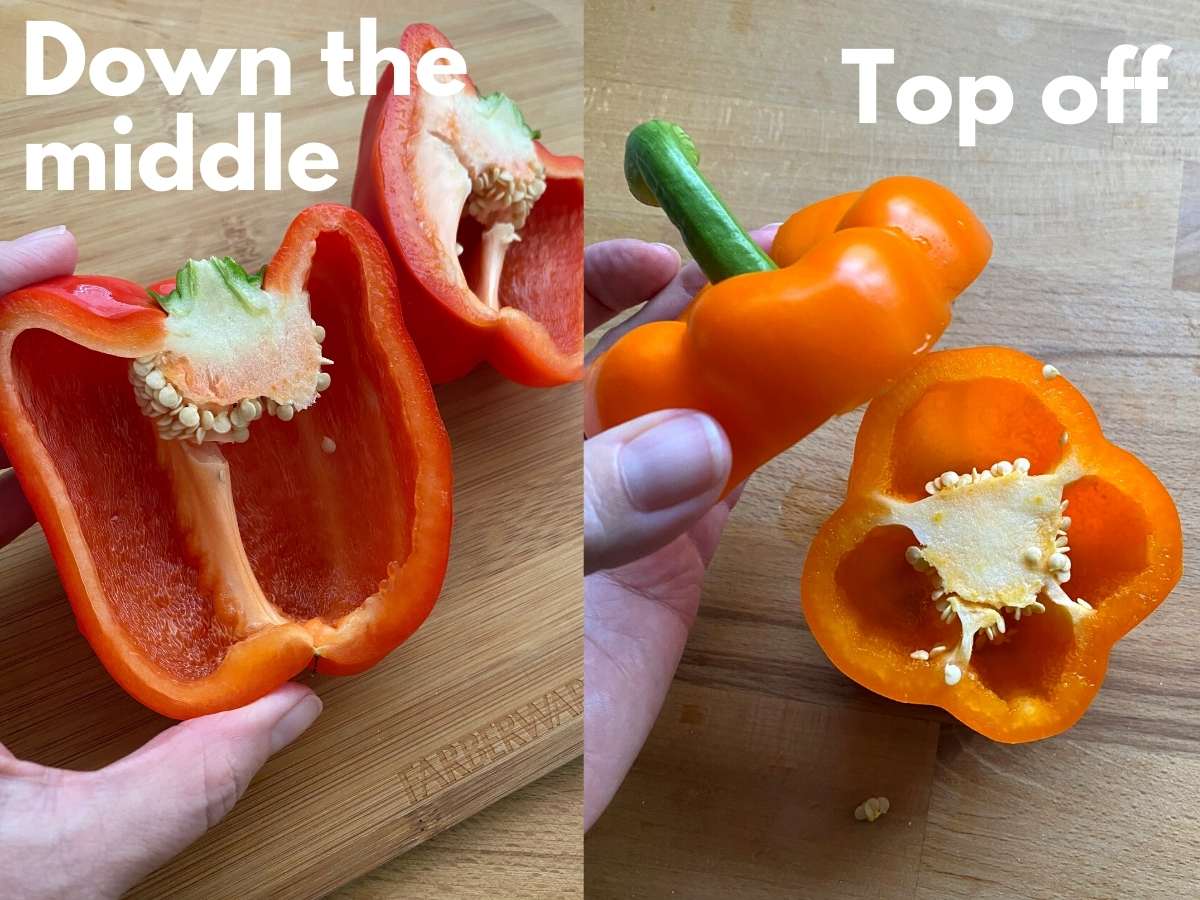 How to Soften Bell Peppers
Take this extra step to soften the peppers before you stuff them, particularly if the peppers have a short cook time. Otherwise, they may be a little too crisp. The cooking time will be cut in half if you use baby bell peppers, cut the pepper in half through the stem, or start with cooked meatloaf.
It's very easy to do. Bring a pot of water to a boil and add the peppers (and tops if you're using them) so they are covered. Boil for about 3 minutes and then remove with tongs.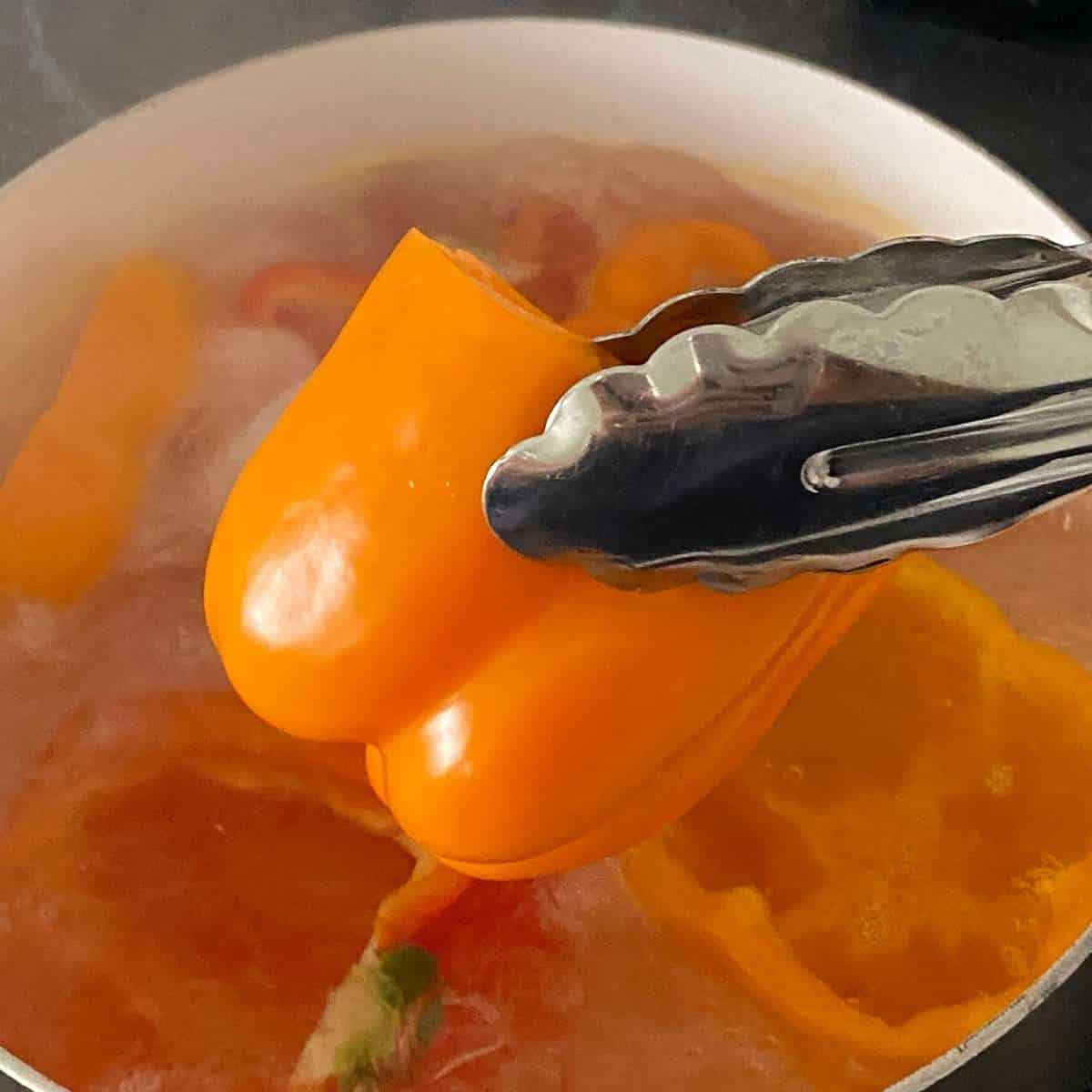 Cooking Time Variations
The cooking time varies depending upon the type of pepper, how it's cut, and whether the meat is cooked. As always, we suggest using a meat thermometer to achieve the perfect result. The internal temperature should be 165 °F.
All of these times are approximations for cooking the stuffed peppers at 350 °F. The exact time will vary depending upon your stove.
Standard Bell Pepper, top cut off, uncooked meat: 50 minutes
Standard Bell Pepper, top cut off, cooked meat: 30 minutes
Standard Bell Pepper, cut in half through lengthwise, uncooked meat: 30 minutes.
Standard Bell Pepper, cut in half lengthwise, cooked meat, 20 minutes.
Baby Bell Peppers, top cut off, uncooked meat 30 minutes.
Baby Bell Peppers, top cut off, cooked meat 20 minutes.
It will also take a few extra minutes if you cook with the top on!
Low-Carb Tips
Make this recipe even lower in carbs with these adjustments:
Use sugar-free ketchup.
Replace oatmeal with low-carb breadcrumbs. One option is to make your own using one of the no-carb loaves of bread.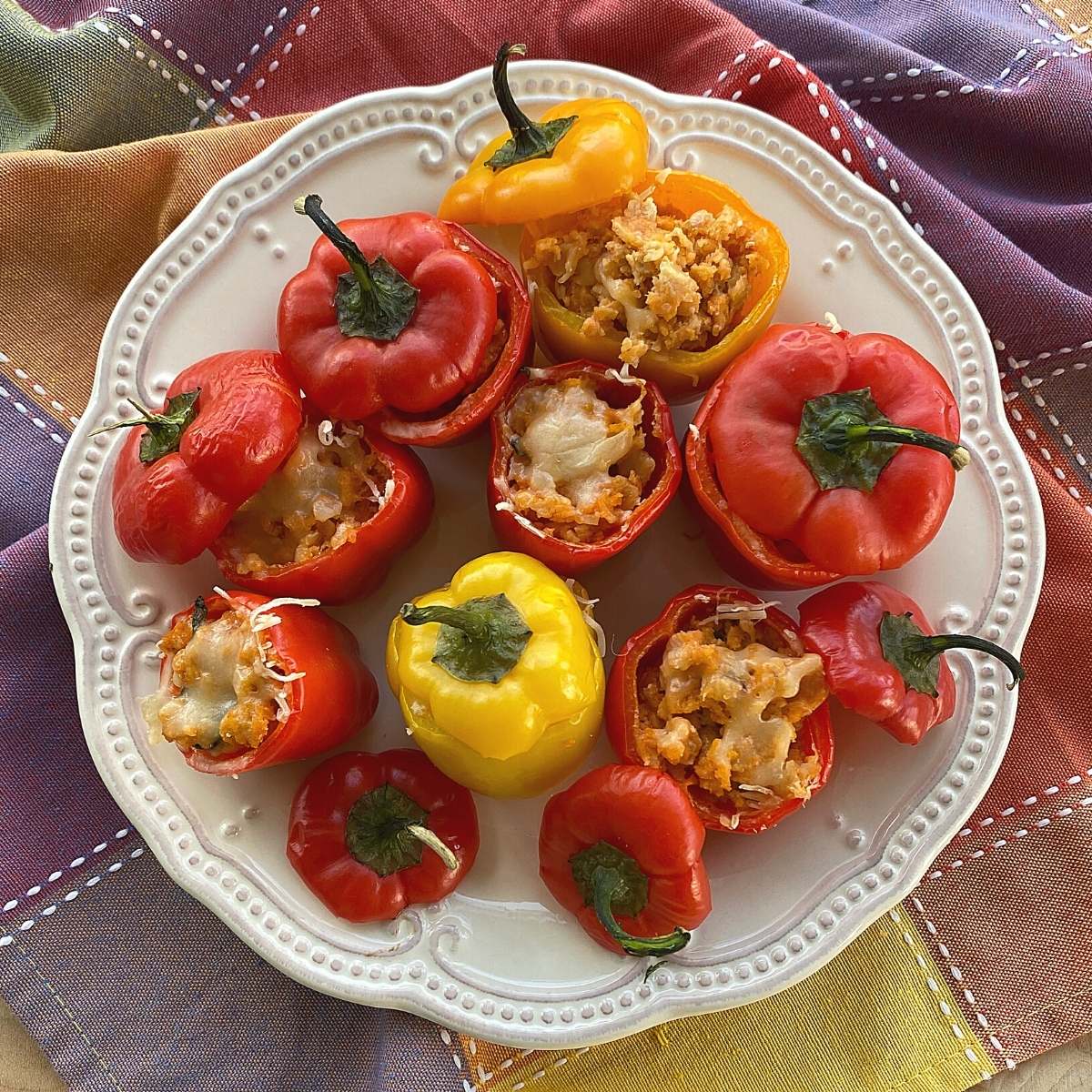 Make-Ahead and Freezer Tips
Peppers are very freezer friendly and so is meatloaf. So, you better believe that these chicken meatloaf stuffed peppers are too!
Soften the peppers, fill them, and then place them in a casserole style dish or tin. Cover the dish with aluminum foil and then wrap it in plastic wrap. Be sure to label it!
For the best quality, enjoy them within 2 months of freezing. Remove them from the freezer to the refrigerator to defrost overnight and then cook as you normally would.
Are you ready to sit down and devour these Chicken Meatloaf Stuffed Peppers? It's easy! Just use a fork and knife. The tender sides of the pepper are easy to cut. So enjoy!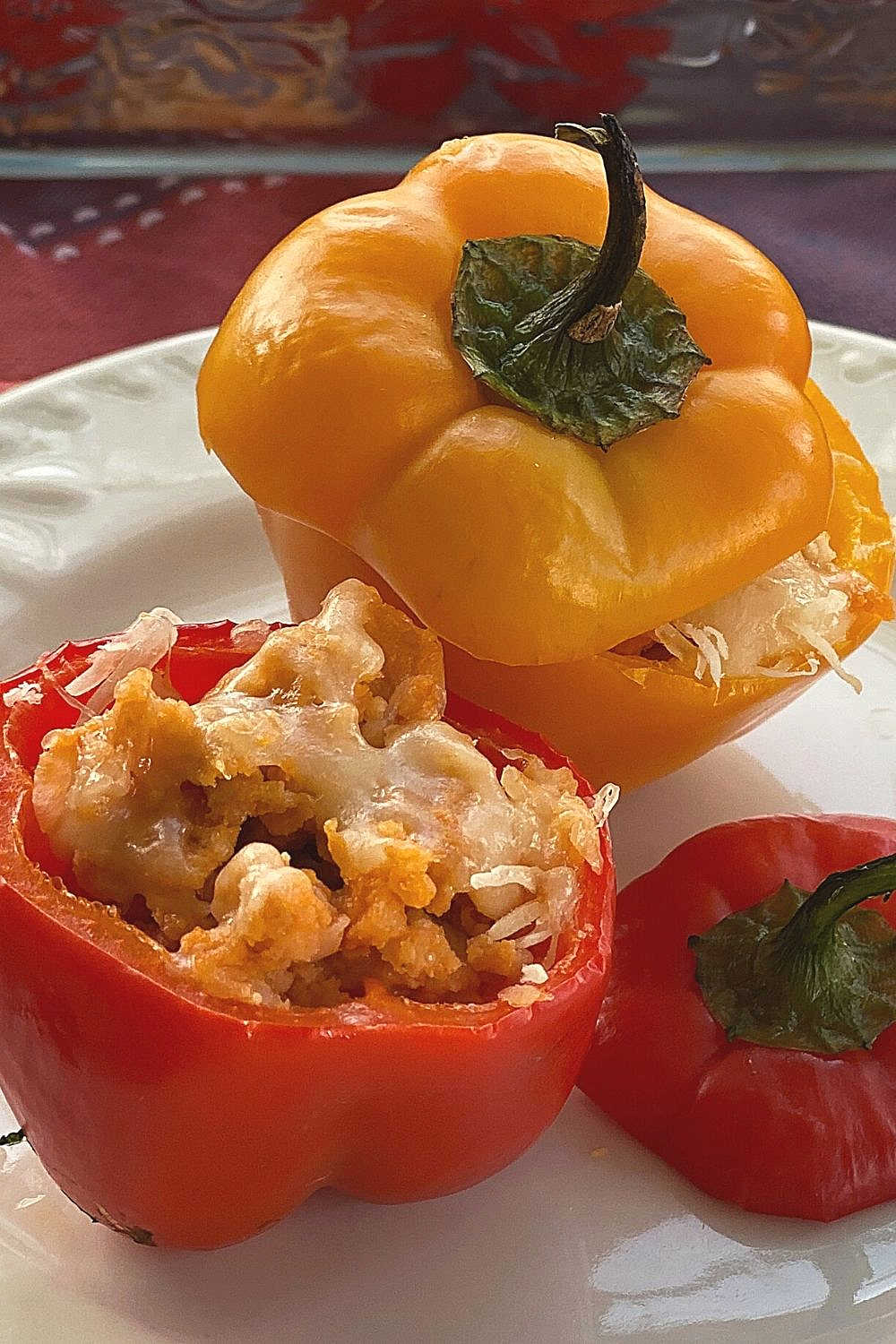 Did you make this recipe?
Please leave a rating and tell us how you liked it!
📋 Recipe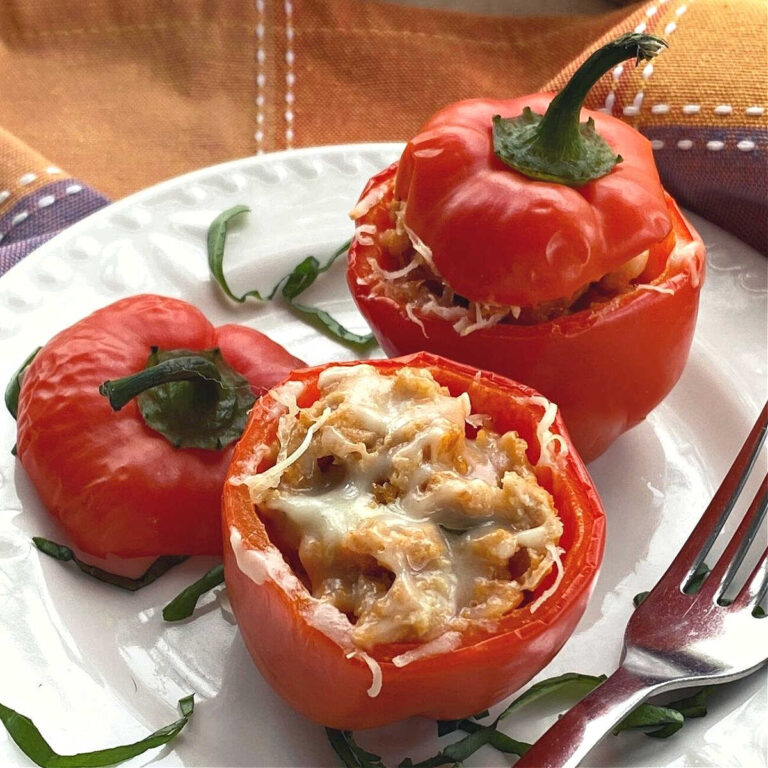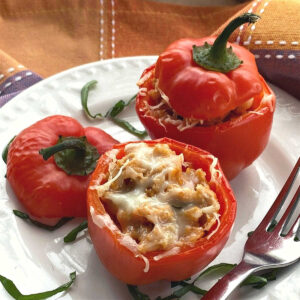 Chicken Meatloaf Stuffed Peppers
Chicken Meatloaf Stuffed Peppers have a cheesy, healthy filling that you're family will beg for!
Print
Pin
Rate
Ingredients
6

bell peppers, large

cut in half lenthwise, seeds removed; see notes for variations in how to cut and impact on cook time.

½

cup

oatmeal

or breadcrumbs

1 ½

cups

mozzarella cheese

shredded; divided, ⅕ cup reserved for top

½

cup

Parmesan cheese

grated

½

cup

onion

diced, about ½ medium-sized onion

2

teaspoons

dried basil

¼ cup fresh basil

½

cup

ketchup

1

egg slightly beaten

1

pound

ground chicken
Instructions
Bring a large pot of water to a rolling boil. Add cut peppers with seeds removed to the pot and boil for about 3 minutes.

Using tongs, drain and then remove peppers from the pot to a baking dish.

If using leftover meatloaf, then simply crumble meatloaf with a fork in a bowl and skip steps 5, 6, and 7.

Combine oatmeal, 1 cup mozzarella cheese, Parmesan cheese, diced onion, and basil in a large bowl. Mix these ingredients together before adding the ketchup and egg.

Add ketchup and egg to the bowl and mix to thoroughly combine. It's easier to evenly distribute all of the ingredients if you mix the ingredients in this order.

Add ground chicken and mix just until combined. Don't overmix though or the chicken will toughen while cooking.

Scoop ½ cup of the chicken mixture into each pepper with the tops cut off. If the pepper has been cut lengthwise, then use ¼ cup. Baby bell peppers generally take about 2 Tablespoons each to fill.

Top with additional cheese and the top of the pepper if you're using it.

Bake uncovered for 30 minutes or until the internal temperature reaches 165 °F.  The exact cook time will vary based upon the way you cut the peppers, how big they are and whether or not the meat has been cooked first. See notes below on timing. It will take about 30 minutes for peppers cut in half through the stem and when the meat it already cooked.

Allow stuffed peppers to cool for a few minutes and enjoy!
Notes
Expert tips and helpful information in this post:
Jump to:
Grab 5 Low-Carb Sauces
and get more easy, healthy recipes! JOIN HERE
Nutrition
Calories:
315
kcal
|
Carbohydrates:
17
g
|
Protein:
25
g
|
Fat:
16
g
|
Saturated Fat:
7
g
|
Cholesterol:
120
mg
|
Sodium:
553
mg
|
Potassium:
790
mg
|
Fiber:
3
g
|
Sugar:
10
g
|
Vitamin A:
4122
IU
|
Vitamin C:
154
mg
|
Calcium:
273
mg
|
Iron:
2
mg
Nutritional and Food Safety Disclaimer