Make Crock-Pot Butternut Squash if you need a smooth and creamy butternut squash puree. You don't need to peel the skin first or risk a finger to cut it in half.
Just plop it in a slow cooker and let the magic happen!
This guide provides information on the slow cooker cooking method, how to store butternut squash in the freezer or refrigerator and links to our favorite recipes!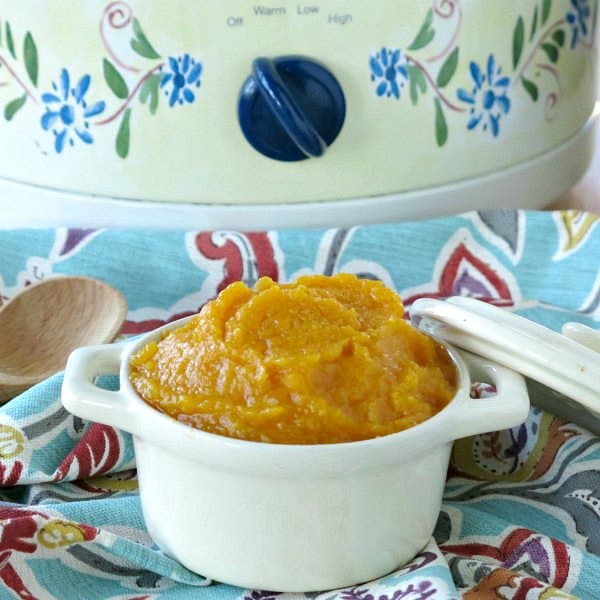 Sometimes you need roasted cubes of butternut squash to make things like Butternut Squash and Spinach Quesadillas or Butternut Squash Pizza. 🙂
But, if you want to make Butternut Squash Soup, add it to mac and cheese...or make unprocessed, all natural baby food, then using the slow cooker is definitely the method you want to use.
How to Cook Crock-Pot Butternut Squash
Place the entire butternut squash in the crock-pot. Close the lid, set the timer and walk away. It just doesn't get any easier than that!
After about 4 hours on high or 6 on low, the squash is tender and easy to work with.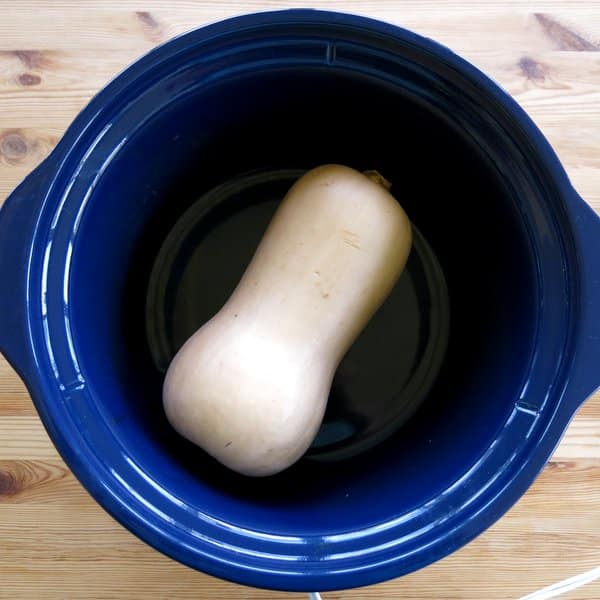 FAQ About Cooking Whole Butternut Squash in a Crock-Pot
Some things you might be pondering:
Rinse the outside flesh, just like you would do with any vegetable before cutting it.
You don't need to poke holes in the outer flesh of the butternut squash. However, always follow the directions that come with your crock-pot. If you are concerned go ahead and stab it a few times. It will still work.
No need to add water to the crock-pot either. As the butternut squash cooks, a little liquid is released.
Butternut squash is done when a fork easily pierces the outer flesh.
Cook time is about 3-4 hours on high and 4-6 hours on low.
The cook time is very forgiving. An extra hour does not negatively impact the final result.
Butternut squash will be VERY hot and soft when it's done. Turn off the slow cooker and allow it to cool.
Use washable oven mitts to lift the squash out of the crock-pot to a nearby plate. Or...use a crock-pot liner.
You can cook more than one butternut squash at a time. But, don't stack them.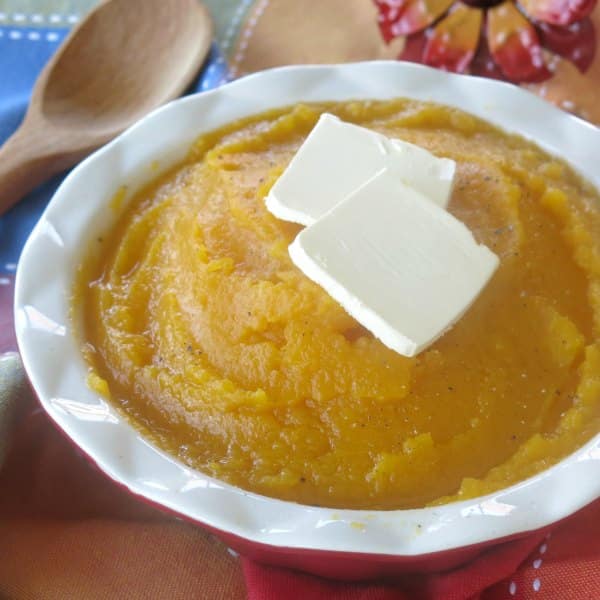 How to Make Butternut Squash Puree
Once the butternut squash is cool, it's time to make a puree. First, spoon out the smallish section with seeds. Discard this portion or save the seeds to roast.
Use a spoon to gently scrape the soft flesh from the skin. I found it best to keep each half on a flat surface and spoon out portions without going to deep the first time. In other words, this process is much different than the way you remove the strands from spaghetti squash.
Once you've removed all the flesh, you're done. If desired, pulse the flesh in a food processor or use an immersion blender to make it perfectly smooth. I'm always pretty satisfied with the consistency.
In my experience, a two pound Butternut Squash yields 3 cups of puree.
It's ready to be used in a recipe!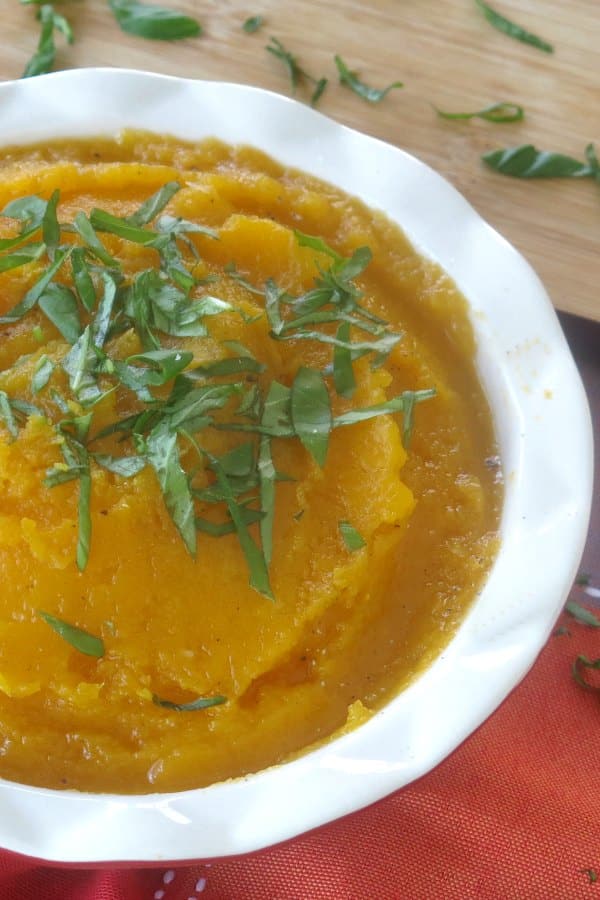 How to Store Butternut Squash Puree
Butternut squash will stay fresh in the refrigerator for about 5 days. Keep it in an air-tight container or bag. This storage time applies to pureed or cubed butternut squash.
By the way, raw cubes of butternut squash will stay good in the refrigerator for about 5 days too!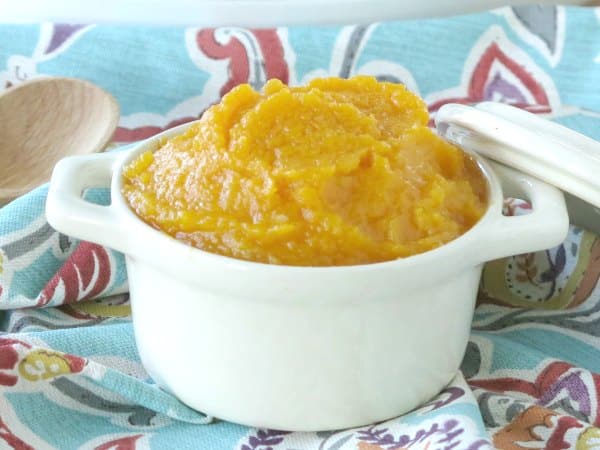 How to Freeze Butternut Squash Puree
Butternut squash that has been properly frozen is safe to eat for about 6 months. However, we recommend using it within 2-3 months for the very best taste.
Store it in portion sizes that you might need. We suggest ½ cup portions. To do this, fill a muffin tin, plastic containers, or a plastic bag with puree and freeze it.
When you are ready to use the frozen butternut squash, remove it to the refrigerator to defrost overnight.
Or, microwave it. The amount of time will depend on the size of the frozen container. As a rule of thumb, a ½ cup of frozen butternut squash puree takes about 1 minute to defrost in the microwave on high. Stir and cook at 30 second intervals after that until warmed through.
We fill up a muffin tin with puree and then transfer it to a plastic bag once it is frozen.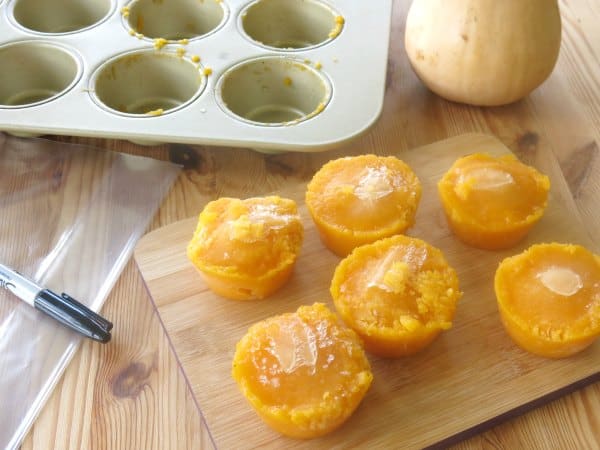 Recipes that use Crock-Pot Butternut Squash Puree
With some butternut squash in the refrigerator or freezer, you can enjoy favorite fall recipes quickly and easily.
Soups are generally finished in under 30 minutes when the main step is out of the way. We used used this very technique to make Spicy Butternut Squash Soup.
Video: Crock-Pot Butternut Squash Puree
It's the easiest slow cooker recipe you'll ever make!
You might also like: We use a similar technique to cook spaghetti squash whole in a slow cooker or oven.
Please rate this recipe and tag @DinnerMom or #DinnerMom on social media. We love to see what you are cooking up!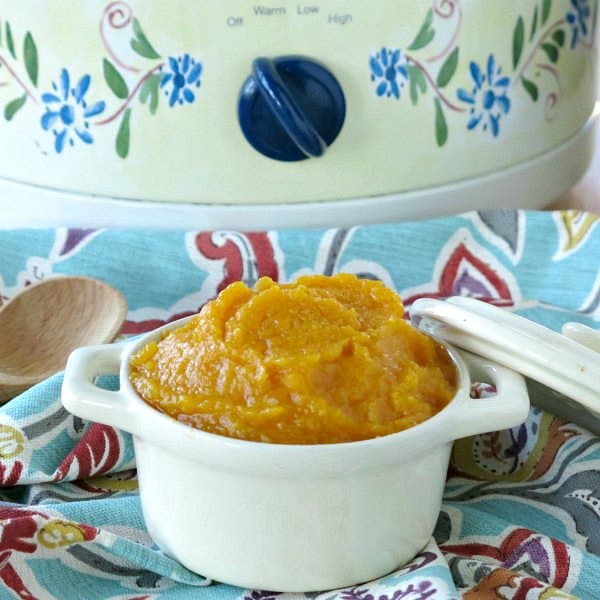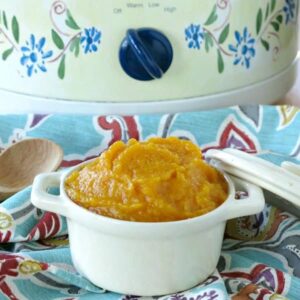 Crock-Pot Butternut Squash Puree
How to Cook Butternut Squash in a crock-pot and make a creamy butternut squash puree. Don't peel it or cut it in half first. Just drop the whole squash in the slow cooker and let the magic begin!
Print
Pin
Rate
Ingredients
2

pounds

butternut squash
Instructions
Wash outside of butternut squash.

Place the whole butternut squash in the slow cooker and cover with lid.

Cook on high for 3-4 hours or low for 4-6 hours or until a fork is easily inserted into the flesh.

Allow squash to cool for about 10 minutes and then carefully remove butternut squash from crock using washable oven mitts.

Cut butternut squash in half, remove and discard seeds.

Scrape flesh into bowl and stir. If desired, use a food processor or immersion blender to achieve a thinner consistency.

Season with salt and pepper enjoy, use in another recipe or freeze for later use.
Notes
Makes about 6 half cup servings
Be mindful of the size of the butternut squash as compared to your slow cooker. If necessary the tip of the butternut squash can be cut off to allow it to fit.
Grab 5 Low-Carb Sauces
and get more easy, healthy recipes! JOIN HERE
Nutrition
Calories:
31
kcal
|
Carbohydrates:
8
g
|
Sodium:
2
mg
|
Potassium:
246
mg
|
Fiber:
1
g
|
Sugar:
1
g
|
Vitamin A:
7440
IU
|
Vitamin C:
14.7
mg
|
Calcium:
34
mg
|
Iron:
0.5
mg
Nutritional and Food Safety Disclaimer