This post may contain affiliate links. Please read my disclosure.
If you know how to rice broccoli and freeze it, then you can easily make all the healthy, low-carb, and gluten-free recipes that are made with cauliflower. 5-minute stove-top broccoli rice is just one delicious option!
We've pulled together a complete guide to "ricing" broccoli and making bags for the freezer. It will save you time when you're ready to make dinner and it will also save you money.
Spoiler alert: You don't need to blanch broccoli rice before you freeze it either!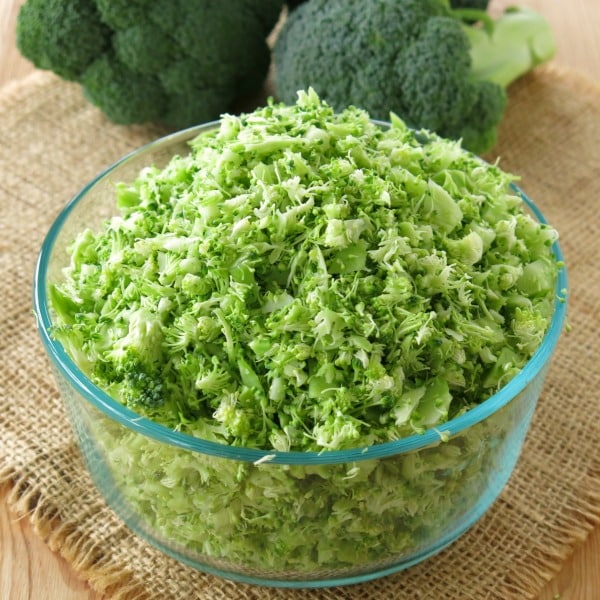 Riced broccoli was introduced at our house by way of Broccoli Muffins. Much like Cauliflower Muffins, they were a big hit!
That's because even self-proclaimed broccoli haters are hard-pressed to resist a cheesy egg muffin that happens to have finely chopped broccoli in it. And, that's exactly what this newish presentation of broccoli is all about.
Changing the look of broccoli is a sneaky way to incentivize my crew to eat more of this cruciferous vegetable. And, it's a grain-free way to enjoy things like pizza for my ketogenic friends.
Does the end justify the trickery? I say yes!!!
Don't even get me started on how quickly it cooks. It might take 20 minutes to make whole grain rice, but it takes just a few minutes to warm broccoli rice on the stove.
Here's what you need to do to start incorporating riced broccoli into your diet and recipes right away:
How to Prepare Broccoli for Ricing
Rinse and dry broccoli as you normally would before cooking it.
Tip: Dry broccoli really well. If there is a little extra liquid on the florets when you start processing, it tends to make the rice creamy and the final result should be fluffy.
Next, cut the florets from the stalks.
Can you rice broccoli stalks?
Broccoli stalks are completely edible. In fact, we use them to make "ribbons' in Broccoli Stalk Salad. So, rice the stalks if desired. They will have a firmer texture than the florets, so only add them to the mix if desired.
To prepare the stalks, remove the knobby pieces that stick out and remove the tougher outer layer of the stalk with a paring knife or a vegetable peeler.
Cut the stalks into segments before adding them to a food processor.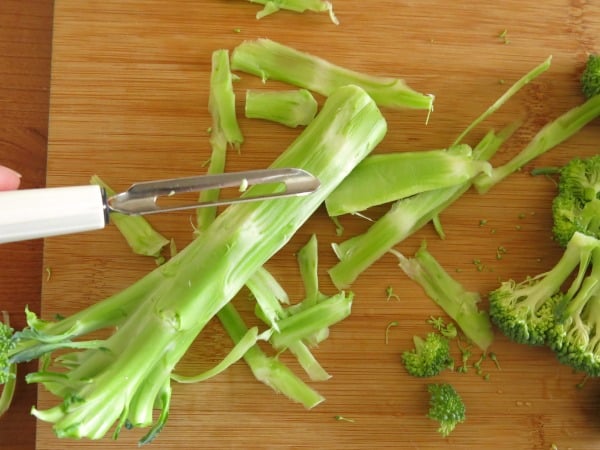 Can you rice frozen broccoli?
You can't rice cooked broccoli and you can't turn cold, wet broccoli into rice either. It will become mushy and not resemble rice at all.
On the other hand, you CAN freeze riced broccoli. We'll get to that in a minute.
How to Rice Broccoli
There are several easy ways to rice broccoli:
Food Processor: Add prepared broccoli to a food processor and pulse it several times. I've never had to do it more than 10 times. You don't want to over-process the broccoli or you'll end up with broccoli puree. Err on the side of processing it too little. You can always pick out larger pieces and run them through the processor again or chop them with a knife.
Knife: Finely chop broccoli florets and stems into rice with a knife. It takes a little time but might be the way to go when you don't need a lot of rice.
Grater: Rub broccoli against a grater to rice it. Don't cut the stalks from the broccoli if using this method because the stalk gives you an easy way to hold the broccoli.
I've never done it, but you can chop it in a blender too!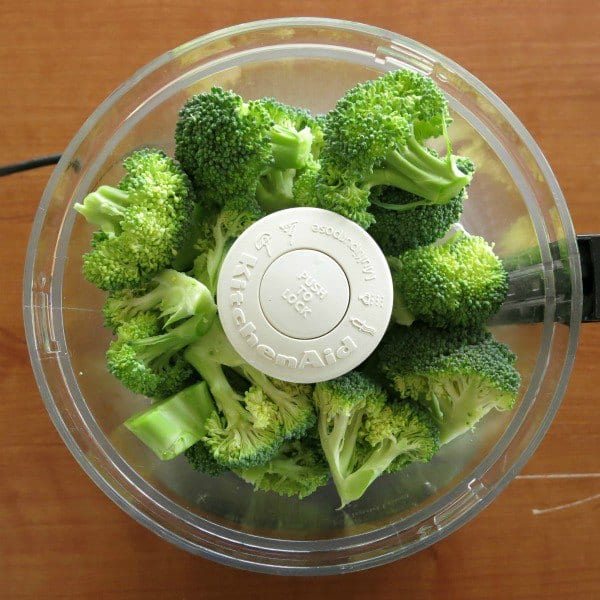 How Much Does a Head of Broccoli Yield
Fresh broccoli is often sold in 1 pound packages at the grocery store. The weight includes the stalks.
Sometimes there are 2 heads and sometimes there are 3. One pound of broccoli will yield 4 to 5 cups of riced broccoli, depending upon whether the stalks are used and their size.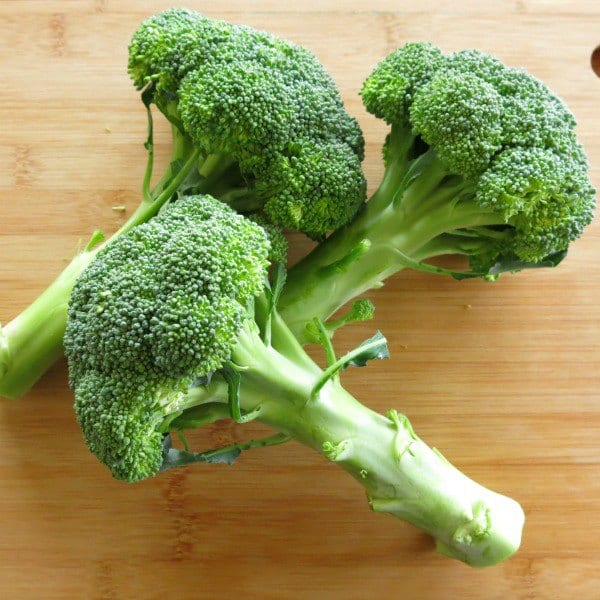 How to Store Broccoli Rice in the Refrigerator
Prepare broccoli rice ahead of time as part of your weekly meal prep. Store riced broccoli in the refrigerator in an airtight container for 2 to 3 days.
How to Freeze Riced Broccoli
Unlike broccoli florets, finely chopped broccoli rice does not need to be blanched before freezing. Simply measure a portion of riced broccoli and store it in resealable freezer bags. Be sure to label the bags. For the best quality, use the rice within 2 months of freezing.
You don't even need to defrost it before using it in most recipes! In Frozen Cauliflower Rice Recipes there is guidance for making pizza crusts, egg muffins, roasted cauliflower rice and more using frozen rice. These same recipes can be made with frozen broccoli rice and the exact same process apply.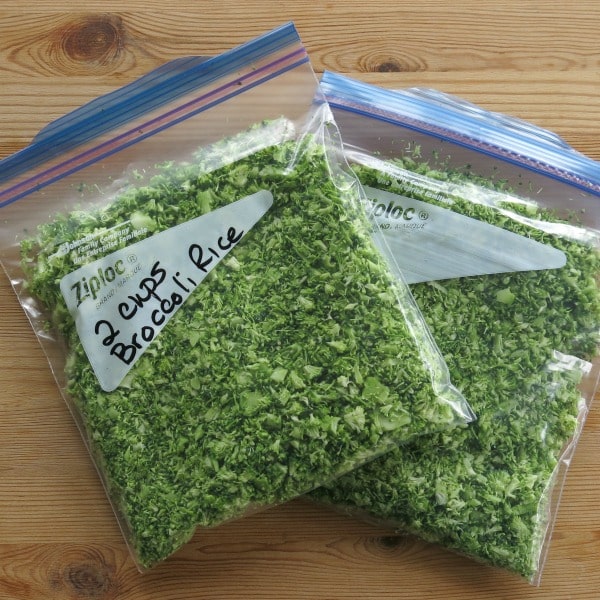 How to Use Riced Broccoli
A simple side dish of broccoli rice is the perfect accompaniment for so many entrees. Here are some of our favorite ways to use it:
Stove-top - toss riced broccoli with olive oil and garlic. Place in skillet over medium-high heat, cover and cook for about 5 minutes. Remove cover, season with salt and pepper and enjoy!
Microwave - place riced broccoli in a microwave-safe bowl with a teaspoon of water. Cover and cook on high for 3 to 4 minutes. Stir, season to taste.
Oven - toss with olive oil and mate Roasted Broccoli Rice.
Broccoli "Muffins" - Mix with eggs, cheese, and onion to make tot-sized broccoli muffins.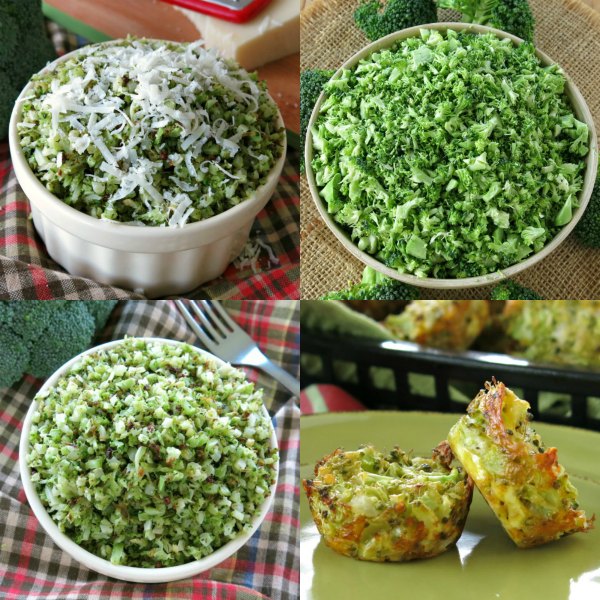 Please rate this recipe and tag @DinnerMom or #DinnerMom on social media. We love to see what you are cooking up!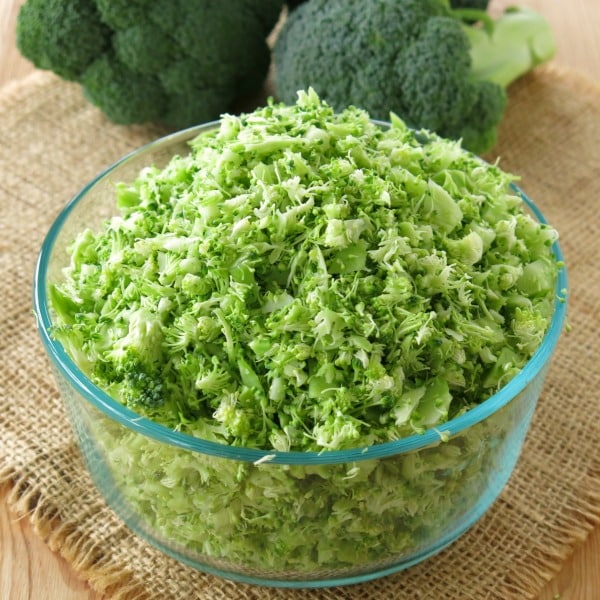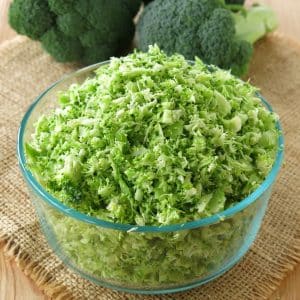 How to Rice Broccoli and Freeze It
If you know how to rice broccoli and freeze it, then you can EASILY make healthy, low-carb, and gluten-free recipes. No blanching required!

Print
Pin
Rate
Equipment
food processor

resealable freezer bags
Ingredients
1

pound

Broccoli

including stems
Instructions
Wash and thoroughly dry broccoli.

Cut broccoli florets from stalks.

Remove outer layer of the stalks with a vegetable peeler or knife and cut into 1 inch pieces.

Add broccoli florets and stalks to a food processor and pulse several times until the broccoli is finely chopped, scraping sides if needed. Work in batches if necessary.

Store riced broccoli in an air-tight container or bags in the refrigerator or freezer until ready to use.
Notes
Store riced broccoli in the refrigerator for up to 3 days or in the freezer for up to 2 months.
Grab 5 Low-Carb Sauces
And Get More Tips for a Healthy Kitchen JOIN HERE
Nutritional and Food Safety Disclaimer