Using a bag from the freezer aisle, it's easy to make all the cauliflower rice recipes that seem like too much work. From pizza crust to grits, there are so many different ways to use frozen cauliflower rice to make healthy, low-carb, gluten-free recipes your family will love!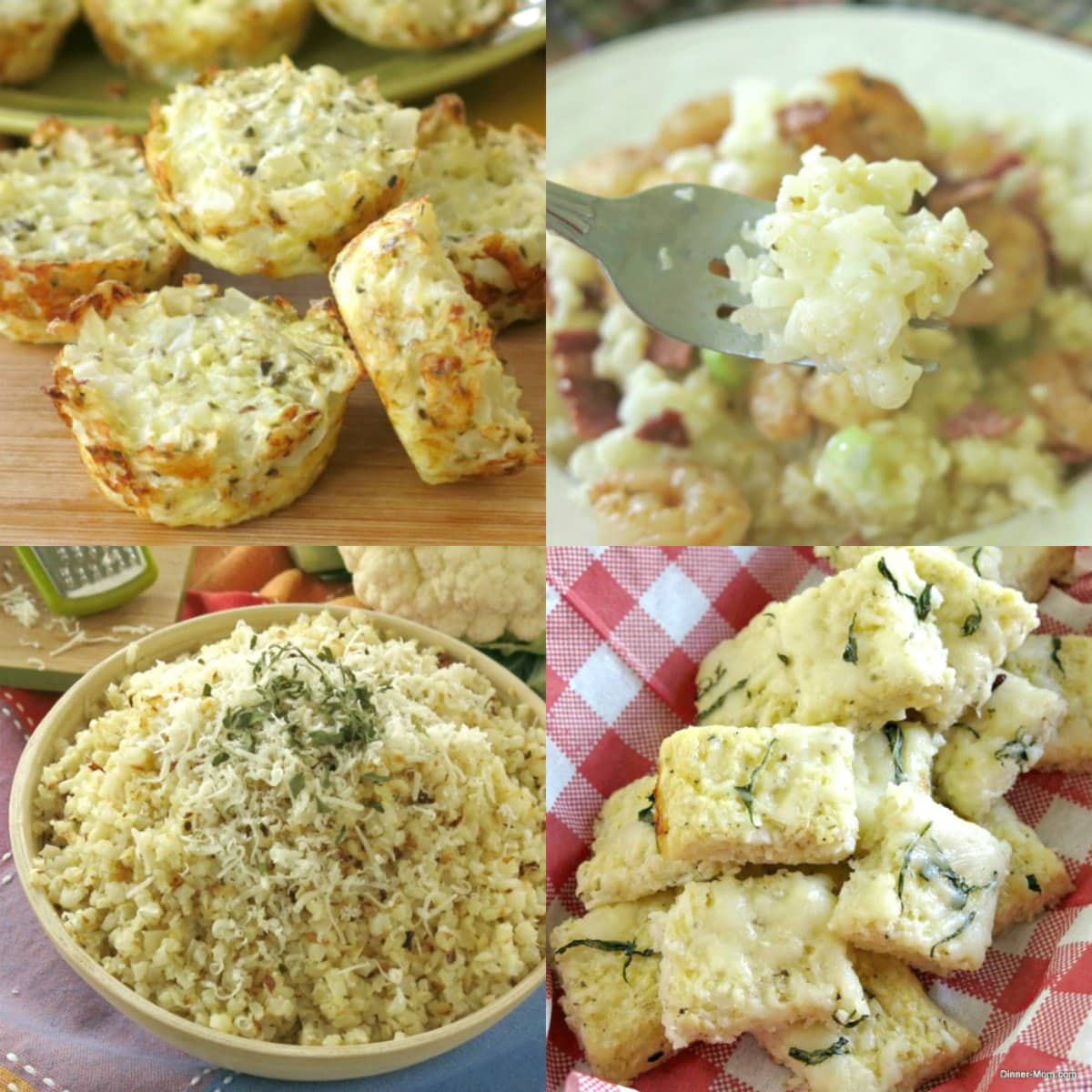 We're sharing our favorite recipes made with cauliflower along with tips and adaptations to make them with a bag from the frozen food aisle of the grocery store OR a bag from your freezer if you like to make and freeze your own cauliflower rice!
No food processor needed when it comes time to make them. No fuss. No mess.
Of course, these recipes can be made with fresh cauli-rice too. But, they're equally spectacular from a bag of FROZEN "rice"...so buy a bag and try out that recipe on your to-do list.
If you've followed our guide on how to rice broccoli and freeze it, then you can use these same tips and recipes below by substituting broccoli rice.
Jump to:
Tips
You can do so much more than steaming cauliflower rice in the bag and adding seasonings, although that's nice too. The following general information may be helpful as you begin to use it in other recipes:
Break up any frozen clumps with a spoon or your fingers before using or measuring.
Riced cauliflower in the frozen form measures about the same as fresh rice.
Cauliflower rice cooks very quickly. For stove-top recipes, cook it at the end.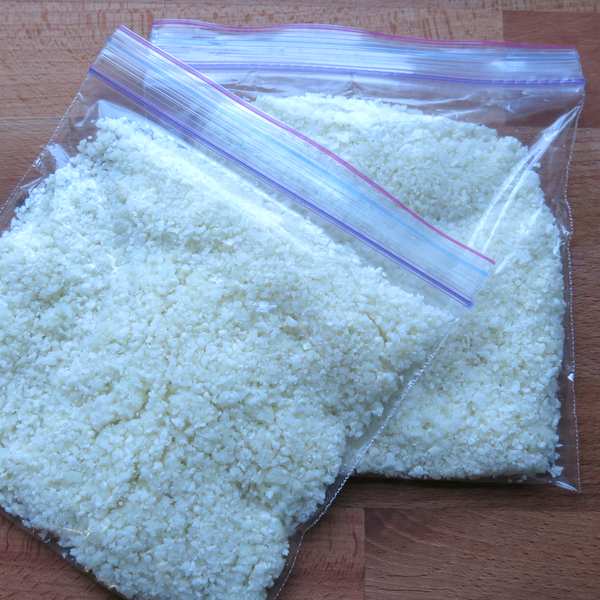 How to Defrost
The good news is you might not have to! When a recipe calls for fresh cauliflower rice and you're not making a dough, then simply replace the fresh rice with frozen.
If you're making a "dough" for crusts or breadsticks, then the rice needs to be soft and pliable. There are two options:
Place riced cauliflower in a microwave-safe bowl and cook on high in the microwave for 3-4 minutes or follow instructions on the bag to steam the rice in the bag.
Allow rice to defrost in the refrigerator and then squeeze out the wetness. How easy is this options?!
Either way, press out as much moisture as possible by spreading it out on a dishcloth and squeezing out excess water.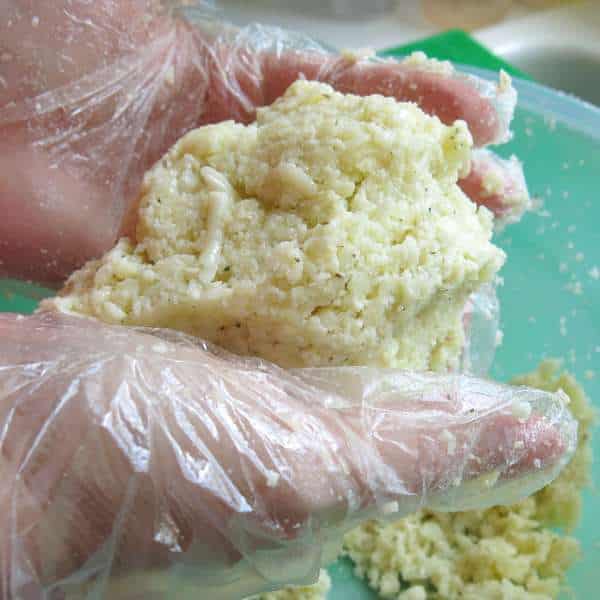 Below you will find the tips to make a dough, roast it, cook it on the stove-top, add cheese and make egg muffins or tots.
Pizza Crust
When making pizza crust from frozen (or fresh) cauliflower rice, it must be steamed and then pressed to remove excess liquid. When you're done, you'll end up with a mass that can be molded into the dough that will become the base for low-carb bread alternatives.
Here's our baseline recipe which can be made into a crust, breadsticks or appetizer-sized bites.
Roasted Recipes
Never did I ever think that roasting a frozen vegetable would result in a final dish that was as good as one made from fresh. But, it definitely does in this recipe for Roasted Cauliflower Rice with Garlic and Parmesan Cheese. The same thing is true for Roasted Broccoli Rice. You can even mix the two riced vegetables together!
Break-up large clumps with a spoon and then roast it in the oven just as you would for fresh cauli-rice. When starting from frozen, you may need to add a few extra minutes. But, that's all.
The technique in the recipe below can is easily adapted to other flavor profiles. Instead of topping it Parmesan cheese, try these variations:
Add a squeeze of fresh lemon
Top with lime juice and cilantro
Toss with Mexican spices
You'll find a big list of items to customize this pilaf recipe below. Plus, note that you can buy a bag of frozen diced veggies in the form of mirepoix or trinity and cook them from frozen at the same time!
Stovetop Recipes
Stovetop recipes that call for cauliflower rice can also be cooked directly from frozen. It only takes about 5 minutes to attain the perfect texture.
If you're cooking the cauliflower rice along with heartier ingredients, like onion or meat, cook those items first. Then, add the cauliflower rice to the pan, cover with a lid and allow the steam to cook it for a few minutes (3-5 is generally enough time.)
Don't cook it too long or the texture will become mushy. 🙁
Cheesy Recipes
If you're a fan of cheese, then definitely add it...at the end!
Muffins or Tots
There's no bread at all in these cauliflower muffins or tots. It's just another fun way to use frozen cauliflower rice. Break up any frozen rice clumps and follow the recipe below as stated.
In Soups
Replace rice or pasta in soups with cauli-rice. Add while soup is simmering and allow it to cook until tender, about 5 minutes.
More Frozen Cauliflower Rice Recipes
More inspiration from around the web:
Cauliflower Rice Tabbouleh Salad it's a stand-in for bulgar wheat in this recipe by The Suburban Soapbox
Low-Carb Stuffed Pepper Soup use it instead of rice in this delish recipe by Cupcakes and Kale Chips
Cauliflower Fried Rice from SkinnyTaste