This post may contain affiliate links. As an Amazon Influencer, I earn from qualifying purchases.
Make Roasted Broccoli Rice using a package of FROZEN riced broccoli from the freezer aisle. Or, use freshly prepared broccoli. Either way, this side dish will get the same rave reviews!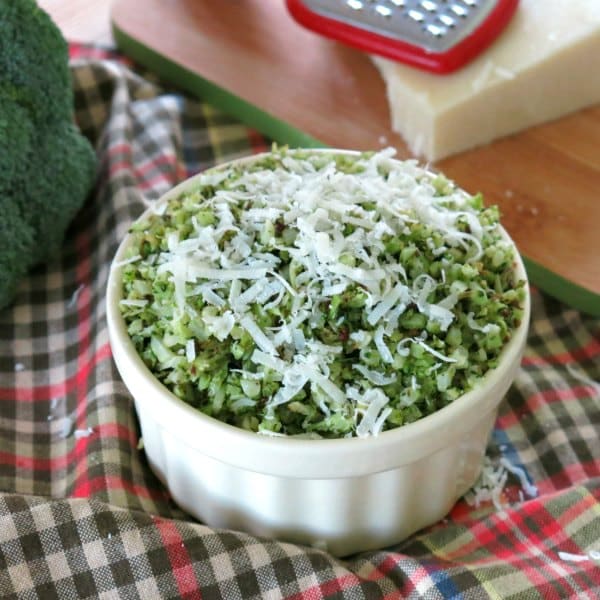 Roasted Cauliflower Rice was such a big hit, we used the same cooking technique on broccoli. And, the result is just as amazing.
The texture is light and fluffy, with some crispy bits. You will obsess over this dish whether or not you're eating low-carb or gluten-free!
The best part is you can start with fresh broccoli OR you can start with a bag of frozen riced broccoli that you make yourself or buy at the grocery store. Either way, you get the same great result.
We couldn't be happier about the frozen options that you find on the freezer aisle. Now, recipes like this and 4 ingredient broccoli muffins are easier than ever.
You can also substitute broccoli for cauliflower in most of our other Frozen Cauliflower Rice Recipes. I'm giddy!
How to Rice Fresh Broccoli
Wash and thoroughly dry stalks of broccoli. Cut florets from the stalk and cut the stalks into smaller pieces. Add everything to a food processor and pulse several times or until the broccoli resembles rice.
Since you're going to be cleaning a food processor, you might as well make extra bags of broccoli rice to freeze. There's no blanching required so it's VERY EASY! We've got step-by-step instructions and a video in our Guide on How to Rice Broccoli and Freeze It!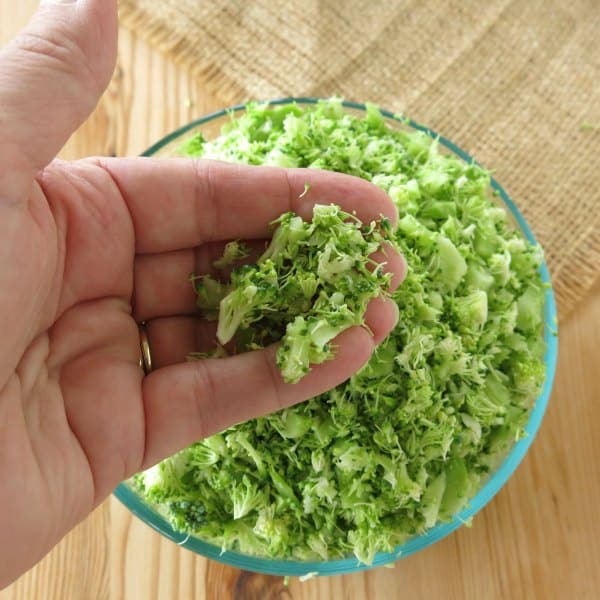 Working with Frozen Riced Broccoli
We LOVE the convenience of using frozen broccoli rice to make this recipe and that it still tastes great!
Whether you're using a bag of rice you've prepared yourself or a bag from the store, the only thing you need to do is break up any frozen clumps. This is easy to do with your fingers or a fork.
Pro tip: Buy frozen broccoli rice already seasoned, if desired. You will still need to add olive oil for the roasting process.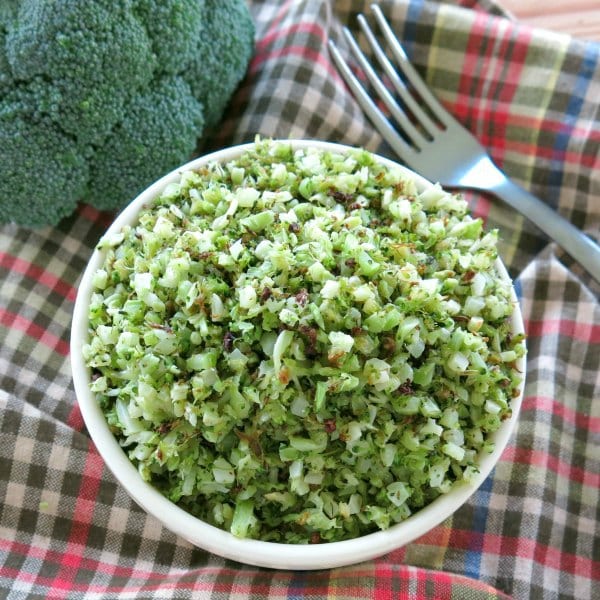 Tips for Roasting Broccoli Rice
Roasting riced broccoli works much like the process used for roasting any type of vegetable.
Double the recipe! Broccoli rice shrinks while it's roasting. Four cups will turn into about 3 cups cooked. And, 3 cups will disappear quickly.
If you're doubling the recipe, use 2 sheet pans so the rice is not crowded and has plenty of room.
Spray a large sheet pan with non-stick cooking spray. This helps with browning and prevents sticking.
Mound broccoli in the center of the sheet pan and use your hands to coat the rice with olive oil and garlic. Do it on the pan to avoid an extra mixing bowl!
Roast broccoli rice in a 400°F oven for 20-25 minutes turning halfway through using a spatula or large spoon. Spread out the rice once you turn it.
Only some of the broccoli rice will brown. Check near the end of the cooking time to get the texture you like.
Scrape up all the brown bits because they are delicious.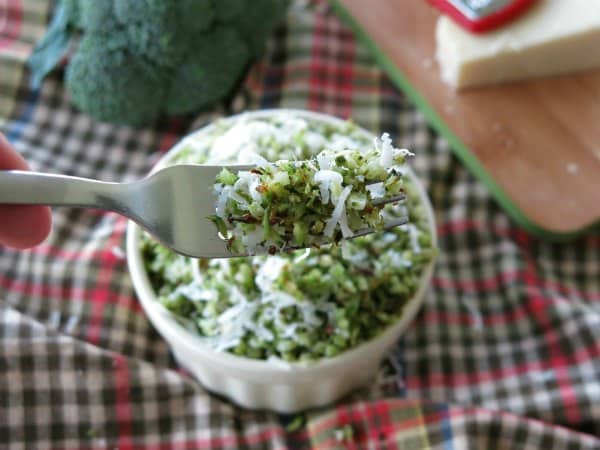 Finish it off with Parmesan cheese (if desired) and enjoy.
Please rate this recipe and tag @DinnerMom or #DinnerMom on social media. We love to see what you are cooking up!
📋 Recipe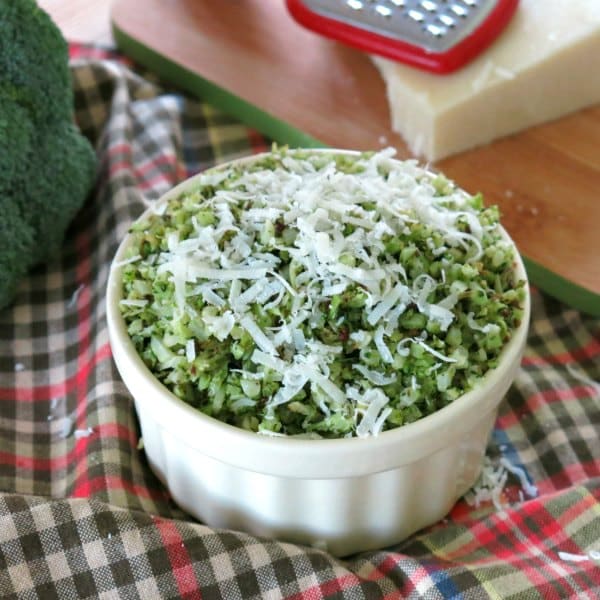 Ingredients
4

cups

riced broccoli

1

Tablespoon

olive oil

2

garlic cloves

pressed or minced

¼

cup

Parmesan cheese

grated

Salt to taste
Instructions
Preheat oven to 400 degrees F.

If using frozen riced broccoli, break up any frozen clumps, but do NOT defrost.

Mound riced broccoli in the center of a sheet pan coated with non-stick cooking spray.

Sprinkle garlic and drizzle olive oil over the top and toss to combine. (I use my hands!)

Spread broccoli rice into an even layer on the sheet pan.

Roast riced broccoli in the oven for about 20 minutes, turning the rice half-way through with a spatula or large spoon. If cooking from frozen, it will take about 25 minutes.

Remove broccoli rice from the oven to a serving bowl, scraping up all the browned bits on the pan.

Sprinkle with Parmesan cheese, if desired and enjoy!
Grab 5 Low-Carb Sauces
and get more easy, healthy recipes! JOIN HERE
Nutrition
Calories:
89
kcal
|
Carbohydrates:
7
g
|
Protein:
5
g
|
Fat:
5
g
|
Saturated Fat:
2
g
|
Cholesterol:
4
mg
|
Sodium:
130
mg
|
Potassium:
288
mg
|
Fiber:
2
g
|
Sugar:
2
g
|
Vitamin A:
616
IU
|
Vitamin C:
82
mg
|
Calcium:
119
mg
|
Iron:
1
mg
Nutritional and Food Safety Disclaimer