The love affair with chips continues.** But, since the holidays are approaching, I'm taking these baked pear chips to the next level. Extra measures were absolutely necessary to slow down the consumption of this scrumptious treat. (I mean, just how long should it take to scarf down two pans of pear slices?)
These chips are perfectly munchable straight from the oven, just like their baked apple chip cousins. However, by dipping them in chocolate, you tend to want to savor the chip and the moment just a little longer. Alas, the enjoyment time at least doubled at our house. 🙂
**If you are not familiar with my chip obssession, please refer to my posts on apple chips, zucchini chips, sweet potato chips, Parmesan cheese crisps...and possibly carrot fries. Need I say more?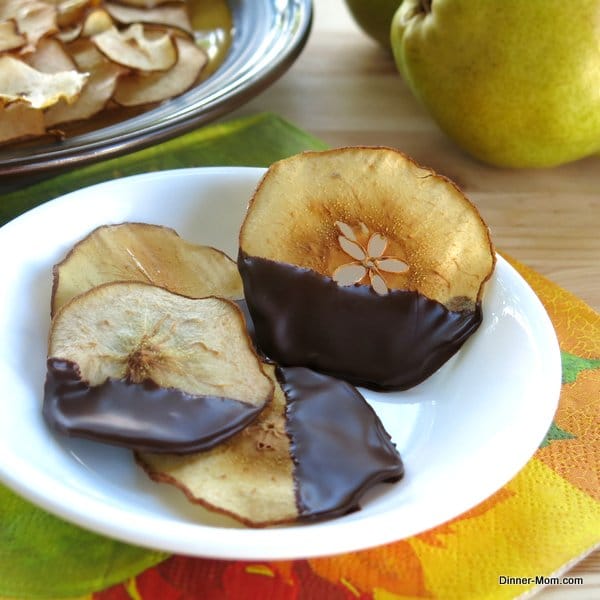 If you like fruit and chocolate, you will looove chocolate dipped pear chips!
How to Make Pear Chips Dipped in Chocolate
The process to make pear chips is very similar to the recipe for baked apple chips and I will make some comparisons in the instructions below.
Use a mandolin to thinly slice (about an ⅛ inch thick) a Bartlett pear. Use the tip of a knife or toothpick to flick out any seeds that remain. The pear slice won't be as firm as the apple slice and that's okay. I used the smallest setting and the slices were paper thin...and actually a little thinner the apple slices.
Line up the slices on a parchment-lined baking sheet. You'll need at least two baking sheets. Put the oven racks inches apart from each other in the middle of the oven and stagger the sheets so only the edges overlap in the middle.
Bake the pear slices in a 225 degrees F oven for an hour then turn the slices over. Note that the cook time is a little less than what is needed to cook apple slices if they are sliced very thin. Also, you may need to "peel" the slices from the parchment paper when it's time to flip them. If you are gentle, they won't tear. And, if they do break, don't throw them away because they will still taste great.
Cook the pear slices for about 30 minutes more or until the chips are crisp. They will crisp up just a little more once you remove them from the oven. If the slices happen to be on the thick side, then you will have to cook them a little longer once they are flipped...most likely for about an hour in total.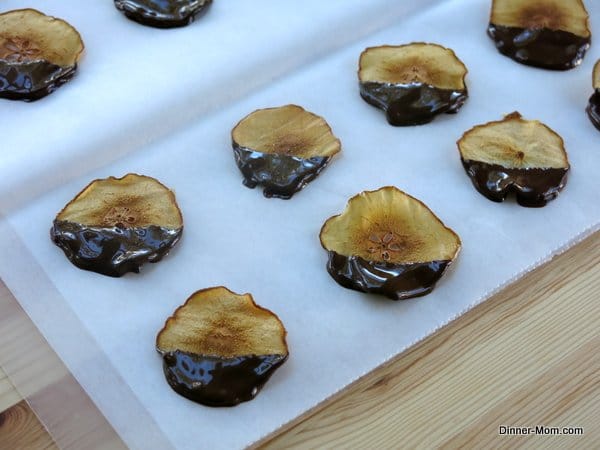 Dip the pear chips in chocolate and you'll really have a riot on your hands!
Melt chocolate in the microwave and allow it to cool a bit so you are not working with "hot" chocolate. Dip half of the chip in the chocolate. Let the excess chocolate drip off and then place the chip on wax paper. Allow the chocolate to set on the pear chips, which can take a bit of time depending upon the type used and how thick it is layered. Speed up the process by placing the chips in the refrigerator for 5-10 minutes. Don't leave them in the fridge for too long though or the chips will become soggy. You can also use a pastry brush to paint on a thin layer of chocolate.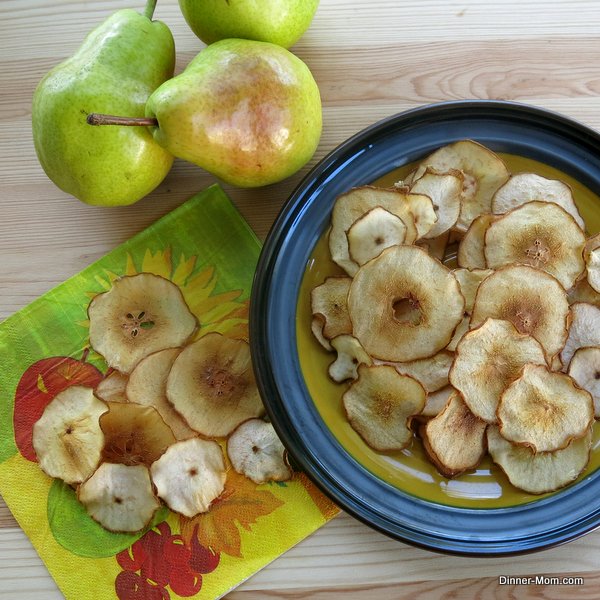 Of course, you can eat them completely unadorned. Either way, don't plan on them lasting very long!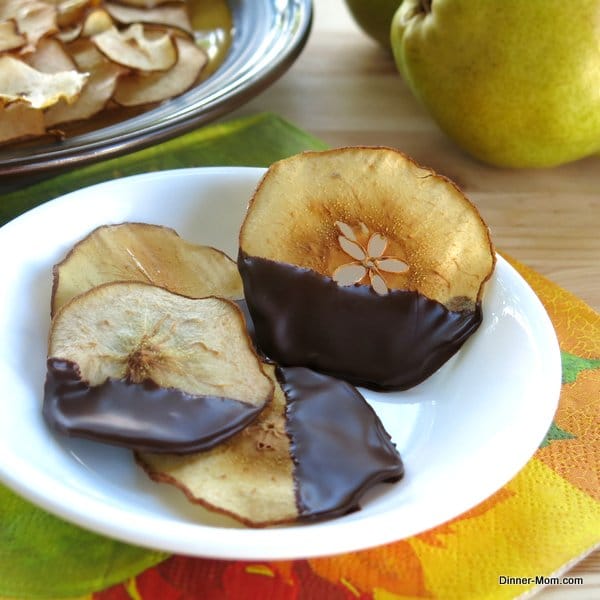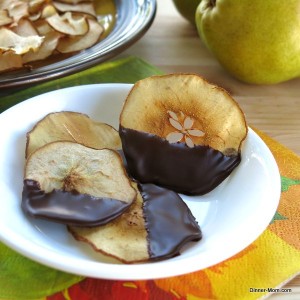 Pear Chips Dipped in Chocolate
Follow these easy steps to bake pear chips in the oven. Take them to the next level by dipping in chocolate for a decadent and healthy treat.
Print
Pin
Rate
Ingredients
2

Bartlett pears

4

ounces

chocolate
Instructions
Preheat oven to 225 degrees F.

Cut pears into slices that are ⅛ inch thick using a madoline or knife. Use the tip of the knife or a toothpick to flick out any seeds that remain.

Place slices on a baking sheet lined with parchment paper.

Bake for 1 hour.

Turn over slices (gently peeling from paper if necessary) and bake for 30 minutes more or until slices reach desired crispness. If the slices are on the thick side it may take up to an hour to become crisp.

Melt chocolate in the microwave or in a double boiler on the stove-top.

Allow melted chocolate to cool so it's not "hot" to touch.

Dip each slice in the chocolate and allow excess chocolate to drip off.

Place pear chips on a wax paper and allow chocolate to set.
Grab 5 Low-Carb Sauces
And Get More Tips for a Healthy Kitchen JOIN HERE
Nutrition
Calories:
200
kcal
|
Carbohydrates:
30
g
|
Protein:
1
g
|
Fat:
10
g
|
Saturated Fat:
6
g
|
Sodium:
5
mg
|
Potassium:
172
mg
|
Fiber:
4
g
|
Sugar:
23
g
|
Vitamin A:
25
IU
|
Vitamin C:
3.9
mg
|
Calcium:
15
mg
|
Iron:
1
mg
Nutritional and Food Safety Disclaimer