Who doesn't love crispy chips or fries dunked in their favorite dip? I've rounded-up 15 healthy alternatives to potato chips that will satisfy your need to crunch and sneak fruits and vegetables into your diet too!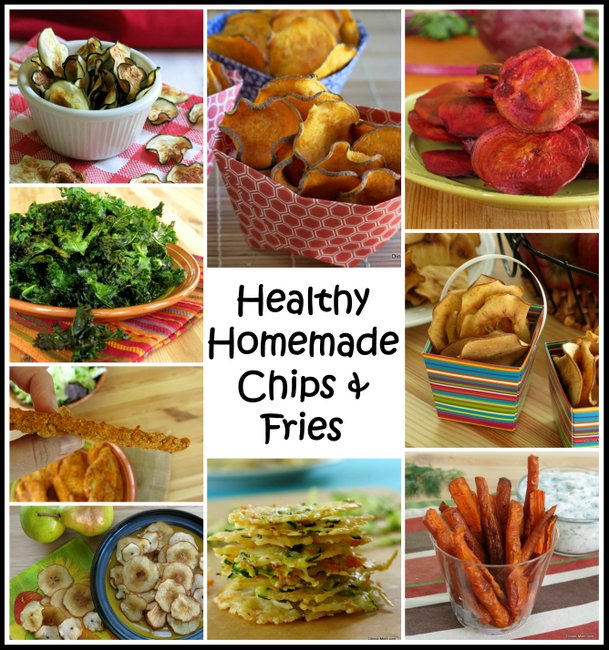 I feel as though I'm laying out my case for a chip obsession! Below you'll find 15 different fruits and vegetables made into chips or fries plus a few other chip-like munchies. Most are from The Dinner-Mom site and all but one are vegetarian and gluten-free. I've also gathered some recipes from around the web that are on my bucket list to make. 🙂
15 Healthy Alternatives to Potato Chips
None of these require special equipment (although I feel like a good candidate for a dehydrator!)
It takes a bit of patience to bake fruits and veges to perfection in a standard oven. Naturally, I had to give the microwave a try!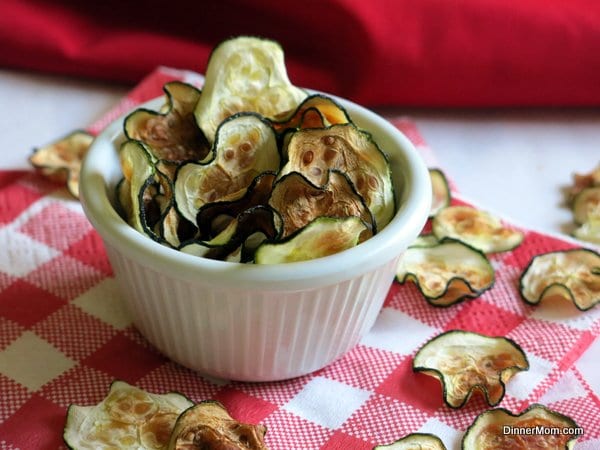 The Sugar Free Mom has Salt and Vinegar Zucchini Chips and Homemade Ranch Zucchini Chips that look mighty good!
My fascination with homemade vegetable chips began with sweet potatoes. These chips are hearty enough to withstand a little dipping!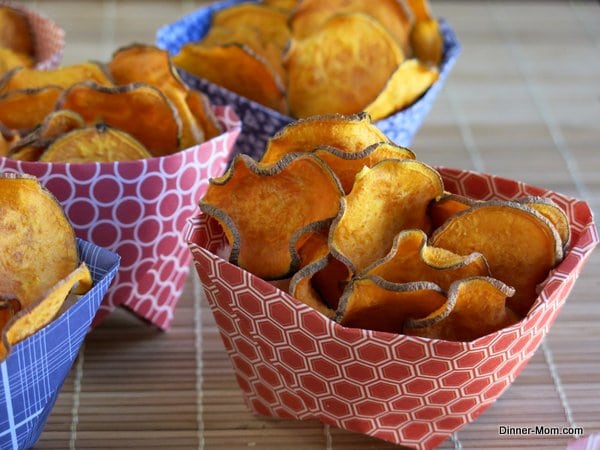 When beets bake in the oven, they sweeten and become oh so good! They're pretty too,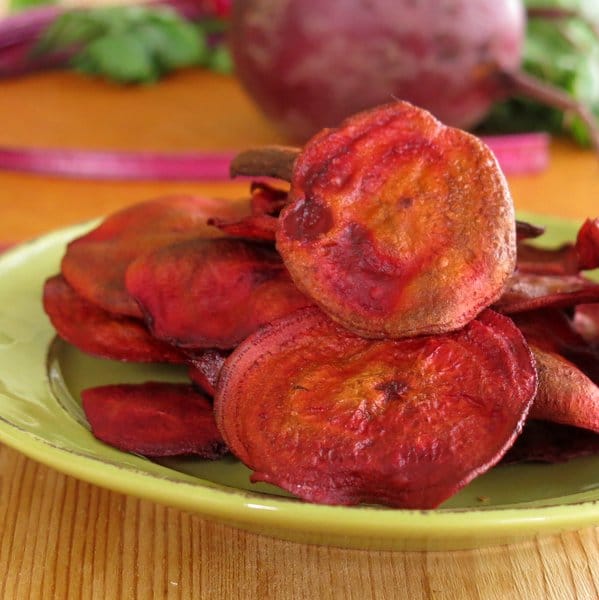 Kale chips also make a wonderful, crunchy salad topper.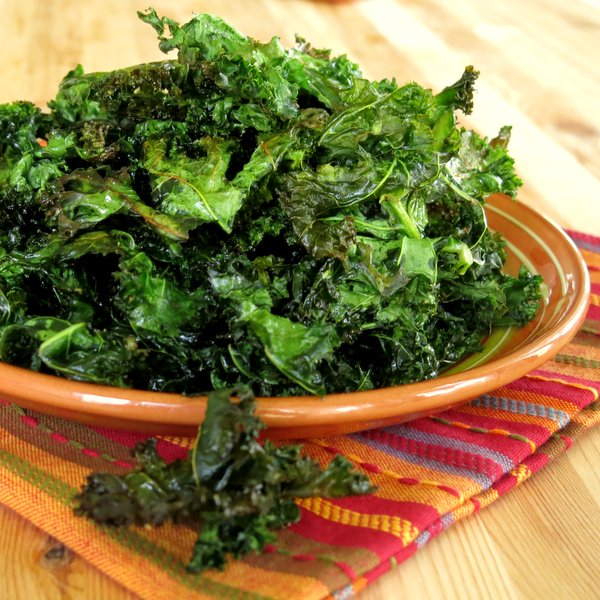 Fruit chips, such as the apple chips, would be perfect for dessert nachos!
Dip these in chocolate. The end.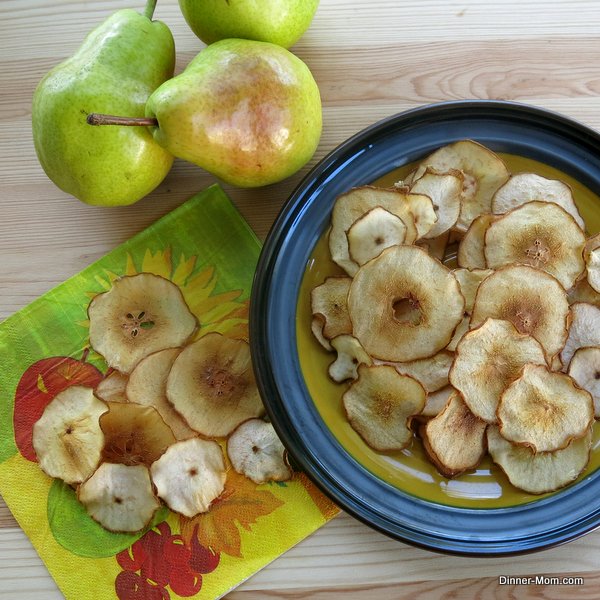 Cheesy goodness that stands alone and is a nice accompaniment to soups and salads.
I've only just begun the venture into the world of vege "fries." These don't taste like fries. But, they sure are tasty, especially dipped in a yogurt dill sauce.
It's easy to eat your greens when they're baked in cheese!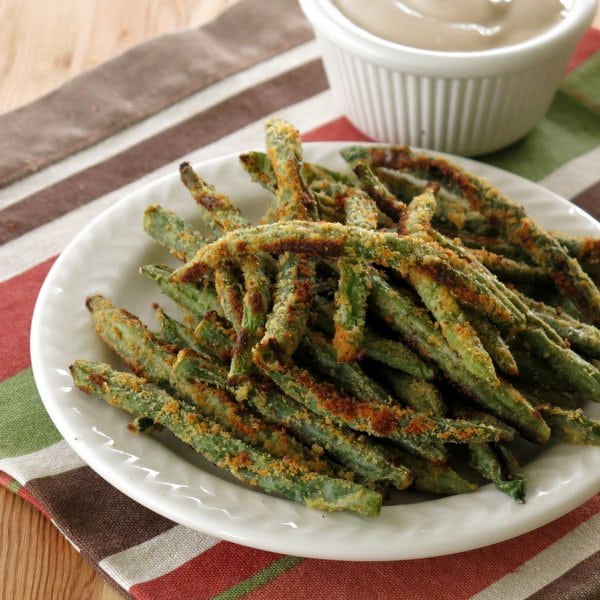 I've included this one just to show you how far I will go to enjoy a chip. 🙂
So many options, so little time. Sigh.
More innovative and healthy alternatives to potato chips from the blogosphere:
11- Maple Cinnamon Parsnip Chips by My Whole Food Life
12- Cinnamon Carrot Chips by In Sock Monkey Slippers
13- Sweet and Spicy Jicama and Plantain Chips by Food Done Light
14- Cinnamon Sugar Radish Chips from Pinch of Yum
15- Butternut Squash Fries by My Fussy Eater
Enjoy and Happy Munching!
NEVER MISS A RECIPE! SUBSCRIBE BY EMAIL & RECEIVE A FREE GIFT!
FOLLOW ME:
FACEBOOK | TWITTER| GOOGLE +| PINTEREST | INSTAGRAM