Make the best Eggless Chocolate Chip Cookies in town! This vegan recipe is egg-free and dairy-free so that everyone, even non-vegan family and friends, can enjoy it.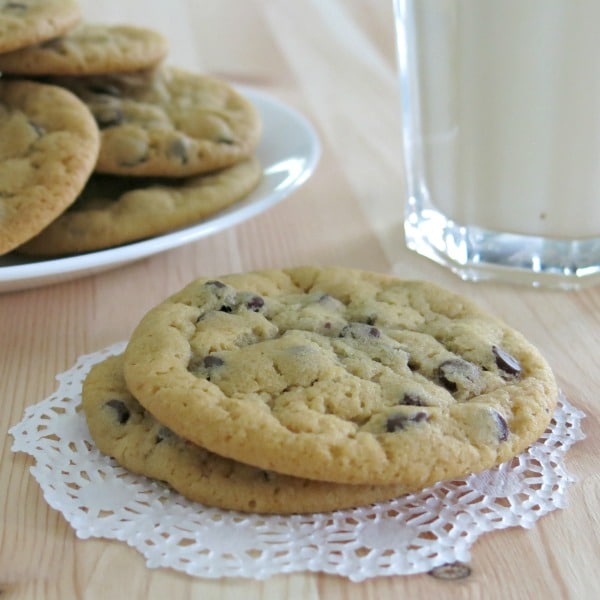 Whether your family has food allergies, follows a vegan diet, or has a very picky palate, I promise everyone will love this recipe! We've made these cookies for more than 12 years. Over that time, we've experimented and tasted (and tested and tasted some more.)
We've gathered all of our tips so you can make perfect vegan chocolate chip cookies every single time.
P.S. Go ahead and use eggs and real butter if you want to. The recipe is still awesome and the tips still apply. 🙂
Step-by-Step Details
We've added commentary to each and every step of the cooking process!
1. There is nothing unusual about the ingredients in this cookie recipe, including the egg-replacer. You can buy everything at your local grocery store. 
2. Allow vegan "butter" substitute to reach room temperature so it's soft to touch on its own.
This can be tricky if you are baking on the spur of the moment. If this happens, set the butter on top of the pre-heating stove or place the butter on a plate and cover it with a bowl that has been warmed with water in the microwave.
Or give it a very slight boost in the microwave oven (as in only 5-10 seconds on half power.) If you melt the butter too much in the microwave, you will end up with flat, sad-looking cookies. 🙁
Note: you may also want to consider browning the butter as we did for Brown Butter Chocolate Chip Cookies!
3. Cream the butter and sugar until the mixture is smooth, preferably using beaters which makes the cookies fluffier. This recipe calls for a combination of brown and white sugars. The brown sugar, which contains molasses, gives the cookies a chewier texture. You can play around with various combinations of white and brown sugar and get different results.
4. Choose an egg-replacer and incorporate it into the creamed butter/sugar mixture immediately after preparation. Here are 3 that we use:
Combine 1 teaspoon of baking powder, 1 Tablespoon water, 1 Tablespoon vinegar in a small cup. Stir quickly. This was used for the cookies pictured.

Ener-G Egg Replacer.
Combine 1 Tablespoon of flaxseed and 3 Tablespoons of water. Let the mixture sit for about 5 minutes so it will gel.
5. Spoon, don't scoop, the flour into the measuring cup. We've had some unfortunate results when too much flour was packed into the measuring cup. 🙁
6. Allow the dough to chill in the refrigerator for up to 24 hours so all of the ingredients are fully melded. I was skeptical about this one since we are not using egg. I can hear the moaning now. We don't always wait this long to make the first batch. But, later batches do seem to cook more evenly. 🙂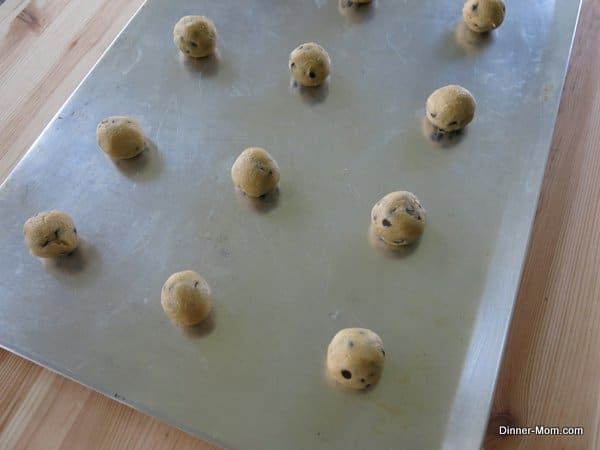 6. Roll the dough into smooth round balls. All the cookies will turn out the same size and have a nice round shape.
7. We use an insulated baking sheet and usually use parchment paper. The special baking sheet was a small splurge. But, since we had to overcome some baking challenges, we needed any little boost we could get. 🙂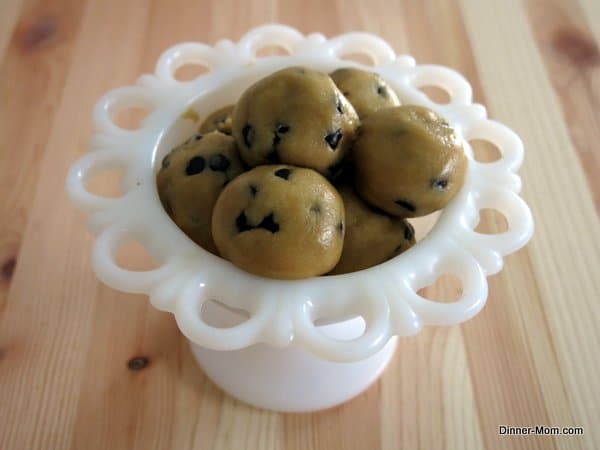 Actually, you can stop right here. (And, that sometimes happens, particularly with large quantities of dough resting in the refrigerator overnight). Go ahead and top your ice cream with this egg-free dough!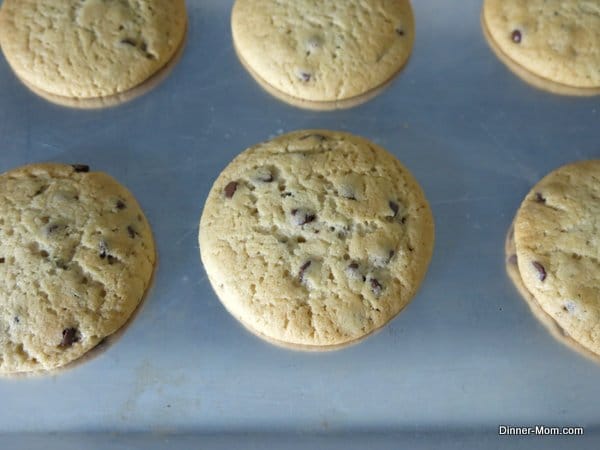 8. There is a lot of debate in our house about when you need to take the cookies out of the oven. We don't like a crisp cookie. We cook them just until they start to brown.
9. Let them cool on the cookie sheet for about 5 minutes.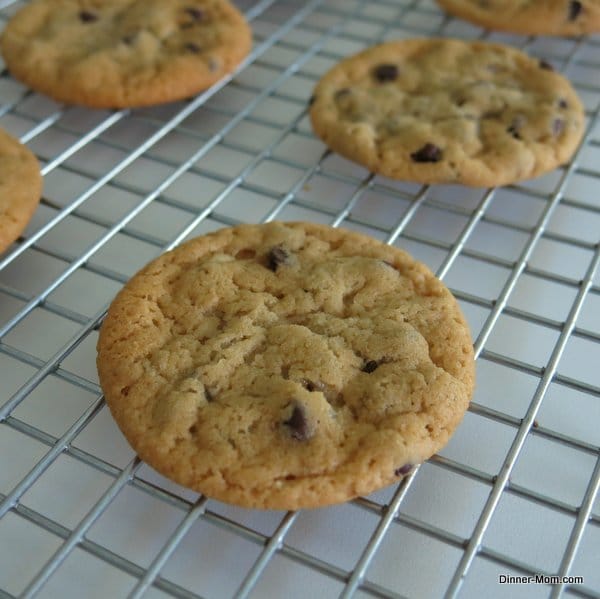 10. Transfer them to a cookie sheet to cool completely. (We always lose a few in the transfer!) These are truly delicious cookies that everyone in our house enjoys. They are firm but slightly chewy.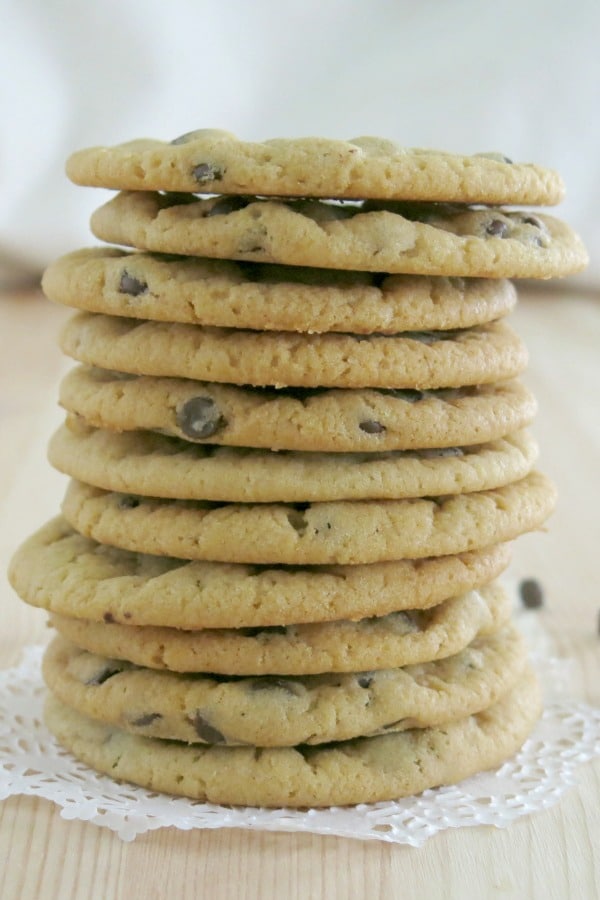 If you follow these tips, you will have the best dairy-free and eggless chocolate chip cookies every single time. 🙂
It's no exaggeration to say that we make this recipe ALL THE TIME because they are seriously good (and we love cookies.) We freeze logs of raw cookie dough to use later. It's the basis for truffles, dips, ice cream toppings, and more.
The science behind refrigerating dough and the origin of the chocolate chip cookie are discussed in a related article. We halved the recipe and made quite a few changes. But, we never messed with some of the quantities which is why you will find very specific measurements in our recipe.
More Eggless Cookies
All of these recipes have notes to make them free of egg, dairy and milk:
Please rate this recipe and tag @DinnerMom or #DinnerMom on social media. We love to see what you are cooking up!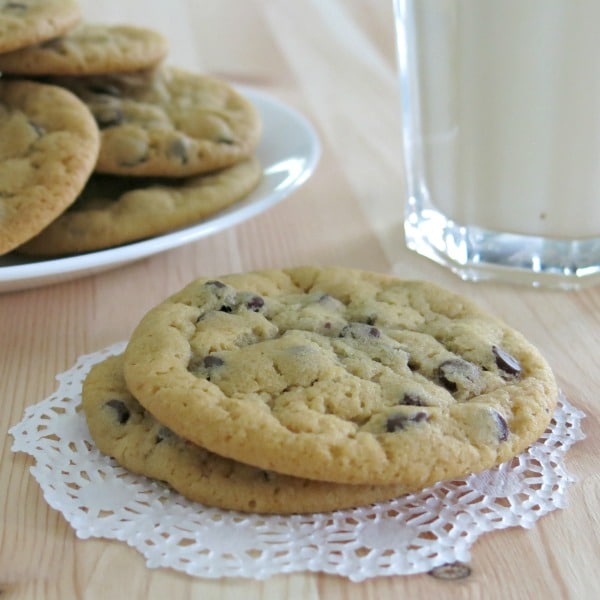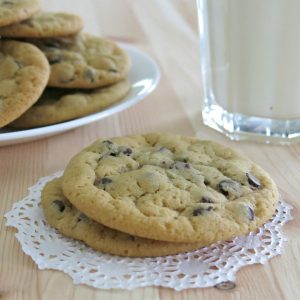 Best Vegan Chocolate Chip Cookies
Make the best vegan chocolate chip cookies every time. Follow these tips and tricks.
Print
Pin
Rate
Ingredients
10

Tablespoons

unsalted vegan "butter" substitute

1 ¼ sticks

10

Tablespoons

brown sugar

½ cup plus 2 Tablespoons

9

Tablespoons

white sugar

½ cup plus 1 Tablespoon

1

egg replacer

1 teaspoon baking powder, 1 Tablespoon water, 1 Tablespoon vinegar or replacer of choice

1

teaspoon

vanilla extract

1 ¾

cup

unbleached all purpose flour

or whole wheat pastry flour

½

teaspoon

baking soda

½ teaspoon plus a pinch

¾

teaspoon

baking powder

¾

teaspoon

salt

1

cup

mini chocolate chips
Instructions
Cream butter and sugars together with an electric mixer for about 5 minutes until light and fluffy.

Prepare egg replacer in a separate bowl.

Add egg replacer and vanilla to creamed butter mixture and stir to combine.

Add flour, baking soda, baking powder and salt to butter mixture and stir to combine.

Fold in chocolate chips.

Form dough into log, cover with plastic wrap and place in the refrigerator for up to 24 hours.

When ready to bake, preheat oven to 350 degrees F.

Line baking pan with parchment paper.

Roll dough into smooth, round, Tablespoon-sized balls.

Bake for about 10 minutes or until cookies just begin to brown. They will still be very soft.

Remove from oven and allow to cool on baking sheet for about 5 minutes.

Transfer to a cooling rack and allow to cool further.
Grab 5 Low-Carb Sauces
And Get More Tips for a Healthy Kitchen JOIN HERE
Nutrition
Calories:
99
kcal
|
Carbohydrates:
14
g
|
Fat:
4
g
|
Saturated Fat:
1
g
|
Sodium:
93
mg
|
Potassium:
19
mg
|
Sugar:
9
g
|
Vitamin A:
10
IU
|
Calcium:
13
mg
|
Iron:
0.4
mg
Nutritional and Food Safety Disclaimer