Shrimp Zoodles (aka zucchini noodles) with artichokes, sundried tomatoes and a sprinkling of pine nuts is ready in under 30 minutes. It's also low-carb, gluten-free and sooo tasty.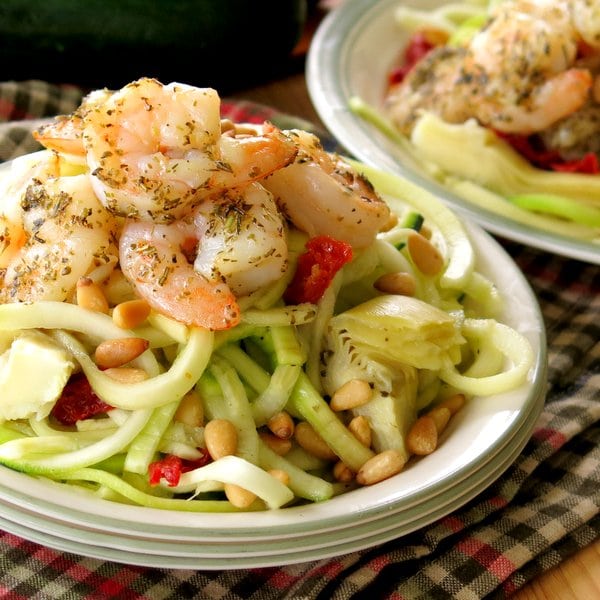 Do you ever wonder how recipes end up on The Dinner-Mom? Let me tell you the tale of Shrimp Zoodles…which just might inspire your own creation.
Mediterranean Chicken Bake. It's regularly featured on our dinner rotation. Chicken is topped with zucchini, artichokes and tomatoes, drizzled with balsamic vinegar and topped with feta cheese. It's delightful. When I'm out of chicken or want to mix things up I use shrimp.
Zoodles. They are easy to make and are well…fun! Hmmm…Mediterranean Chicken Bake uses zucchini.
Shrimp and zoodles each cook quickly on the stove-top and make for a quick dinner. Plus everything cooks in one pan. Hmmm…I love easy recipes and I bet my readers would too.
I've got some leftover sundried tomatoes. Hmmm…I bet those would give a punch of flavor.
The Recipe Redux is showcasing nuts. Yesss! A topping of toasted pine nuts would be awesome on Shrimp Zoodles.
And, that's how this recipe evolved.
Shrimp Zoodles – How It's Done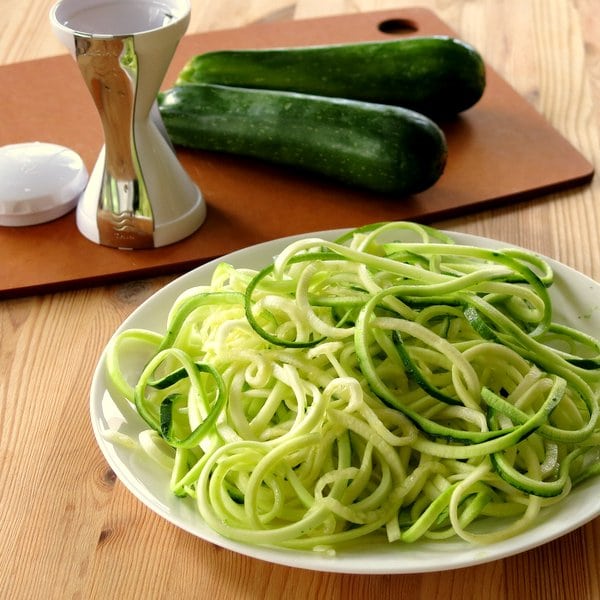 I'm hoping you're into the spiralizing craze. If not, just thinly slice the zucchini.
My handy, dandy hand-held spiralizer is perfect for zucchini noodles. The thick setting works best. Don't bother to peel the zucchini first. Pick out some of the dark green pieces at the end of the process.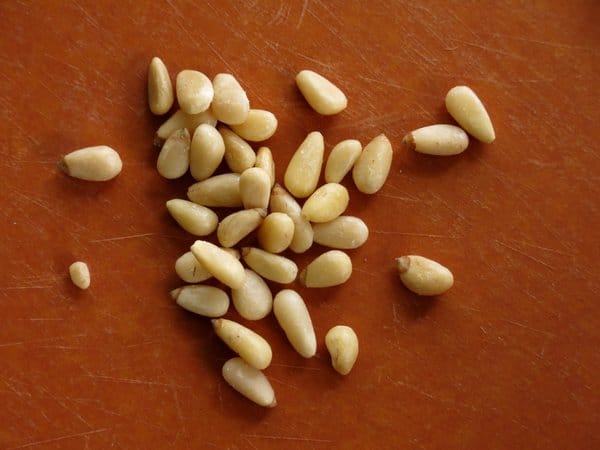 Pine nuts take on a buttery flavor when they are browned. Bake 10 minutes in a 350 degree oven or in a pan on the stove-top. Honestly, I feel like a sprinkling of nuts makes anything just a little more interesting and gives it a healthy boost too. If you're nutty for nuts too, then check out the recipes below featuring all kinds of nuts from my nutritionist and healthy foodie friends at The Recipe Redux.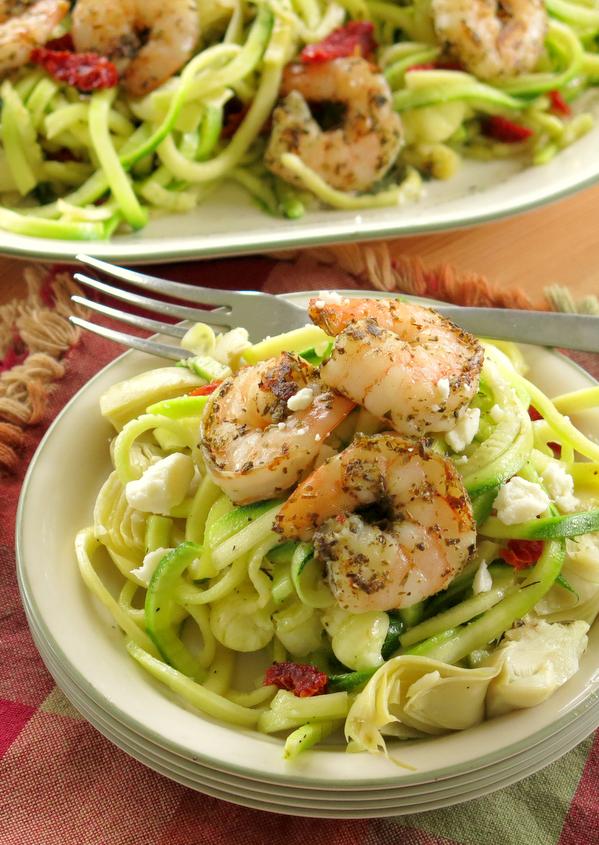 Stir artichokes and sundried tomatoes into sauteed zoodles and remove everything to a serving dish. Simply pour the shrimp into the same skillet and arrange them in a single layer. Cook for about 3 minutes on one side and then flip to the other until the shrimp are bright pink and cooked through. Do this in batches if your pan is too small.
Top with feta cheese and pine nuts and ENJOY!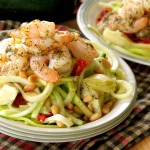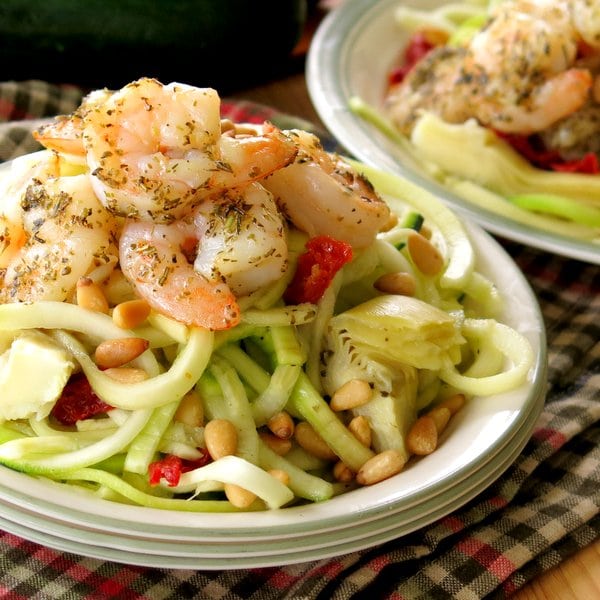 Shrimp Zoodles in 30 Minutes or Less
Shrimp Zoodles with artichokes, sundried tomatoes and a sprinkling of pine nuts is ready in under 30 minutes. It's also low-carb, gluten-free and sooo tasty.
Ingredients
1/4

cup

pine nuts

1

pound

peeled

deveined shrimp with tails off

3

Tablespoons

olive oil

divided

1

Tablespoon

Italian Seasoning

2

large zucchini

1

can

14 ounce artichoke hearts (unmarinated), drained and quartered

1/4

cup

sundried tomatoes

julienned

Salt and pepper to taste

1/4

cup

crumbled feta cheese
Instructions
Toast pine nuts in a 350 degree oven for about 10 minutes or place them in a large skillet and cook over medium high heat for about 10 minutes. Watch nuts carefully and stir after 5 minutes of cook time.

Toss shrimp with 2 Tablespoons olive oil and sprinkle with Italian Seasoning, turning shrimp as you sprinkle so all sides are coated. Set aside.

Spiralize the zucchini into long strands or thinly slice it.

Coat the bottom of a large skillet with 1 Tablespoon of olive oil.

Add zucchini and cook over medium heat for about 5 minutes or until zucchini is tender.

Stir artichokes and sundried tomatoes into the zucchini and cook for about 2 minutes more or until artichokes are heated through.

Remove zucchini mixture to a serving dish.

Season with salt and pepper to taste.

Place shrimp in a single layer in the skillet. (If the pan is not big enough, cook in batches.)

Cook shrimp over medium-high heat for about 3 minutes and then flip shrimp to the other side.

Cook shrimp for about 3 minutes more or until shrimp is cooked through and bright pink.

Serve shrimp over zucchini noodles.

Top with toasted pine nuts and feta cheese.
Nutrition Facts
Shrimp Zoodles in 30 Minutes or Less
Amount Per Serving
Calories 434
Calories from Fat 261
% Daily Value*
Total Fat 29g 45%
Cholesterol 294mg 98%
Sodium 1388mg 58%
Potassium 648mg 19%
Total Carbohydrates 14g 5%
Protein 28g 56%
* Percent Daily Values are based on a 2000 calorie diet.
These are the spiralizers I recommend. When you start your Amazon shopping here, we get a small affiliate commission. Thanks for your support!!!
The Vegetti Spiralizer is great for zucchini and cucumber, is under $15 and an easy way to get started with veggie noodles.
The Paderno Spiralizer has lots of bells and whistles, is perfect for all types of fruit and vegetables and make a great gift too!
NEVER MISS A RECIPE! SUBSCRIBE BY EMAIL & RECEIVE A FREE GIFT!
FOLLOW ME:
FACEBOOK | TWITTER| GOOGLE +| PINTEREST | INSTAGRAM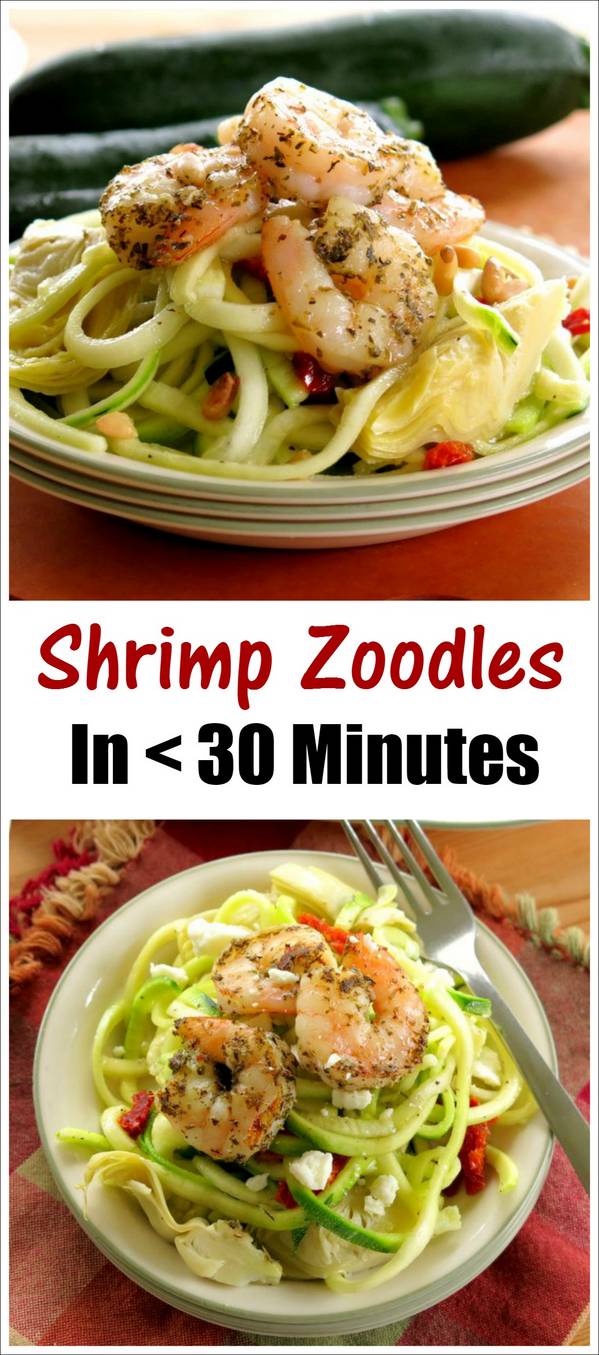 Loading InLinkz ...