You'll never know there's a vegetable hiding in these Chocolate Zucchini Brownies! This naturally vegan recipe is healthy and delicious.
And moist and has a rich chocolate taste! We love the magic of the zucchini shreds so much that we use them in this Death by Chocolate Zucchini Muffin and our Healthy Zucchini Muffins too.
Go ahead and indulge in one before dinner. You're eating vegetables after all. 🙂
In case it's not obvious from posts on zucchini noodle alfredo or zucchini chips from the microwave, we're a little obsessed with this vegetable. It can do just about anything!
So, National Zucchini Day, which just happens to be on August 8th, seemed like the perfect occasion to share these.
Chocolate Zucchini Brownies – Step by Step
Making these brownies isn't much different than making a traditional brownie, except that zucchini shreds are added and make this result very moist!
First, mix together the sugar, oil and vanilla until it is well-combined and crumbly. I used a combination of sugar and a stevia blend in order to keep with the healthy theme of this brownie.
In a separate bowl combine the flour, cocoa powder, baking soda and salt. Stir the sugar mixture into the flour mixture. It will have a crumbly texture when you are done (see picture above.)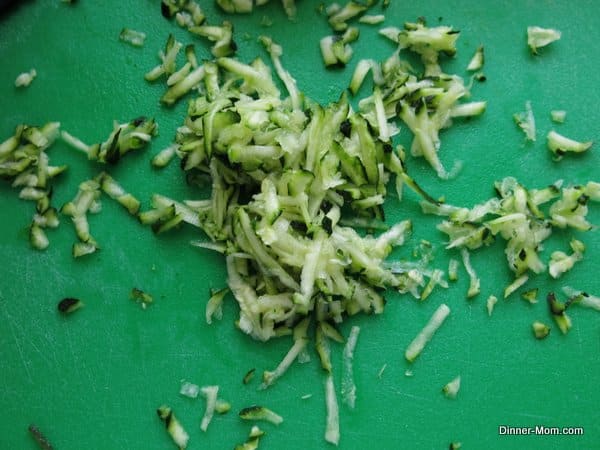 Grate a zucchini, skin and all, until you have two cups of shreds. I used one pretty large zucchini and had some leftover. Fold the zucchini into the flour and sugar mixture and stir until it is distributed throughout. The batter becomes wetter as the zucchini is incorporated.
Scrape the batter into an 8 x 11 baking dish. The batter will be thick. Have faith. A magical process occurs during the cooking process transforming the final product to a moist and chewy brownie.
Bake in a 350 degree F oven for about 25 to 30 minutes. Allow it to cool for 15-20 minutes before serving.
These chocolate zucchini brownies are the real deal. They are vegan, healthy and delicious. And, you can't taste the zucchini, despite what one of my darling daughters might tell you.
This recipe was adapted from a zucchini brownie recipe found on AllRecipes.
Please rate this recipe if you make it and tag @DinnerMom or #DinnerMom on social media. We love to see what you are cooking up!
Chocolate Zucchini Brownies
You'll never know there's a vegetable hiding in these chocolate zucchini brownies. This vegan version is healthy and delicious.
Ingredients
1/2

cup

canola oil

3/4

cups

Stevia Sugar Blend

(to equal approx. 1 1/4 cup sugar)

2

teaspoons

vanilla extract

2

cups

whole wheat pastry flour

(all-purpose unbleached or whole wheat pastry)

1/2

cup

cocoa powder

(unsweetened)

1 1/2

teaspoons

baking soda

1

teaspoon

salt

2

cups

zucchini

(approx. 1 large zucchini, shredded)
Instructions
Preheat oven to 350 degrees F.

Combine oil, sugar and vanilla extract in a bowl until well-combined and crumbly.

Combine flour, cocoa, baking soda and salt in a separate bowl.

Add sugar mixture to the flour mixture.

Using a grater, shred the zucchini.

Stir the zucchini shreds into the batter until thoroughly incorporated. Batter should be moist and thick.

Scrape batter into an 8 x 11 baking dish.

Bake for approximately 25-30 minutes or until the brownie is fairly firm and begins to pull from the sides of the pan.

Allow brownies to cool.
Recipe Notes
Variations: Add 1/2 cup chopped nuts or chocolate chips or top with frosting.
Helpful Kitchen Tools:
Nutrition Facts
Chocolate Zucchini Brownies
Amount Per Serving
Calories 220
Calories from Fat 90
% Daily Value*
Total Fat 10g 15%
Sodium 333mg 14%
Potassium 181mg 5%
Total Carbohydrates 28g 9%
Protein 3g 6%
* Percent Daily Values are based on a 2000 calorie diet.
There's no better way to eat your veggies than with these chocolate zucchini brownies.
Enjoy!
NEVER MISS A RECIPE! SUBSCRIBE BY EMAIL & RECEIVE A FREE GIFT!
FOLLOW ME: