Nothing is better on Tex-Mex night than black beans and cilantro mixed with a zesty salsa sauce and smothered with ooey, gooey cheeses…except when you layer all these goodies atop pillows of cheese-stuffed ravioli. Yep, you read that right. This baked ravioli has a Tex-Mex flair and it's da bomb.
It will knock your socks off and it's EASY. Easy to make and even better when you've made a batch ahead and can just pull it out of the freezer to bake. It's one of my "indulgent" Tex- Mex Tuesday entrees.
Tex-Mex Tuesday (a.k.a Taco Tuesday) has become a bit of an institution at our house. I don't mind. It simplifies meal planning and everyone loves a fiesta. If I have lots of cilantro and black beans on hand, then I make up Stacked Burrito Pies and Black Bean Cakes with Avocado Cream, which are also freezer-friendly. I just can't hide the fact that I have a bit of a love affair with black beans and cilantro. 🙂
Tex-Mex Baked Ravioli Step-by-Step
This recipe makes 6 servings. Since this is a special entree that just my hubby and I enjoy, I split the recipe in half. I make one batch for dinner and freeze the other half for another day. Instant portion control!
Step 1 – Combine a jar of salsa, a can of tomato puree and cumin in a bowl.
Step 2 – Prep your fresh cilantro and green onion. (This recipe is the perfect mix of canned and fresh!)
Step 3 – Drain and rinse 2 cans of black beans. (Of course, you can use fresh…go for it!)
Step 4 – Shred your cheeses. (Or buy it already prepped.)
Step 5 – Layer the ingredients in a large baking dish (or split the ingredients between two smaller baking dishes):
1/2 cup sauce
Frozen ravioli (don't defrost it or cook it)
Black beans
Remaining sauce
Cilantro
Green onions
Sharp cheddar cheese
Monterey jack cheese
If you want to "split" this baked ravioli casserole into two 3-serving dishes, then just split the ingredients between two baking dishes. That's what I did below. A 9″ square or round baking dish or tin works perfectly.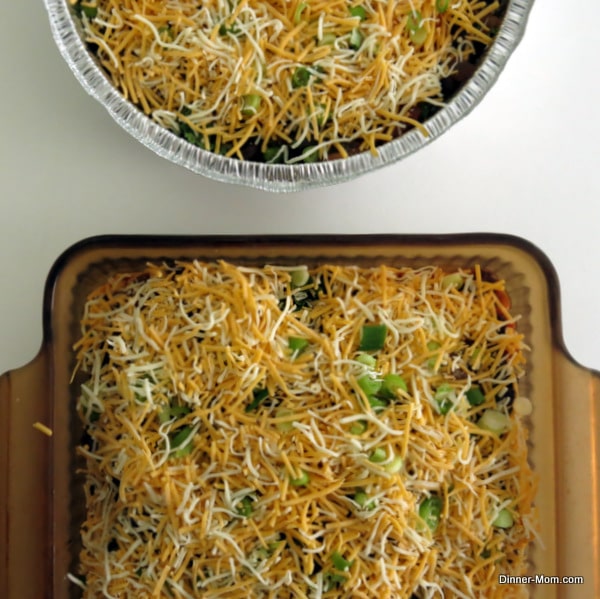 Step 6 – Cover with aluminum foil and bake in a 350 degree F oven for about 45 minutes. Uncover and then cook 5-10 minutes more or until the cheese is melted and bubbly.
Serve with a dollop of sour cream.
If you are going to freeze a batch of baked ravioli, then just cover, label and freeze. When you are ready to enjoy it, defrost it in the refrigerator and cook according to the directions.
In case your counting, I estimate that each serving of this Tex-Mex Baked Ravioli recipe has about 17 WW points…using full-fat ingredients. If you use lower-fat cheeses or cut back on the amounts used, then the number comes down a little bit more.
A version of this recipe was originally shared by Southern Living in February 2006. We adapted it for use in our make ahead meal store…and boy was it a hit!
Tex Mex Baked Ravioli
Baked ravioli is topped with black beans, tangy sauce, fresh cilantro, green onion and lots of ooey, gooey cheese. Perfect for Tex-Mex Tuesday.
Ingredients
16

ounce

jar salsa

mild

10 3/4

ounce

can tomato sauce

1/2

teaspoon

ground cumin

28

ounce

bag cheese ravioli

frozen

2

15 ounce cans black beans, rinsed and drained

1/2

cup

fresh cilantro

chopped

1/2

cup

green onion

about 1 bunch, thinly sliced

1

cup

sharp cheddar cheese

shredded

1

cup

monterey jack cheese

shredded

Sour cream for topping

optional
Instructions
Preheat oven to 350 degrees F.

Mix salsa, tomato sauce and cumin together in a bowl.

Spread 1/2 cup of salsa sauce in the bottom of a 9 x 11 baking dish.

Layer frozen ravioli over the sauce.

Layer black beans over the ravioli.

Pour remaining sauce over the black beans.

Sprinkle cilantro and green onion over the sauce.

Layer cheeses on top.

Cover dish with aluminum foil and bake for 45 minutes.

Remove cover and bake for 5-10 minute more or until cheese has melted and begins to bubble.

Top with a dollop of sour cream.
Recipe Notes
This recipe can be made ahead of time and frozen! Need smaller portions, split the ingredients between 2 9-inch baking dishes.
Enjoy!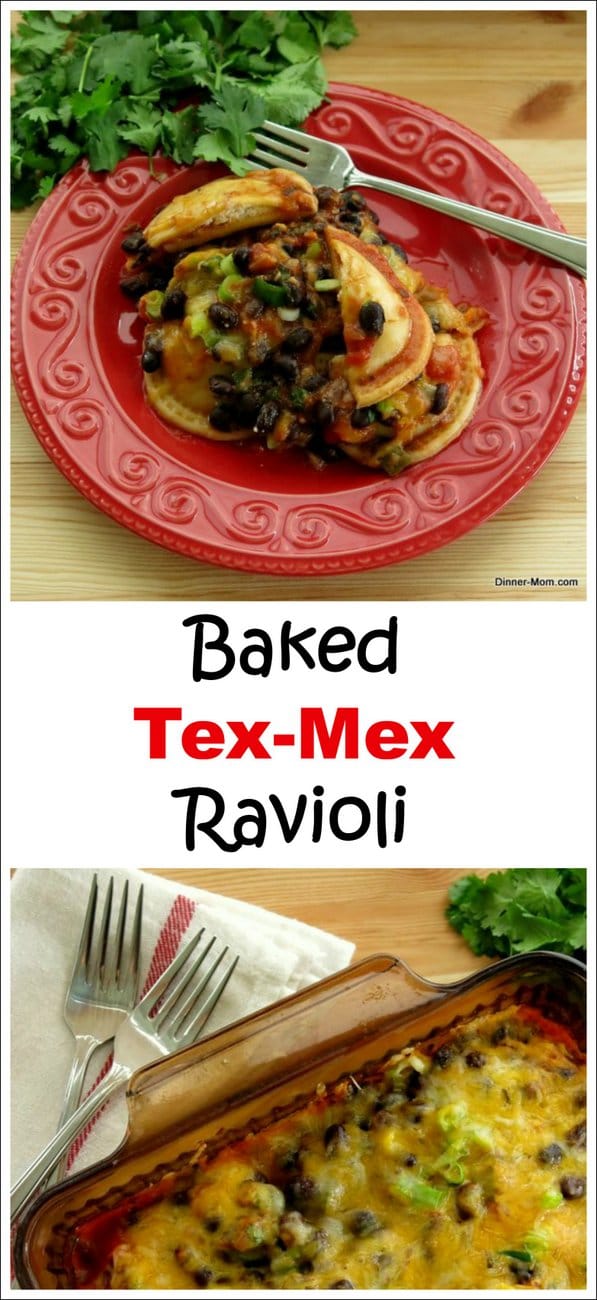 NEVER MISS A RECIPE! SUBSCRIBE BY EMAIL & RECEIVE A FREE GIFT!
FOLLOW ME: