Your favorite Mexican ingredients are piled 3 layers high in this Stacked Burrito Pie recipe. Make ahead and freeze some extra pies…you'll be glad you did.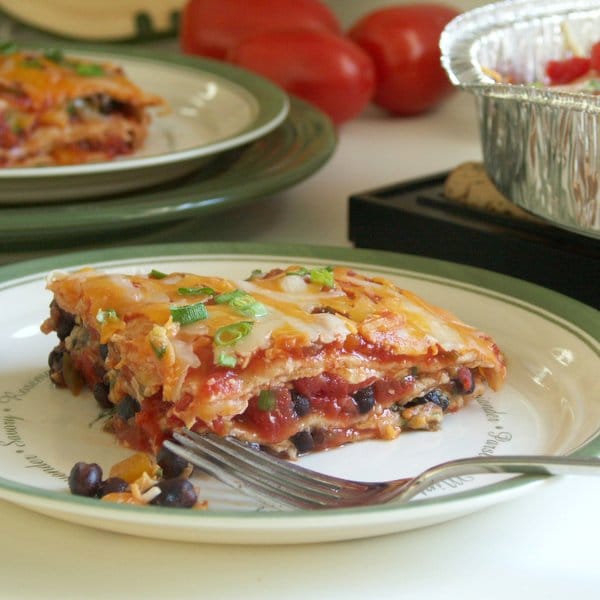 I've got a dare for you. Step out of your comfort zone and make this recipe (that was super popular at our make ahead meal store) with an out of the ordinary salsa.
Don't get me wrong…it is outstanding with traditional salsa. It's hard to resist layers of your favorite burrito ingredients…black beans, cheese, tomatoes, cilantro, green onion, meat (if you are not going meatless)…sandwiched between soft flour tortillas and baked until everything is gooey. But, depending upon your mood and sense of adventure, a fruity or super spicy salsa really makes this dish stand out. I love peach salsa. But, there are so many other varieties to try. Mango anyone?
Stacked Burrito Pie Step-by-Step
When I make this dish for our family, I make up several versions, customized to order. Pictured below is the vegetarian version with, you got it, peach salsa.  The process is very easy. First, prep all of the ingredients you will need and then set up an assembly line.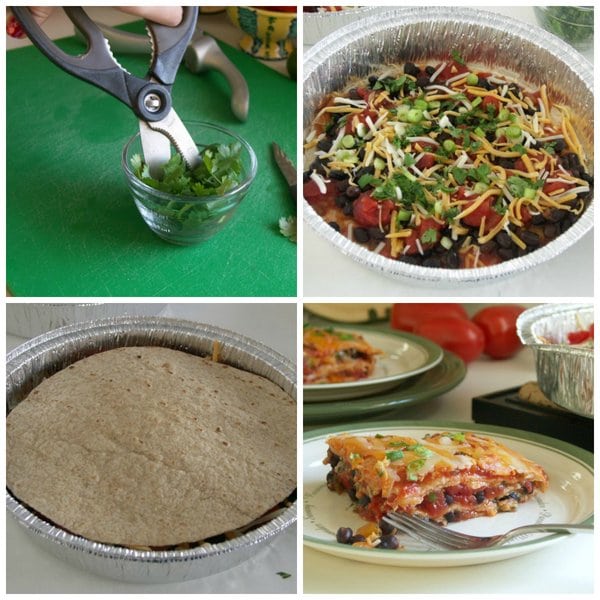 Chop the green onion.  Snip the cilantro.
I could go on…chop the tomatoes, shred the cheese, cook the ground beef. But, I take a few shortcuts at this point. I usually don't have time to chop the quantity of tomatoes needed for the recipe. So, I break out the can opener for the tomatoes and black beans. (Be sure to drain well). I also have beef crumbles all ready to go. (I make the ground beef crumbles in bulk and store them in 1 cup portions in the freezer.)
Let the assembly begin. Start with a flour tortilla as the bottom layer.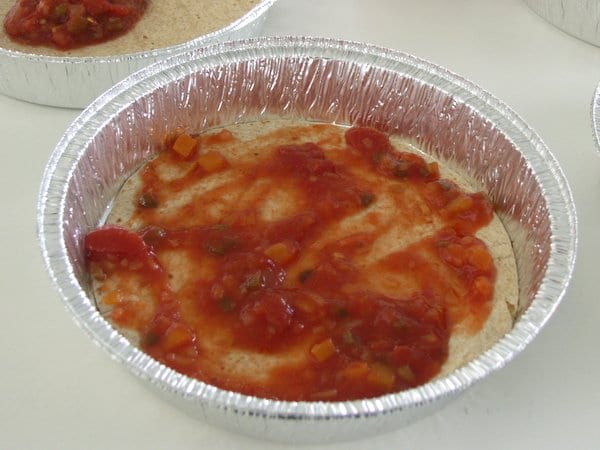 When it comes to the pans, the recipe will work fine in a square or round pan. You can even use a 9 x 12 casserole dish…overlap the tortillas a little and double the ingredients in each layer.
The first layer of my pie is complete. Here's where the customization comes in. I'm calorie conscious, so I put a little less cheese in the first two layers and leave out the meat. My husband loves cheese. So, he gets extra plus some beef crumbles. I use a cheese substitute for my daughter. Everyone gets their own personal pan with lots of leftovers! 🙂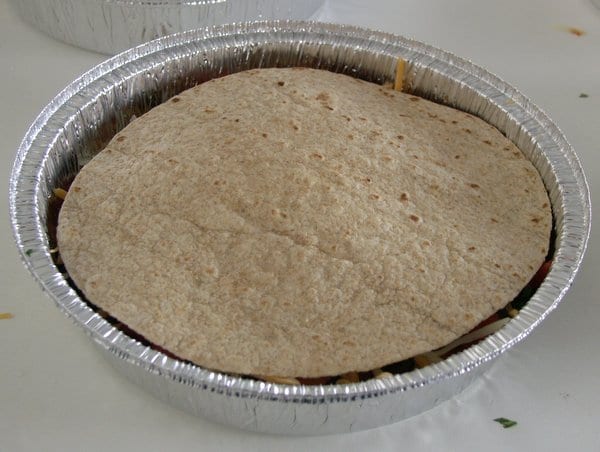 Repeat and then top the second layer off with the third tortilla. At this point I usually need to gently push down the contents so everything will fit nicely in the pan!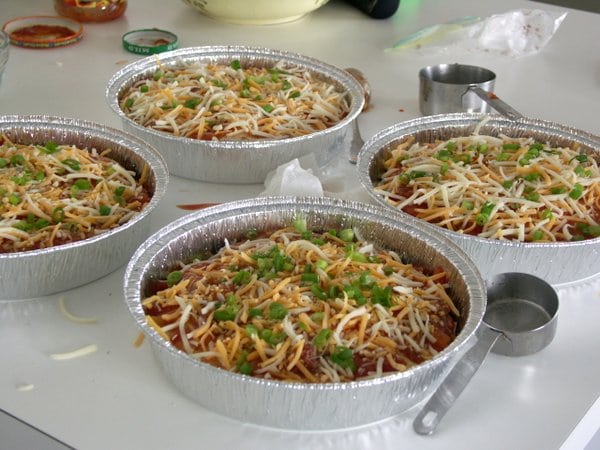 Ahhh…admire the accomplishment. To many this is a terrible mess…to me it's dinner for several nights!
This pie is fresh from the oven. Make sure to wait about ten minutes before servicing so it has time to set. Top it off with a dollop of sour cream…or fresh guacamole!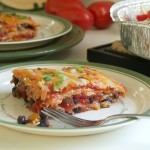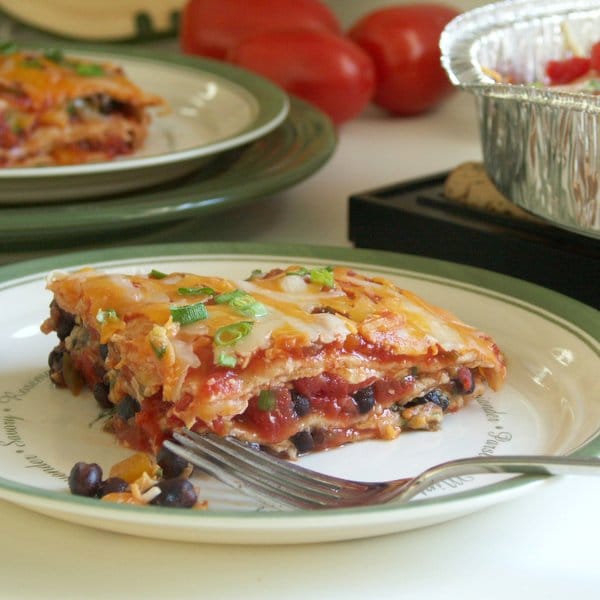 Burrito Pie with Peach Salsa
Your favorite burrito ingredients are sandwiched between four tortillas. When you are ready to eat, dinner is a breeze. Just add sour cream or guacamole, if desired. Use your favorite salsa! This is a make ahead and freeze recipe.
Ingredients
3

flour tortillas

7-8 inches (I used whole wheat tortillas)

1

cup

salsa

try a fruity or spicy variety for a change of pace

1

cup

black beans

rinsed and drained (15 ounce can)

1

cup

ground beef

cooked and crumbled (leave off for vegetarian version)

1

cup

diced tomato

drained (14.5 ounce can)

1 1/2

cups

Colby and Monterey Jack cheese

shredded

1/4

cup

cilantro

chopped

1/4

cup

green onion

chopped plus a little more for garnish

Optional toppings for serving: sour cream

guacamole, black olives
Instructions
Prepare all of the ingredients as indicated above so you are ready to assemble.

Place 1 flour tortilla in the bottom of a pan (round or square, 8-9 inches)

Spread 1/3 cup salsa over the tortilla.

Layer 1/2 cup black beans and 1/2 cup crumbled beef in the pan.

Layer 1/2 cup tomato and 1/2 cup shredded cheese in the pan.

Sprinkle 2 Tablespoons of cilantro and 2 Tablespoons green onion on top.

Repeat steps 2 - 6 to create the second layer.

Place a flour tortilla on top.

Spread 1/3 cup salsa and 1/2 cup shredded cheese on top.

Garnish with green onion.

Preheat oven for 350 degrees.

Cover with aluminum foil and bake for 30 minutes,

Remove foil and bake for 10 minutes more or until cheese is melted.

Allow pie to set for about 10 minutes before serving.

Serve with toppings such as sour cream and guacamole.
Recipe Notes
This dish freezes well. Once you have assembled the pie, cover with aluminum foil and wrap in plastic wrap. Be sure to label the pan. Store in the freezer for about 2 months. When you are ready to enjoy the dish, allow it to defrost in the refrigerator for about 24 hours first. Customize this dish to meet your family's needs by using lower calorie ingredients or leaving out the meat to make it vegetarian.
Nutrition Facts
Burrito Pie with Peach Salsa
Amount Per Serving (1 g)
Calories 427
Calories from Fat 180
% Daily Value*
Total Fat 20g 31%
Cholesterol 81mg 27%
Sodium 956mg 40%
Potassium 759mg 22%
Total Carbohydrates 30g 10%
Protein 31g 62%
* Percent Daily Values are based on a 2000 calorie diet.
Enjoy!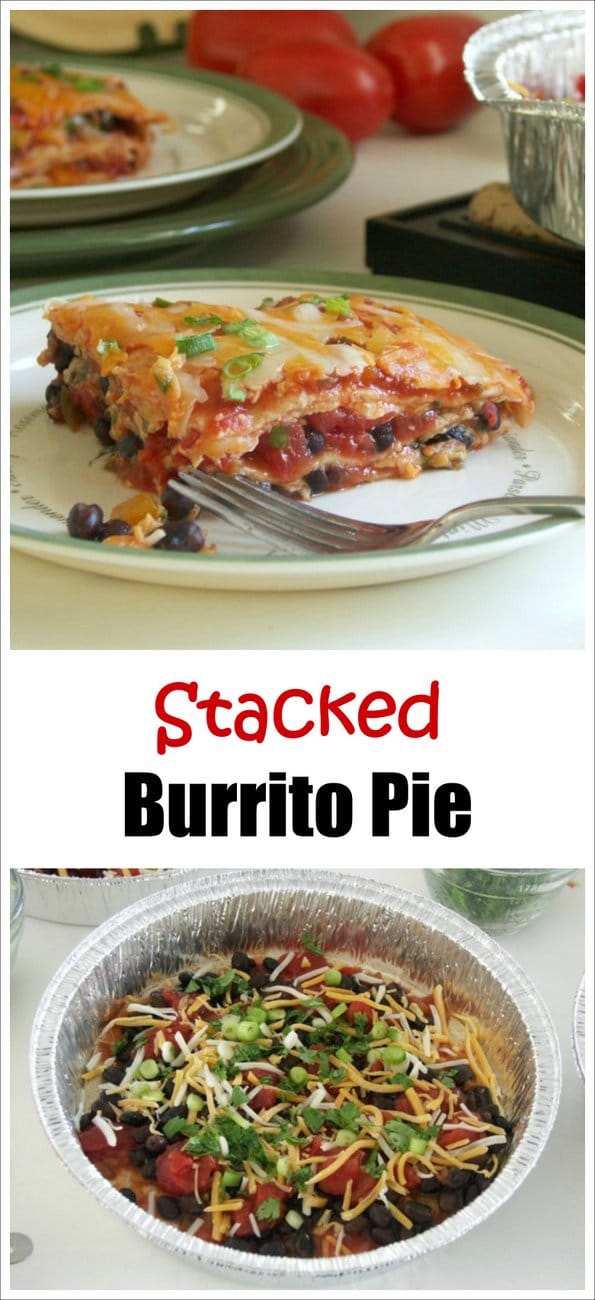 NEVER MISS A RECIPE! SUBSCRIBE BY EMAIL & RECEIVE A FREE GIFT!
FOLLOW ME: