This post may contain affiliate links. As an Amazon Influencer, I earn from qualifying purchases.
Butternut squash quesadillas are an easy, cheesy, over-the-top delicious vegetarian fall recipe the whole family will love.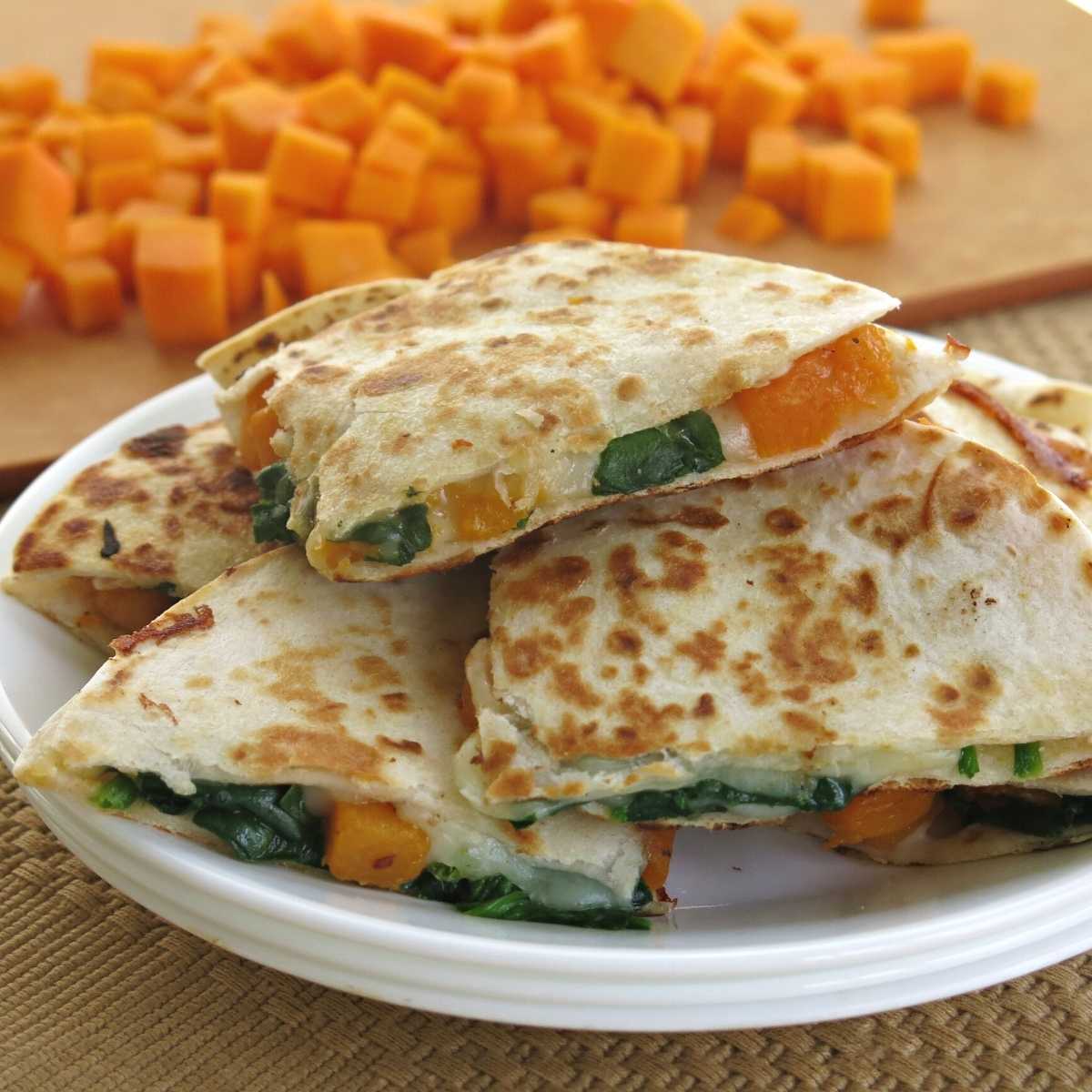 Want to give Tex-Mex night a fall twist? Pan-fry buttery flour tortillas filled with sweet, nutty butternut squash, tender baby spinach (or kale), and lots of gooey cheese. It's basically impossible not to fall in love with this butternut squash recipe.
The Pioneer Woman's Butternut Squash and Kale Quesadillas inspired this dinner idea many moons ago. Now, we look forward to this seasonal recipe and butternut squash pizza each year.
You'll this recipe because:
It's packed with healthy butternut squash and spinach.
It's low-carb if made with carb-conscious tortillas.
It takes under 30 minutes to make if you use frozen butternut squash or prepare the cubes ahead of time.
It calls for 4 main ingredients, which are often on hand.
Jump to:
Ingredients
Here's what you'll need to make butternut squash quesadillas:
Butternut squash - Peel and dice into ½-inch cubes or smaller. The smaller the cubes, the quicker they cook. Less of the filling falls out during the cooking process, too. Ergo...less mess!
Spinach or kale leaves - Use a tender baby green without a tough center stem. Otherwise, remove stalks.
Flour tortillas - Most any size or type will work in this recipe, including carb-conscious brands. The 6-inch size is easy to flip. A burrito-sized one can be folded into a half-moon and does a good job of containing the ingredients.
Mozzarella cheese - This mild cheese allows butternut squash to take center stage in this recipe. However, other shredded cheeses like Monterey Jack or Colby Jack would also work.
Butter and Olive Oil are used for cooking the quesadillas.
Variations: Add cooked shredded chicken, caramelized onions, or black beans.
Please see the recipe card at the bottom of this post for the complete list of ingredients with measurements plus recipe instructions.
Directions with Pictures
Here's how to make butternut squash quesadillas: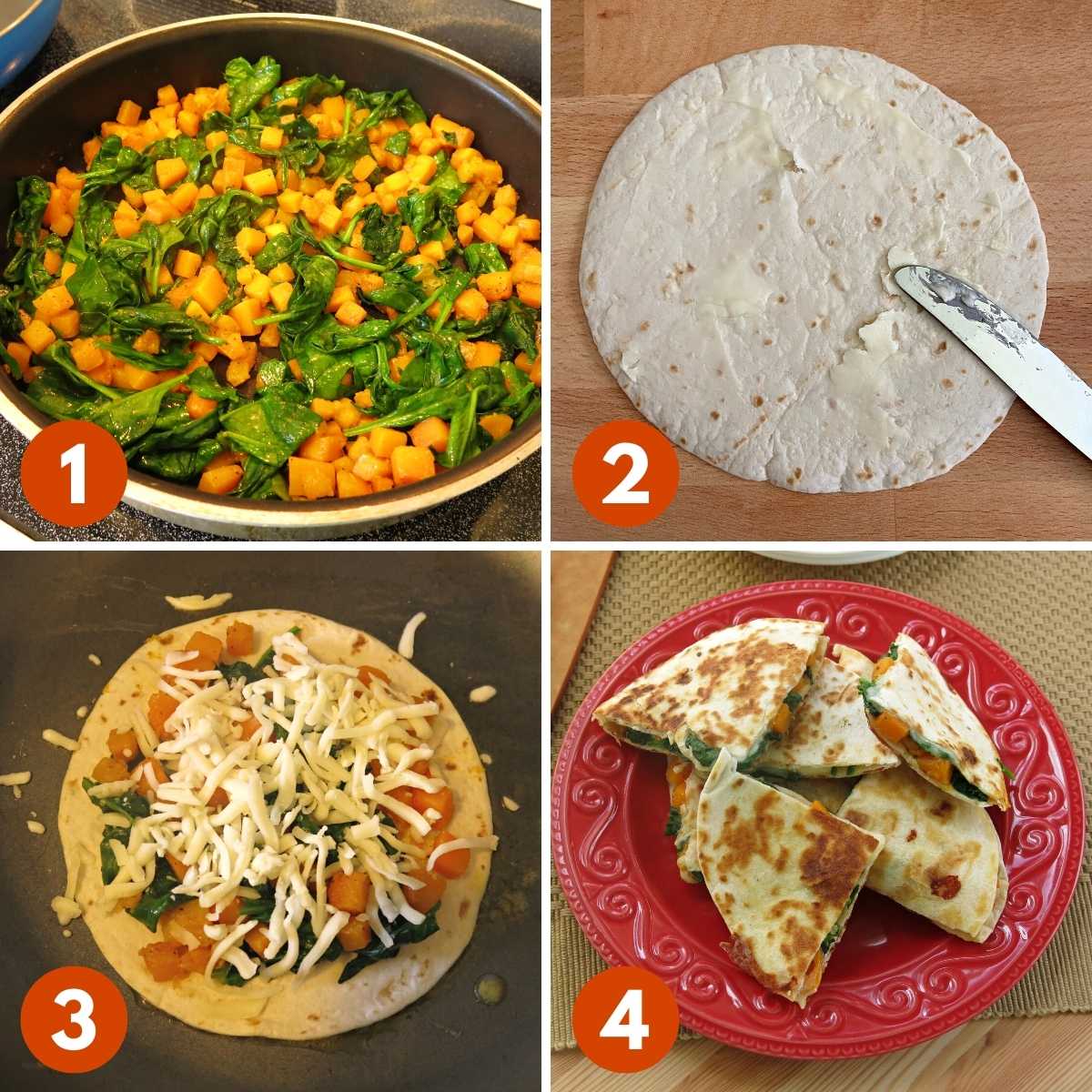 Heat olive oil and butter over medium-high heat. Add butternut squash, season with salt and pepper, and saute for 5-7 minutes or until squash is fork-tender. Add spinach leaves and saute until the spinach is wilted. Remove from heat and set aside.

Note: Raw spinach overwhelms the pan when you add it. It will wilt in about 2-3 minutes and will be perfectly proportioned to the squash!

Spread a thin layer of butter on the outside of each tortilla. This step helps ensure the outside of each quesadilla is evenly crisped and browned. It can be skipped if desired.
To assemble, place 1 tortilla butter side down (against the pan) and spread ¼ of the butternut squash and spinach mixture over the top. Sprinkle with cheese and cover with a second tortilla. Repeat.
Lightly coat the bottom of a clean skillet with oil and heat to a medium temperature. Add each quesadilla to the skillet and toast for 2-3 minutes on each side or until lightly browned and crisp. Use a large spatula to carefully flip halfway through. Cut into triangles with a pizza cutter and enjoy.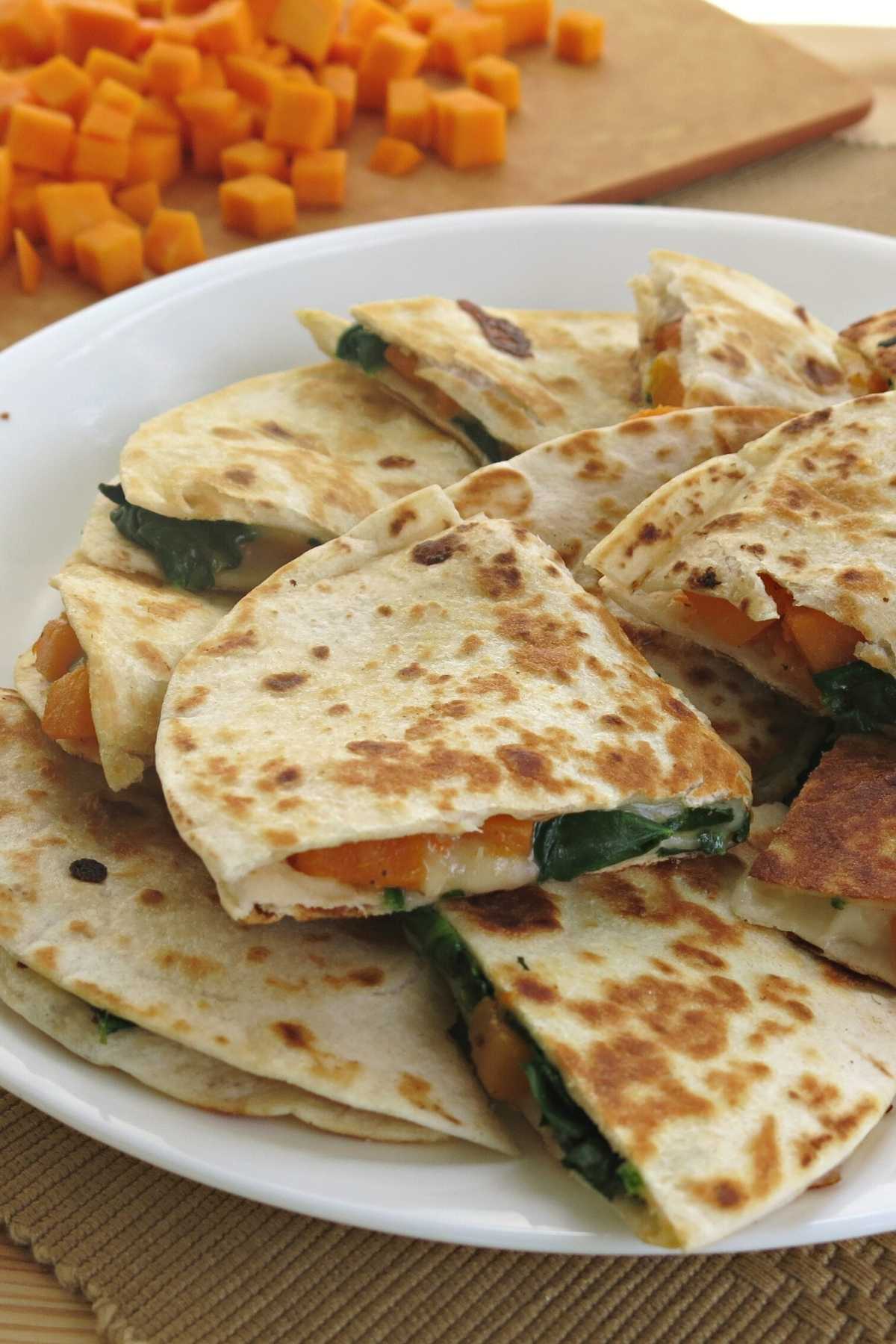 Tips
Leave a little room at the edge of the tortilla for the ingredients to spread during the cooking process. It's best not to overstuff it.
If using large flour tortillas, add butternut squash and cheese to one side of the tortilla and fold it over.
If serving a crowd, use a large griddle so the quesadillas are done simultaneously.
Assemble the quesadilla right on the griddle or skillet, leaving less opportunity for the ingredients to spill out.
As the cheese melts, the two sides will stick together. Keep an eye on the cheese as it cooks to gauge when to flip it to the other side.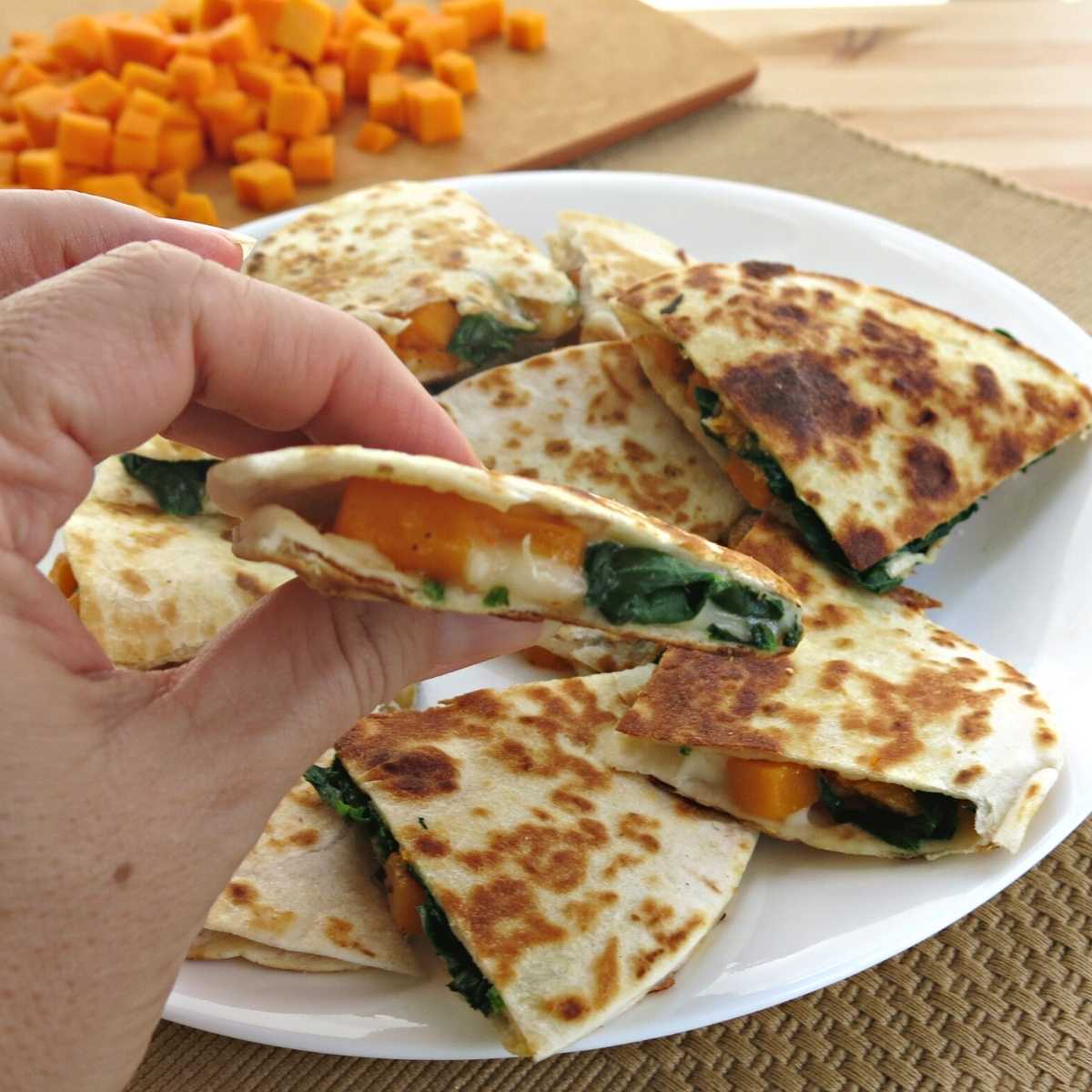 Butternut squash quesadillas don't need a topping. But they do pair perfectly with Mexican toppings, including sour cream, salsa, easy guacamole, and crema.
Storage, Reheating, Make-Ahead Tips
Refrigerator. Quesadilla filling can be refrigerated for 3-5 days or stored in the freezer for about 2 months. Store assembled and cooked quesadillas in the refrigerator for up to 3 days.
Reheat. Reheat defrosted filling in the microwave until heated through, then assemble and cook as you usually would. Warm leftover quesadillas over medium-low heat in a skillet until heated through and crisp.
Make-ahead. Prepare butternut squash cubes in advance to speed up the cooking process.
More Butternut Squash Recipes
Did you make this recipe?
Please leave a rating and tell us how you liked it!
📋 Recipe
This recipe was originally published on 11/17/13 and has been updated to improve the reader experience.