Spaghetti Squash Alfredo is a low-carb, gluten-free way to satisfy your cravings. Mix cream cheese and 2 other sauce ingredients right into the cooked squash. You don't even need a stovetop!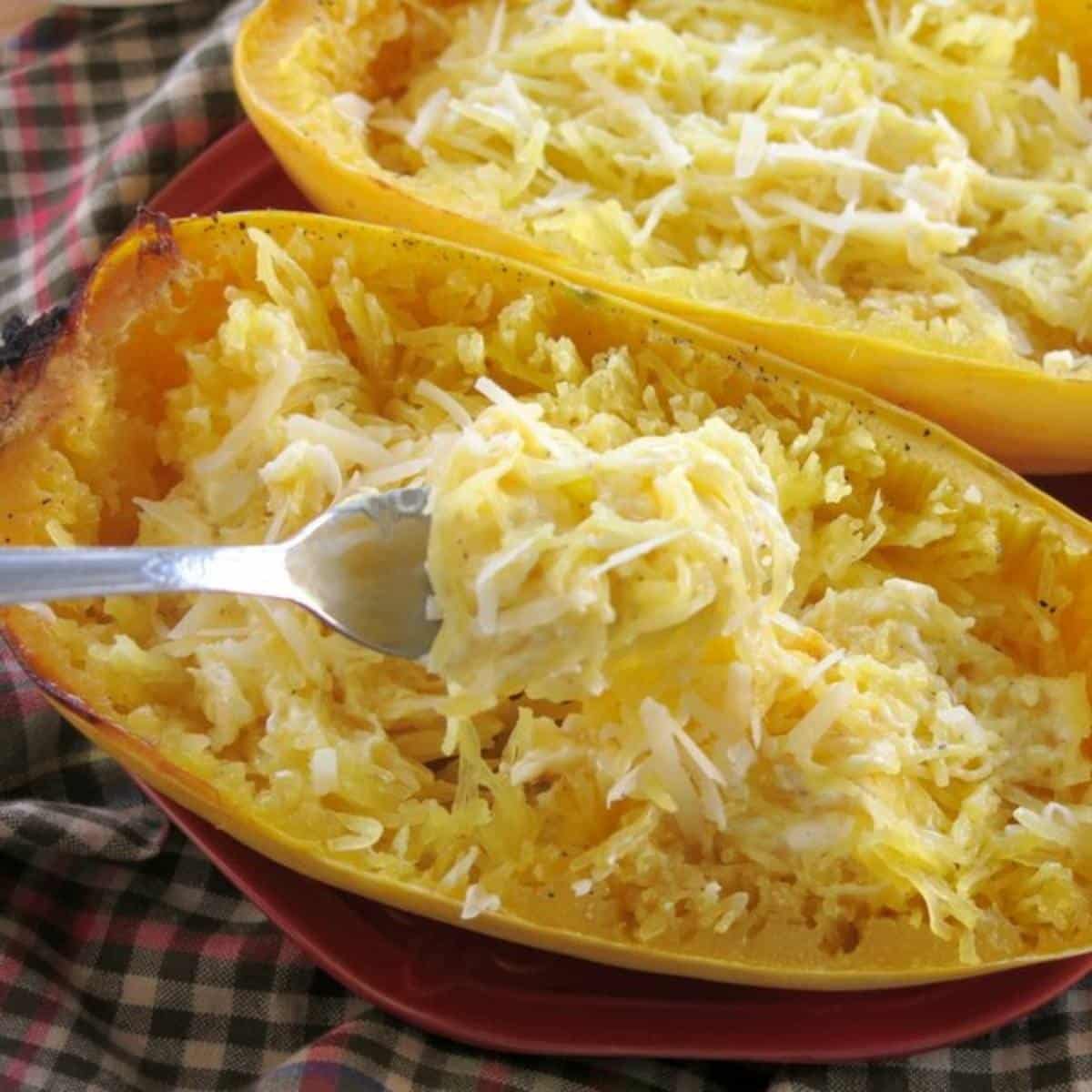 Are you limiting carbs? Counting calories or points? Do you have health-related resolutions that you're bound and determined to achieve? If so, you need this skinny version of Spaghetti Squash Alfredo in your recipe box!
Come fall/winter, this recipe takes over where Easy Zucchini Noodle Alfredo leaves off. In fact, the ingredients are almost identical except that you don't have to spiralize anything!
It's much lower in calories and carbs than regular pasta alfredo, but just as creamy and delicious. But, watch the portion size if you are on a keto diet.
I'm partial to super simple low-carb recipes that incorporate vegetables in my quest for being healthy! I promise to share all the tasty recipes and any tips I learn along the way...because that's what I do. 🙂 You'll find many of the recipes in South Beach Diet Phase 1 Recipes.
How to Make It
The graphic below really sums up the easy preparation:
Cook spaghetti squash (bake, microwave or use the slow cooker.)
Scrape out the strands (you can leave them in the gourd or scrape into a bowl.)
Stir in cream cheese, sour cream, and Parmesan Cheese.
Enjoy!
It takes minutes to prepare (once you cook the spaghetti squash) and there are minimal dishes to wash. What's not to love?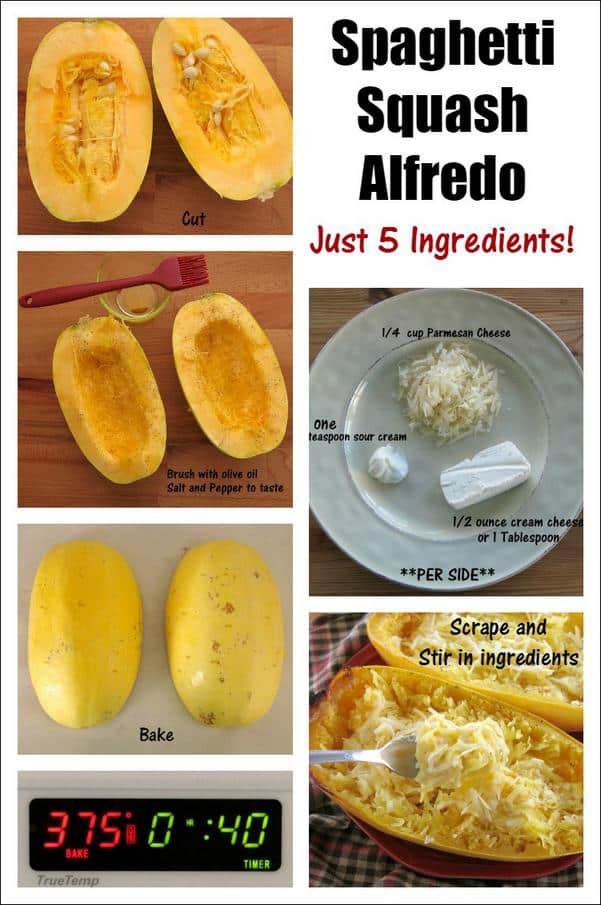 How to Cook Spaghetti Squash
You have several options depending on how much time you have. There are pros and cons to each method.
Bake it in the oven.
Microwave it.
Use a crock-pot.
Prep tips
Use these tips no matter which method you choose:
Rinse the gourd before you do anything else!
Poke holes all over the squash with a knife to allow steam to escape.
If you are going to cut it in half before it cooks, soften it first so it will be easier to cut in half. Use a knife to score where you plan to cut it. The indentation does not need to be very deep. Microwave for 1-2 minutes or a few minutes longer if it is very large. Don't go much longer or you risk the inside getting so hot it explodes. I hold it with a hand towel while cutting because it will be hot.
Oven method
Cooking spaghetti squash in the oven is the traditional method. It's all hands-off time and it deepens the flavor, but it does require you to cut the gourd and wait while it cooks.
Cut the spaghetti squash in half, scoop out the seeds, brush the inside with olive oil, sprinkle with salt and pepper, and bake the sides face down on a baking sheet lined with parchment paper for about 40 minutes in a 375 degree °F oven.
Microwave method
When time is of the essence, and you need to curb your spaghetti squash alfredo craving stat, try the microwave method. I follow this method over at The Kitchn for Cooking Spaghetti Squash in the Microwave Oven. It does not have the "roasted" flavor but is still tasty.
Essentially, soften the spaghetti squash for a few minutes (as described above) and then cut it in half. Remove seeds and place halves with the cut side down in a dish in about 1 inch of water.
Again, be very cautious to not cook too long (about 5-7 minutes more) and have lots of holes poked to allow steam to escape. Be careful when you take it out because IT WILL BE HOT!
Slow cooker method
Cooking spaghetti squash whole in a slow cooker is my very favorite method, so long as I plan ahead! It doesn't have the caramelized taste from roasting, but it's just so easy to do.
Simply plop the whole gourd into the crock-pot. The timing is very forgiving but generally takes about 5-6 hours on a low setting or 3-4 hours on high.
The beauty of this recipe, no matter which method you use, is that the cream cheese, sour cream, and Parmesan Cheese are added directly to the cooked squash. The strands are so hot the ingredients melt as they are gently mixed into the strands of flesh.
FAQ
Which direction do you cut spaghetti squash for long noodles?
Cut spaghetti squash long ways (through the stem) for shorter noodles and in the middle for longer noodles.
How do you cook spaghetti squash so it's not watery.
Don't overcook it. If using the microwave or slow cooker method, then blot the strands with a towel to remove excess moisture that may build up. Add the sauce ingredients when you are ready to enjoy it. Otherwise, store the strands separately until you are ready to use them?
Can you prepare spaghetti squash in advance?
Yes! Cook the spaghetti squash and remove the strands. Store in the refrigerator for 3-5 days. Heat and add the sauce when you are ready to enjoy the recipe.
Keep the strands in the gourd if you've baked it in the oven and save a plate. Otherwise, scrape them into a bowl. Either way, this creamy spaghetti squash alfredo will satisfy a craving for decadence. No. It's not pasta. But, it sure is delicious!
Please rate this rate and tag @DinnerMom and #DinnerMom on social media. We love to see and SHARE what you are cooking up!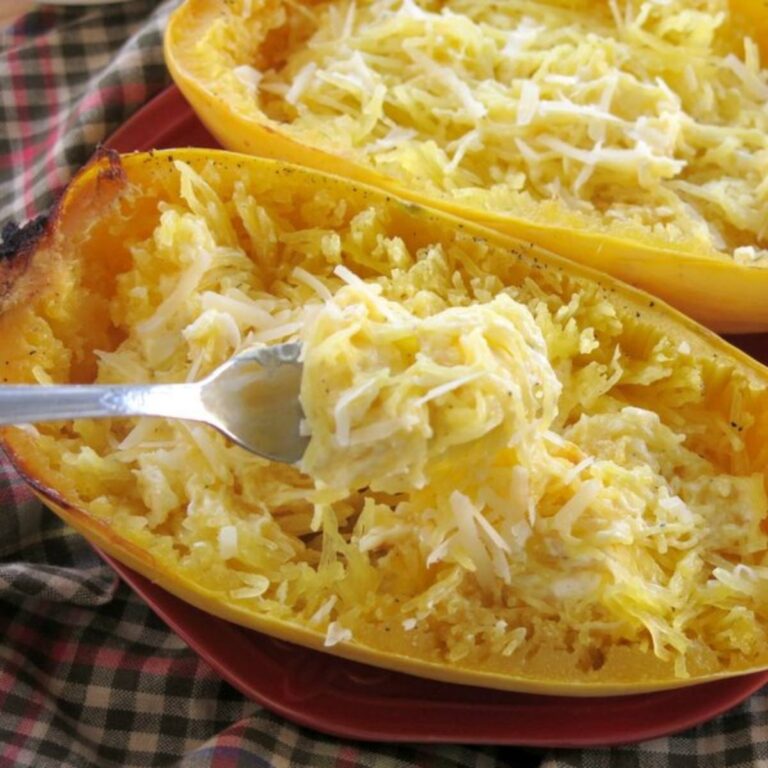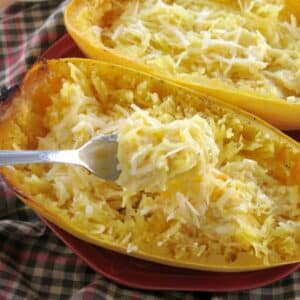 Spaghetti Squash Alfredo - Just 5 Ingredients
Spaghetti Squash Alfredo with cream cheese is an easy, low-carb recipe that doesn't even require a stovetop! It's creamy and delicious!!
Print
Pin
Rate
Ingredients
2

spaghetti squash

medium sized

1

Tablespoon

olive oil

enough to brush the insides of spaghetti squash)

salt and pepper

to taste

4

Tablespoons

cream cheese

4

teaspoons

sour cream

1

cup

Parmesan cheese

grated, plus more to garnish the top
Instructions
Preheat oven to 375 degrees F.

Poke each spaghetti squash with a knife on all sides (about 10 times or so) to allow steam to escape while cooking.

In order to make it easier to cut the spaghetti squash in half, place squash on a microwave-safe plate and cook in the microwave for 1-2 minute.

Cut each squash in half and scoop out the seeds.

Brush the inside with olive oil and season with salt and pepper.

Place squash halves on a sheet pan lined with parchment paper.

Bake for 40 minutes.

Place each squash half on a serving plate. The squash will be very hot.

Using a fork, scrape the strands of flesh away from the skin.

Add 1 Tablespoon cream cheese, 1 teaspoon of sour cream and ¼ cup of Parmesan cheese to the center of each squash half.

Gently stir the ingredients into the strands of flesh until they until melted and the strands are coated.

Enjoy straight from squash or scoop onto a plate.

Top with additional Parmesan cheese, if desired.
Notes
If following a keto diet, then limit the serving size to ¼ of a medium spaghetti squash and cut the nutritional estimate in half. 
You can also cook the WHOLE spaghetti squash in slow cooker first, then cut in half, remove seeds and then edible strands.
Grab 5 Low-Carb Sauces
and get more easy, healthy recipes! JOIN HERE
Nutrition
Calories:
335
kcal
|
Carbohydrates:
34
g
|
Protein:
12
g
|
Fat:
18
g
|
Saturated Fat:
8
g
|
Cholesterol:
35
mg
|
Sodium:
532
mg
|
Potassium:
564
mg
|
Fiber:
7
g
|
Sugar:
14
g
|
Vitamin A:
995
IU
|
Vitamin C:
10.1
mg
|
Calcium:
426
mg
|
Iron:
1.8
mg
Nutritional and Food Safety Disclaimer