Make Skillet Shrimp when you're short on time, but don't want to compromise on dinner or your diet. Follow this easy 10-minute process to cook tender, tasty shrimp every single time.
Cooking shrimp on the stove-top is my favorite way to make this delicacy because it's easy to monitor the cooking process and pluck shrimp from the pan at the perfect time.
The result? Tender shrimp that's never chewy.
We use the same technique to make Greek Shrimp with Tomatoes, Cauliflower Grits and Shrimp, Shrimp Zoodles and even Pan Seared Scallops.
This recipe isn't spicy at all...or even lemony...unless you want it to be! (We've got lots of variations to tell you about!)
It's a classic butter and/or olive oil flavoring that's easily customized based on how you will use it. I find myself making stove-top shrimp all the time for salads, soups, and pasta. It's high in protein, low in calories and tastes amazing. What's not to love?
All shrimp lovers should have this technique in their arsenal.
Jump to:
Preparing raw shrimp
This recipe assumes that you've already prepped shrimp to be cooked. Here's what that means and what you need to do:
Defrost shrimp if necessary. If you didn't move shrimp from the freezer to thaw overnight in the refrigerator, then run it under cold water for about 5-7 minutes. Thoroughly pat it dry before cooking.
Peel shrimp - use a different cooking method if you're not up for this task. (Boiling is an option.)
Devein shrimp - To do this cut a small slit down the top of each shrimp and pick out the black stringy digestive track with the tip of the knife. Repeat. Eating the "vein" will not harm you, but will detract from the look and possibly the taste. It's a must at our house!
Remove the tail if desired - This step is not an absolute must. It depends on your family and preference.
Pat shrimp dry with a paper towel.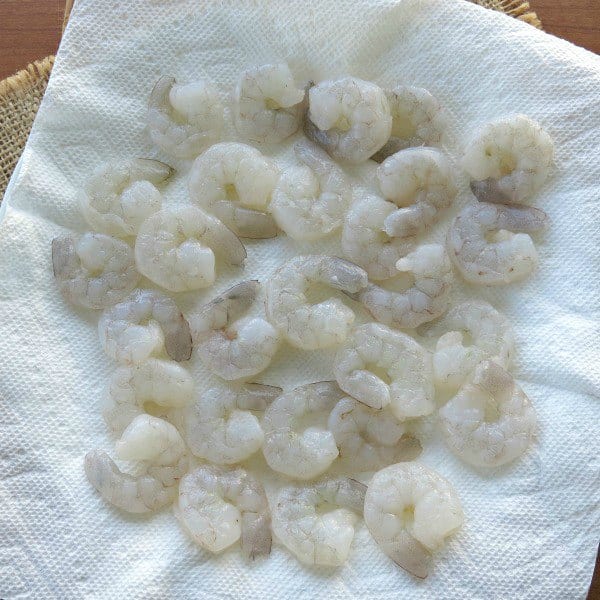 I've done all of these steps to save money. However, if it goes on sale, then I stock up. I have several bags in the freezer right on any given day!
ANY type of shrimp will work including rock shrimp, white shrimp, and prawns. Larger shrimp are easier to work with, but are more expensive too. Check out Everything You Need to Know to Buy Better Shrimp by Serious Eats for information on various types of shrimp and tips to purchase.
How to make skillet shrimp
Once you get the hang of it, this process becomes second nature and your shrimp will be delicious every time you make it:
Melt 1 tablespoon each butter and olive oil in a large frying pan or skillet over medium-high heat.

Note: The proportion and amounts can be varied. Use 2 Tablespoons olive oil for a paleo compliant or dairy-free version. 2 Tablespoons total is the minimum amount that will easily coat 1 pound shrimp and allow a minimal amount of leftover fat at the end. Up the amounts to have more butter and oil left at the end to make a sauce.

Arrange shrimp in the frying pan in a single layer. If you're doubling the recipe then the process will need to be done in batches.
Allow shrimp to cook for about 3 minutes without touching it. The exact amount of time will be more or less depending upon the size of the shrimp. We used large-sized shrimp.
At the 3 minute mark, use tongs or two forks, to flip each shrimp to the other side. Shrimp cooks in minutes and carefully tending to each one will allow them to all finish at the same time. However, another option is to use a spatula or large spoon to turn them.
Watch shrimp closely as they cook and remove them from the pan as soon as they are done.
How do you know when shrimp are done?
Shrimp are pink, pale white and no longer translucent when done. They shouldn't be bright white either because that signals they've been cooked a bit too long. Overcooked shrimp becomes tough and rubbery.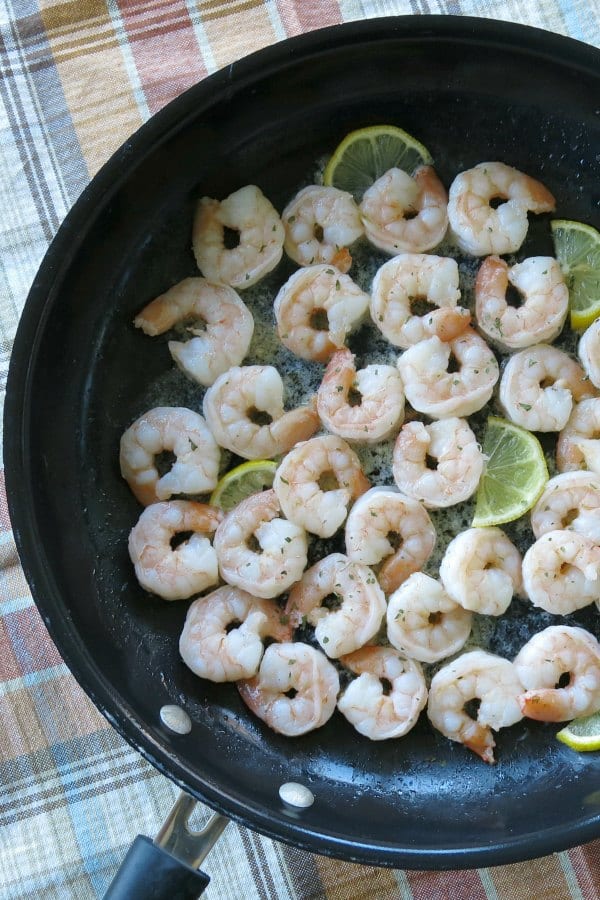 Variations for stove-top shrimp
Change the flavor profile of shrimp using some of these ideas:
Add a squeeze of lemon during or at the end of the process.
Add fresh minced garlic or garlic powder when melting the butter.
Sprinkle with a spice blend during or after cooking, such as:

Lemon pepper seasoning
Cajun seasoning
Italian seasoning

Remove shrimp from skillet and use leftover fat to stir fry vegetables such as broccoli, asparagus or carrots for a one-pot meal.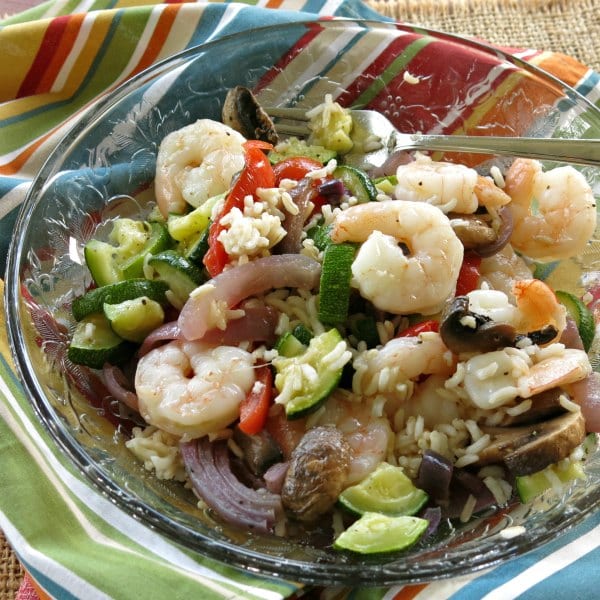 Ways to use skillet shrimp
Keep a bag of shrimp in the freezer and dinner is never far away. Here are some ideas to get you started: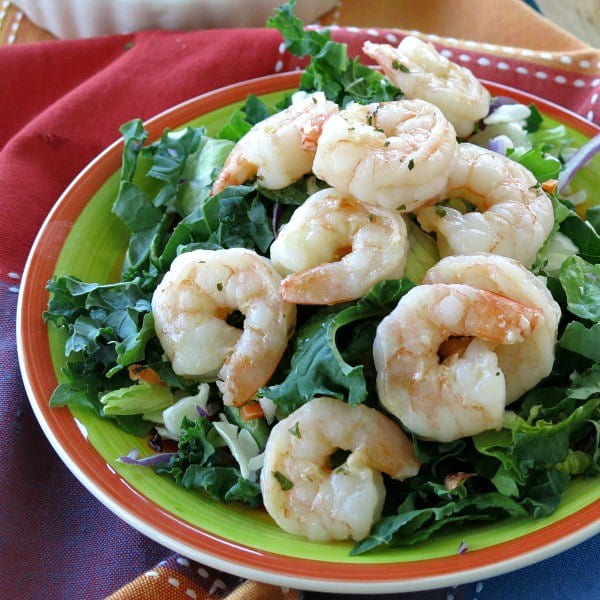 This technique is definitely one of the top tricks for getting a tasty dinner on the table fast.
Please rate this recipe and tag @DinnerMom or #DinnerMom on social media! We love to see what you are cooking up!
📋 Recipe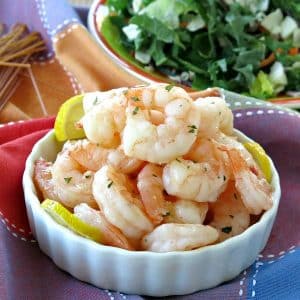 Skillet Shrimp in 10 Minutes or Less
Make tender, perfectly cooked shrimp every single time using this easy skillet shrimp recipe that's ready in 10 minutes or less!
Print
Pin
Rate
Ingredients
1

Tablespoon

butter

1

Tablespoon

olive oil

1

pound

shrimp

peeled and deveined, tail on or off
Instructions
Melt butter in a large skillet or frying pan over medium-high heat

Add olive oil to pan and swirl to combine with butter and coat the bottom of the pan.

Arrange shrimp in the pan in a single layer.

Cook shrimp over medium-high heat for about 3 minutes and then flip shrimp to the other side.

Cook for about 3 minutes more or until shrimp are cooked through and pink.

Quickly toss to coat with sauce and remove from pan to enjoy.
Notes
Note: The nutritional estimate assumes that ALL oil and butter is consumed. No adjustments have been made for amounts that are left in the pan.
Grab 5 Low-Carb Sauces
and get more easy, healthy recipes! JOIN HERE
Nutrition
Calories:
169
kcal
|
Protein:
23
g
|
Fat:
7
g
|
Saturated Fat:
2
g
|
Cholesterol:
293
mg
|
Sodium:
906
mg
|
Potassium:
90
mg
|
Vitamin A:
90
IU
|
Vitamin C:
4.6
mg
|
Calcium:
164
mg
|
Iron:
2.4
mg
Nutritional and Food Safety Disclaimer