For some reason, vegetables take on a whole new taste when served in an unexpected way, at least at our house. Take these zucchini ribbons, for example. They are smooth and silky, just like noodles. After they are sauteed in a little olive oil, garlic and rosemary, you might second guess whether you are in fact eating a new fangled pasta.
Zucchini ribbons are just plain fun to gaze at and eat!
Really…doesn't this plate of zucchini ribbons look a bit like spinach flavored pasta? And, no…I did not put on my sneaky mom hat and try to pass them off as such. I didn't have to. They looked so appetizing and the aroma was enticing, they got two thumbs up before they hit the table.
Another nice thing about this side dish is that it only takes about about 15 minutes from start to finish to make. You could probably do it in 10 minutes if you're organized.
Here's all you need to do: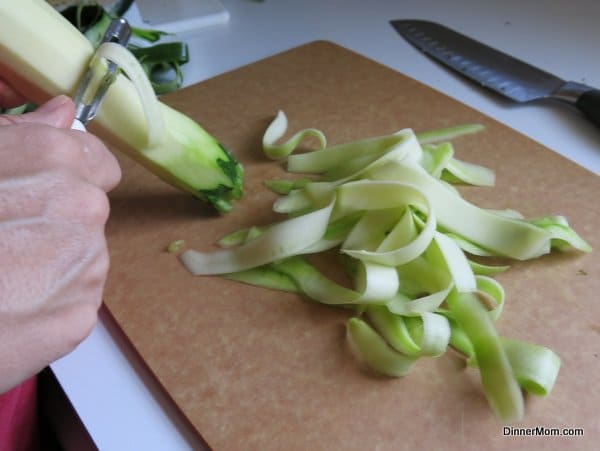 Peel off the outer skin of the zucchini with a vegetable peeler and discard. Now, continue peeling the rest of the zucchini into long strips. When you get down to the seeds, you can decide whether to keep going. If you don't like the look of the seeds, then you might just want to stop peeling at this point. I started with a little over a pound of zucchini and quit peeling when I started getting strips with mostly seeds.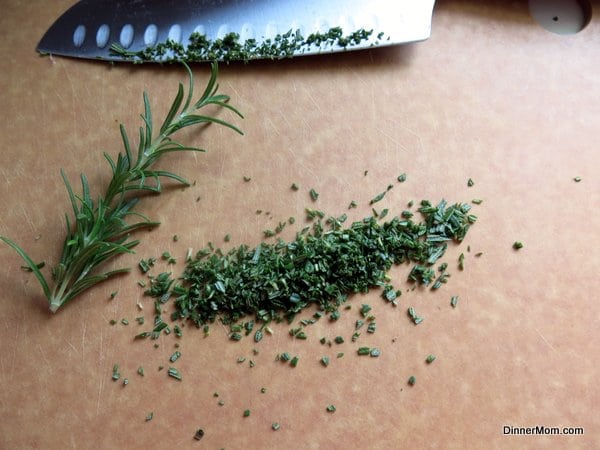 Chop up a little fresh rosemary. It's worth it. 🙂 But, you don't have to.
I've used just olive oil, just olive oil and garlic, and I have a list of other herbs to try as well. Next up, thyme.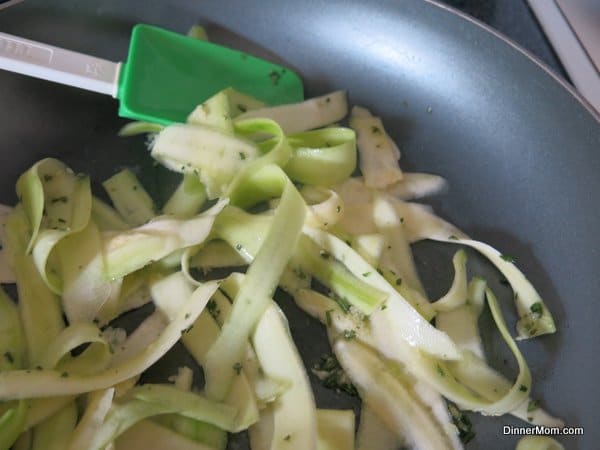 Add olive oil to a large pan and heat over medium high heat. Next, add the minced garlic and rosemary to the pan and soften for a few minutes. Finally, add the zucchini ribbons. I can fit about a pound of zucchini into my pan at one time. Saute the zucchini for about 5 minutes.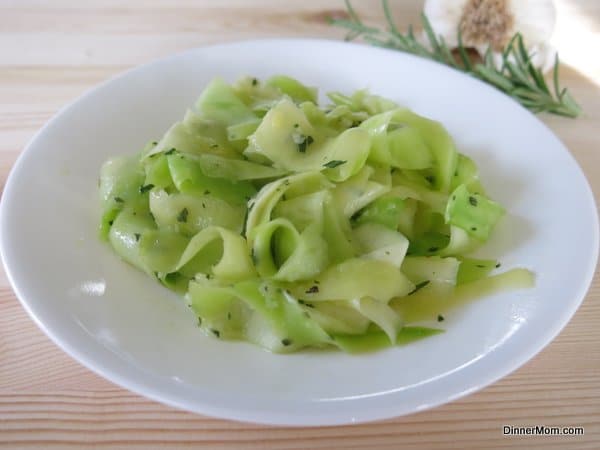 Sprinkle with a little salt, if desired.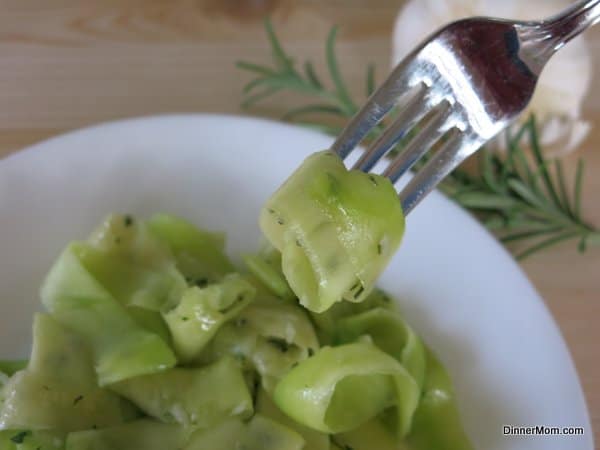 And ta da….Enjoy!
Zucchini ribbons are a great side dish with just about any entree. I whipped some up recently while Herb Crusted Chicken was baking in the oven.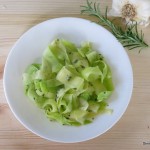 Zucchini Ribbons Sauteed in Garlic and Rosemary
Zucchini ribbons sauteed in garlic and rosemary are a fun and tasty side dish. And quick too, ready in about 15 minutes start to finish!
Ingredients
1

pound

of zucchini

1

Tablespoon

olive oil

1

garlic clove

minced

1

teaspoon

rosemary

chopped

Salt to taste
Instructions
Using a vegetable peeler, remove the outer skin from the zucchini and discard.

Continue to peel the zucchini into long strips or "ribbons."

Add olive oil to a large pan and heat over medium high heat.

Add garlic and rosemary to pan and soften for about 2 minutes.

Add zucchini ribbons to the pan and cook for about 5 minutes, stirring frequently.

Remove zucchini from pan and season with salt, if desired.

Enjoy!
There's no excuse for not enjoying your veges tonight!