This post may contain affiliate links. As an Amazon Influencer, I earn from qualifying purchases.
Easy Curry Cauliflower Rice is ready in 15 minutes! Make this healthy, low-carb recipe for dinner when you need something fast and flavorful.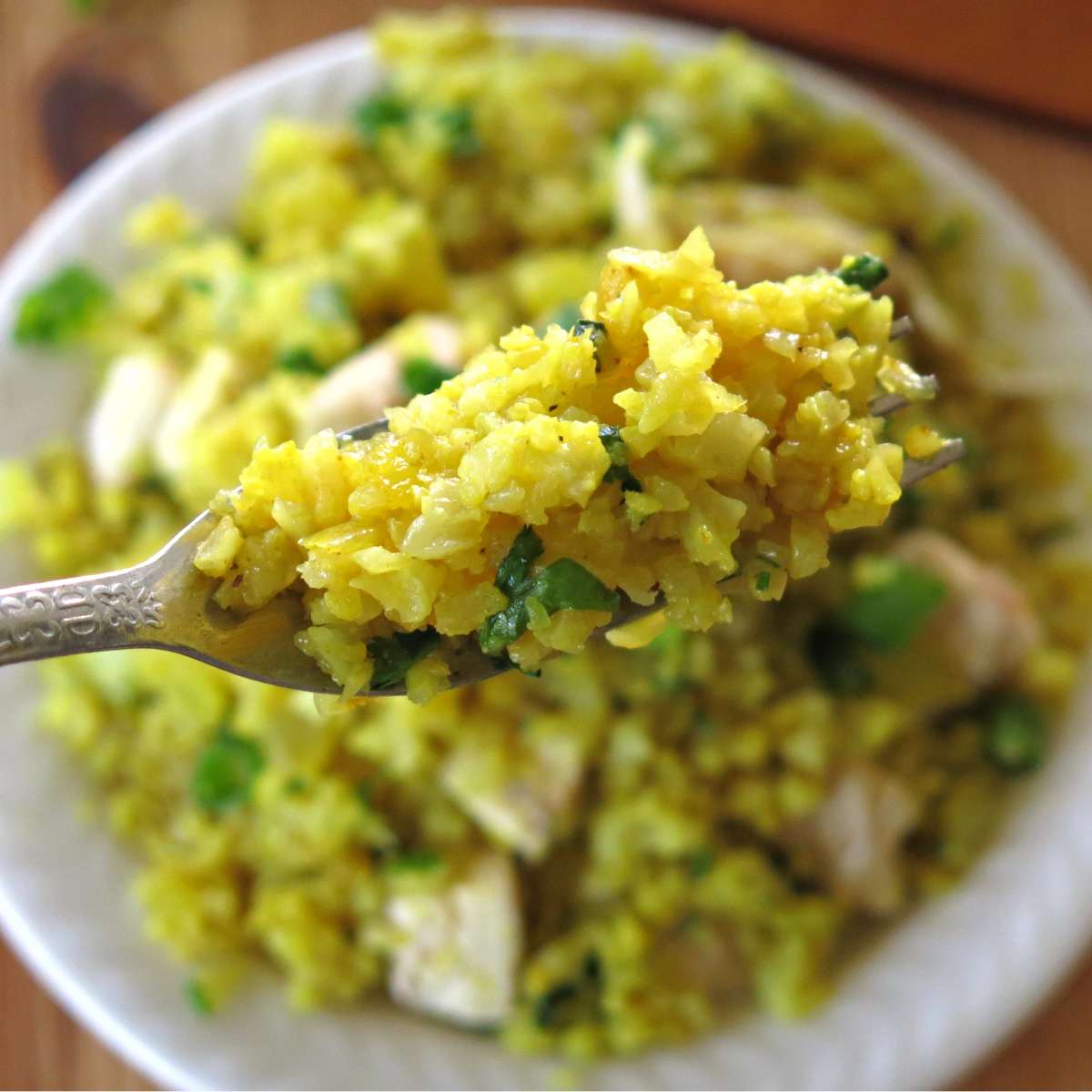 I can hear you now (or is that my family in the background?!) Cauliflower isn't the same as rice! You're absolutely, 100% correct.
But riced cauliflower mimics the texture of traditional rice or couscous. And it's delicious in its own right. It's also easy to cook and keto-friendly. So, what's not to love?
Cooking cauli-rice with sauteed onion, garlic, and curry powder is one of my favorite ways to prepare it. It's light and fluffy with distinctive yellow color and amped-up flavor.
Serve curried cauliflower rice as a side dish, or add your favorite protein for a quick meal.
Jump to:
Ingredients
Here's what you'll need to make curry cauliflower rice:
Riced cauliflower - Follow the directions below to make it or buy it at the grocery store. Use fresh or frozen cauliflower rice.
Onion - Dice sweet or yellow onions.
Garlic cloves - Press or finely mince these.
Curry powder is a blend of spices with turmeric as the main ingredient. Depending on who makes it, the mixture might include cinnamon, garlic powder, clove, mustard seeds, black pepper, and fennel seed. An alternative is garam masala, the spice traditionally used in Indian food.
Olive Oil is used for softening vegetables.
Salt this dish to taste.
Green onions and fresh cilantro are optional garnishes that add flavor and eye appeal.
Please see the recipe card at the bottom of this post for the complete list of ingredients with measurements plus recipe instructions.
Variations
Consider the ingredients above the bare minimum! Here are some other things you can add to curry cauliflower rice:
Carrots, green, orange, or red bell peppers, zucchini, or other seasonal vegetables.
Cinnamon for a touch of additional sweetness.
Dried fruit, such as raisins, currants, or apricots.
Toasted almonds or shredded coconut.
Lime wedges or lemon slices.
Add coconut milk for creamier cauliflower.
How to Rice Cauliflower
There's good news if you decide to make your own cauliflower rice! It takes about 10 minutes. But since you're pulling out an appliance you'll have to clean, make extra to freeze.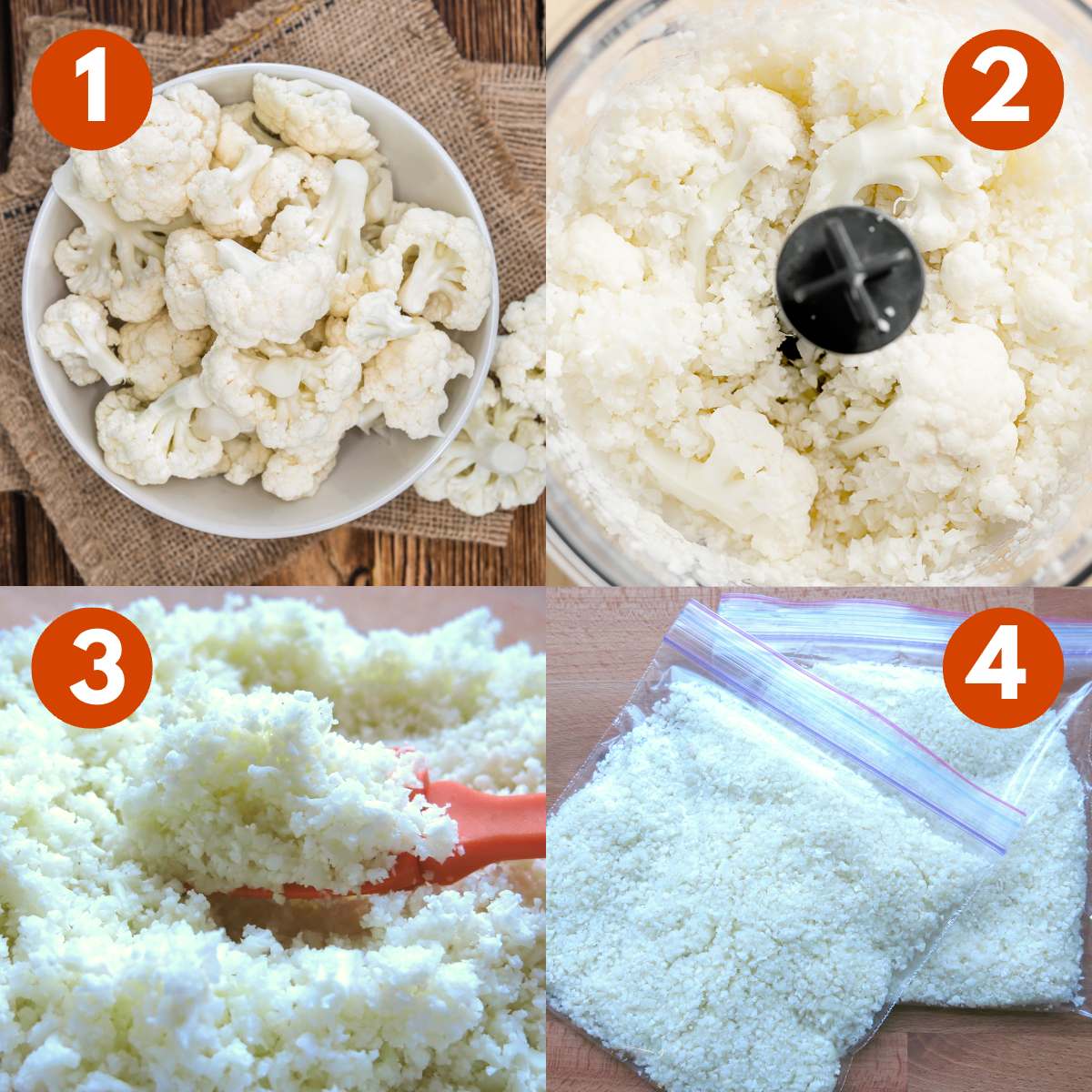 Here's how to do it:
Cut a head of cauliflower in half and cut the florets from the stalk.
Drop them into a food processor. Pulse cauliflower for about 60 seconds or until you have a consistency that resembles rice. Don't process it too long, or you'll have puree! It's better to stay on the chunky side.
It's ready to use right away.
Portion any amounts that you won't use in resealable plastic bags. That's it. You don't need to cook it first. When you're ready to use the cauli-rice, simply pull the bag out of the freezer.
Use the same process to rice broccoli and freeze it!
Directions
Here's how to make cauliflower rice with curry and vegetables.
Saute onions and garlic in a large skillet over medium-high heat to soften, for 2-3 minutes.
Add cauliflower rice and curry powder to the pan and stir to combine.
Cover and allow the ingredients to cook untouched for about 5 minutes. If you cook it any longer, give it a quick stir so that the garlic does not burn.
Remove the lid and fluff with a fork. Salt to taste and add additional garnish.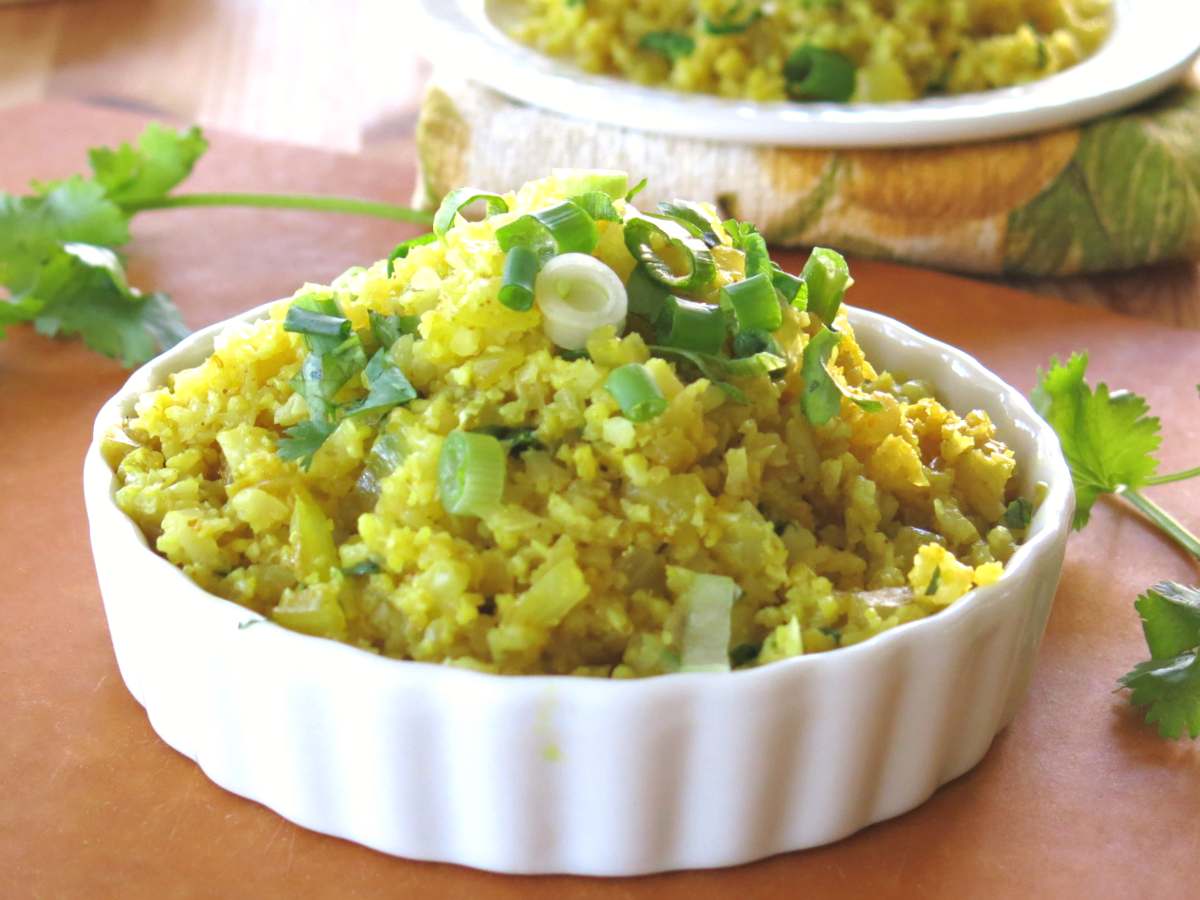 What to Serve with Curry Cauliflower Rice
Turn this dish into a complete meal by adding cooked chicken, shrimp, chickpeas, tofu, or your protein of choice.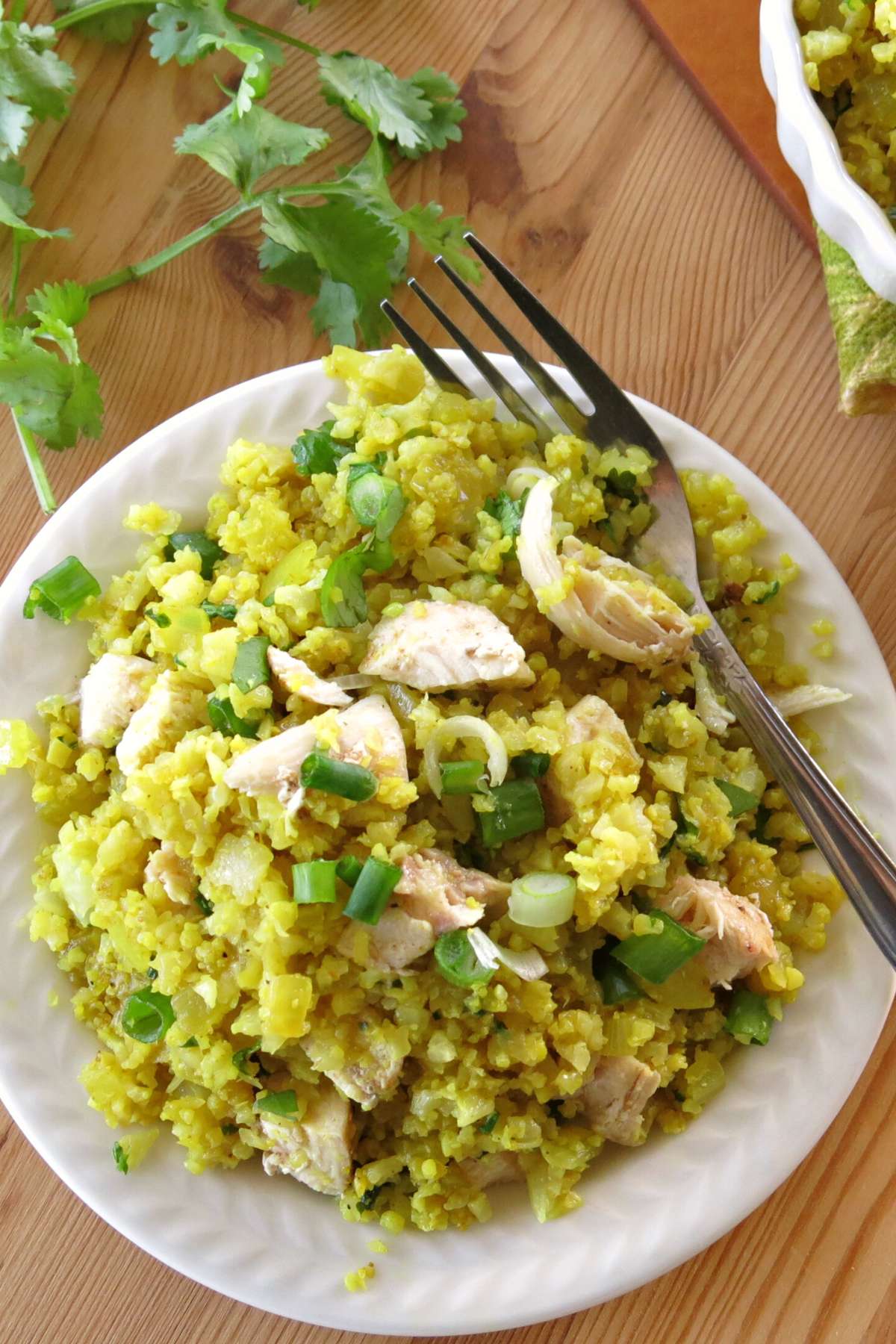 Storage
Store - Place leftover curry cauliflower rice in an airtight storage container in the refrigerator for up to 3 days.

Tip: Store in single-serve containers for make-ahead lunches during the week.

Reheat - Warm leftover rice in a skillet over medium-high heat until hot or reheat in the microwave.
Freeze - Leftovers may be frozen in an airtight storage container. However, the reheated dish won't be as good as the fresh one. Store for up to 3 months. It may be microwaved from frozen or defrosted overnight in the refrigerator and then warmed.
More Cauliflower Rice Recipes
Did you make this recipe?
Please leave a rating and tell us how you liked it!
📋 Recipe