I was craving a snack the other day.  Not an ordinary snack, like an apple or crackers. But, one that was special and satisfying, like this Easy Stuffed Mushrooms recipe.
It couldn't be too complicated because it was a snack after all and I had very little time to spend in the kitchen. It had to be healthy too.
So, I began experimenting with the cream cheese and spinach that I had on hand, which took about 5 minutes to prepare and 15 minutes to cook. And…ummm…just 7 or so minutes to eat. 🙂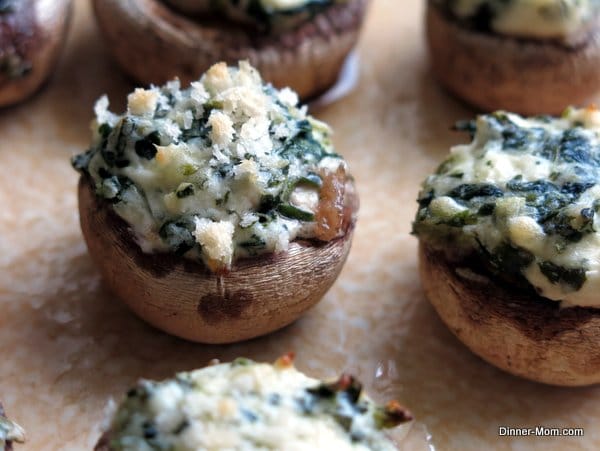 The mushrooms are stuffed with a mixture of cream cheese and spinach and topped with a very light sprinkling of panko breadcrumbs.
I could reach out and grab this one right now. It's a very satisfying snack indeed and a creamy alternative to all the zucchini chips I've been eating lately!
Easy Stuffed Mushrooms Step-by-Step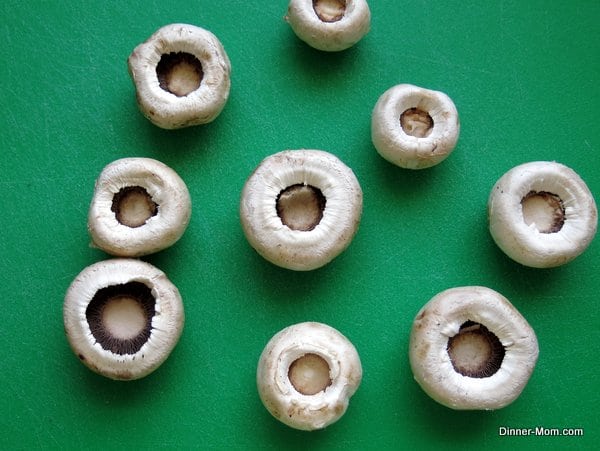 Pop out the stem of the mushroom from the cap. It will just pop right out when you pull it to the side.
Some recipes call for you to chop up the stem and use it in the stuffing. But, then you would need to soften it on the stove-top. There's no time for that because this is a quick and easy recipe.
So, discard the stem or use it for another purpose. I bet it would be great in mushroom stock.
I started craving stuffed mushrooms when I came across a box of almost pristine white mushrooms. I snatched them up and the creative juices starting flowing.
Baby bella and cremini mushrooms should work well too.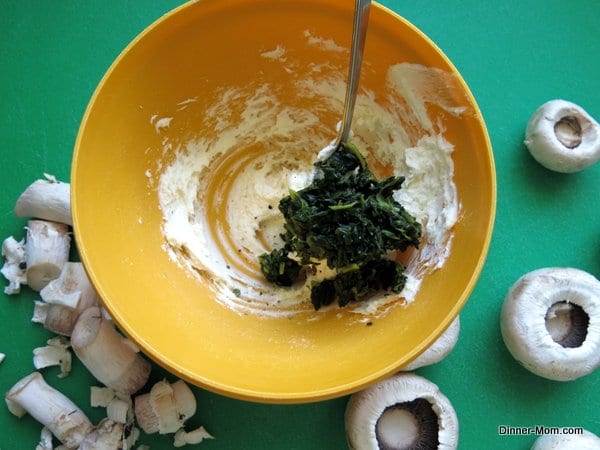 As for the stuffing, I was looking for a mixture that required no cooking at all (again…these are easy stuffed mushrooms.) I combined whipped cream cheese, Parmesan cheese, Jane's Krazy Mixed-Up Salt and chopped spinach.
Here's the thinking behind these ingredients:
I used whipped cream cheese because it's easy to mix. It's got the full fat flavor, but you use less of it because it's whipped. However, you can use any cream cheese, just soften it first.

I always have a bottle of Jane's Krazy Mixed-Up Salt around. It's a blend of spices that never seems to disappoint. Instead of reaching for several different spices, I only needed to reach for one. Garlic salt or other seasoning salt should work just fine in this recipe too.

And, then there is the spinach. I love spinach and the color it adds to the mixture. And, it's a healthy addition. Just lift a small chunk from a bag you have in the freezer. Lift some out the night before. Otherwise, defrost it in the microwave. Press the water out with a paper towel. I had a batch without any spinach at all and it was delicious too. I guess I'm a sucker for cream cheese and mushrooms.

Top each mushroom with a light sprinkling of Panko breadcrumbs. It's not absolutely necessary, but the slight crunchiness is nice.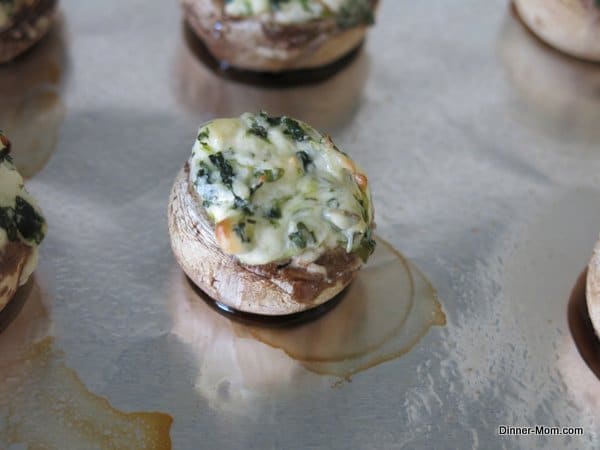 Bake the mushrooms in the oven for about 15 minutes. The juices from the mushroom will begin to pool at the bottom of the mushroom. (Not a very attractive picture, but I wanted to show exactly what "pooling" looks like.)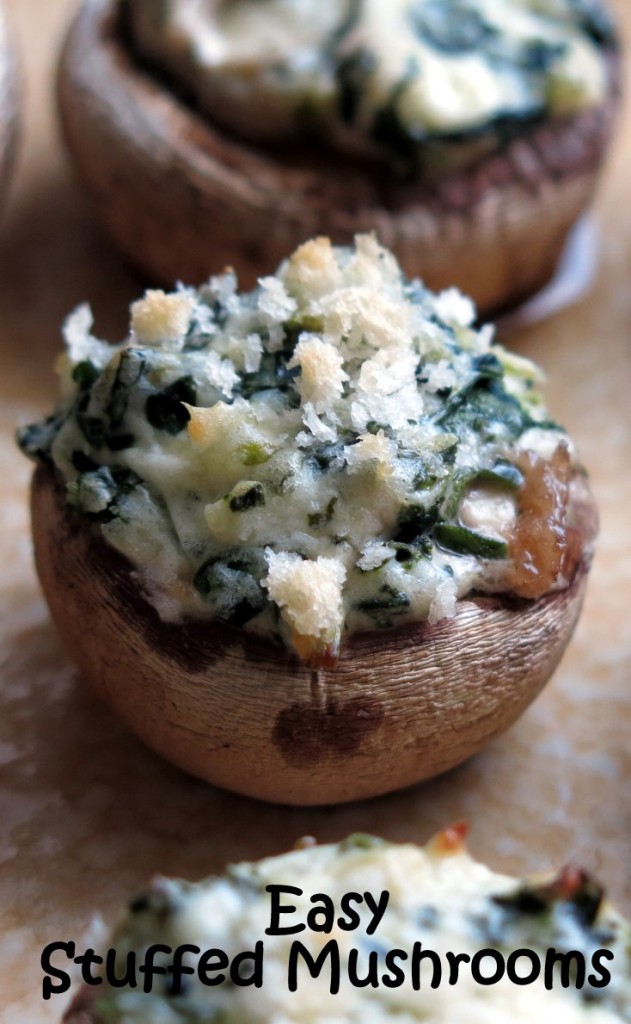 Eat 'em while they're hot!
By my calculations, you can eat an 8 ounce package of mushrooms with all of the creamy filling for 7 points. However, unless you are all alone, it will never happen. You might get half of them!
Say you're planning to double or triple this easy stuffed mushrooms recipe for a party or you don't have 5 minutes to prepare the cream cheese mixture…you can make up the filling ahead of time and store it in the refrigerator.
You can pop out the stems of the mushroom too. Don't clean or fill the mushrooms more than an hour or two ahead of time.
Change up the cream cheese mixture in these easy stuffed mushrooms depending upon what you have in the fridge. A little extra crab or shrimp? Bacon? Fresh herbs? The variations are endless!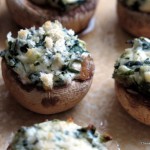 Easy Stuffed Mushrooms
Make these easy stuffed mushrooms with cream cheese and spinach in under 30 minutes. A perfect appetizer for a party or making every day special.
Ingredients
8

ounces

white mushrooms

1/3

cup

whipped cream cheese

1

Tablespoon

Parmesan cheese

1/4

teaspoon

Jane's Krazy Mixed-Up Salt or garlic salt

2

Tablespoons

chopped spinach

pressed dry

1

Tablespoon

Panko breadcrumbs
Instructions
Preheat oven to 350 degrees F.

Pop out the stem of the mushroom, leaving the cap. Reserve stems for another use or discard.

Brush off any dirt on the mushrooms with a damp paper towel.

Mix cream cheese, Parmesan cheese, salt and chopped spinach in a bowl.

Fill the opening in each mushroom with the cream cheese mixture.

Lightly sprinkle Panko breadcrumbs on top of the cream cheese mixture.

Place mushrooms on a baking sheet coated with cooking spray.

Bake for about 15 minutes. Juices will begin to pool at the bottom of the mushrooms and the top will begin to lightly brown.

Remove from oven and serve hot.
Recipe Notes
The serving size will vary based upon the size of the mushrooms in the package purchased. Double or triple quantities for more servings. Cream cheese mixture can be made ahead of time.
NEVER MISS A RECIPE! SUBSCRIBE BY EMAIL & RECEIVE A FREE GIFT!
FOLLOW ME:
FACEBOOK | TWITTER| GOOGLE +| PINTEREST | INSTAGRAM