This post may contain affiliate links. As an Amazon Influencer, I earn from qualifying purchases.
We cook air fryer hard boiled eggs in our Ninja almost every day. The easy process will work in your model too! We'll give you the timing for perfect yolks and all our tips, including how to easily peel them!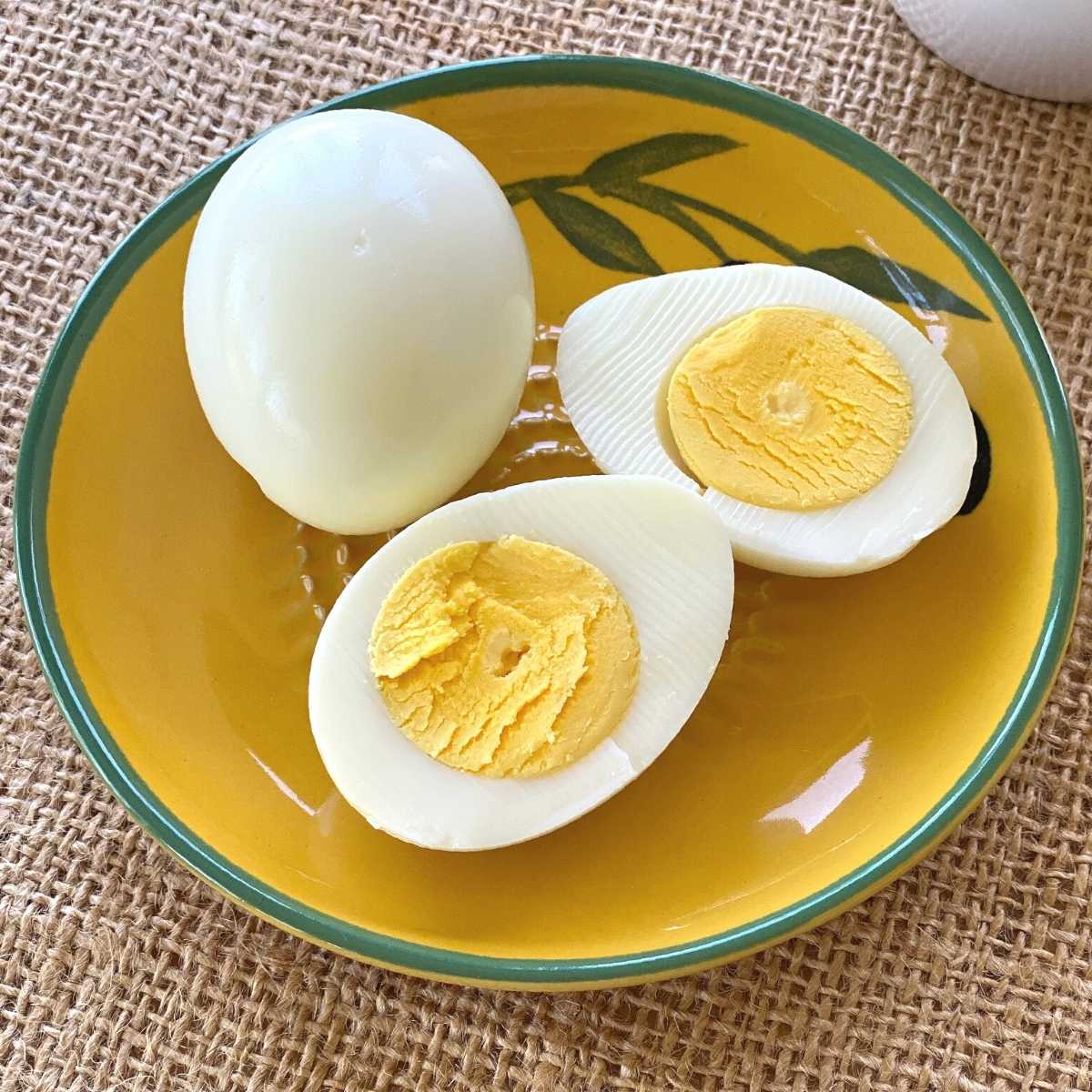 Once you see how simple it is to "boil" eggs in an air fryer, you won't wait for special occasions to make things like deviled eggs and egg salad. They're perfect for meal prep and snacking too.
There's literally no mess or clean-up involved because you won't really boil anything! Just place eggs in the basket, turn it on, submerge them in ice cold water when they're done cooking, and peel (which is easy to do!)
Since I have one with breakfast on most days, I can confidently say the process has been thoroughly vetted!
Jump to:
What you Need
You need just 2 things:
Air fryer - We tested this recipe in a 4 quart Ninja, 5.8 quart Cosori, and the compact Dash air fryers. I've never heard of a model that it doesn't work with. However, always check the manual for your appliance and see the disclaimer below.
Eggs - We cook them cold and straight out of the refrigerator. We've tested with regular, large and extra large chicken eggs.
We affectionately refer to ours as Dark Vader! It's one of the best investments I've ever made.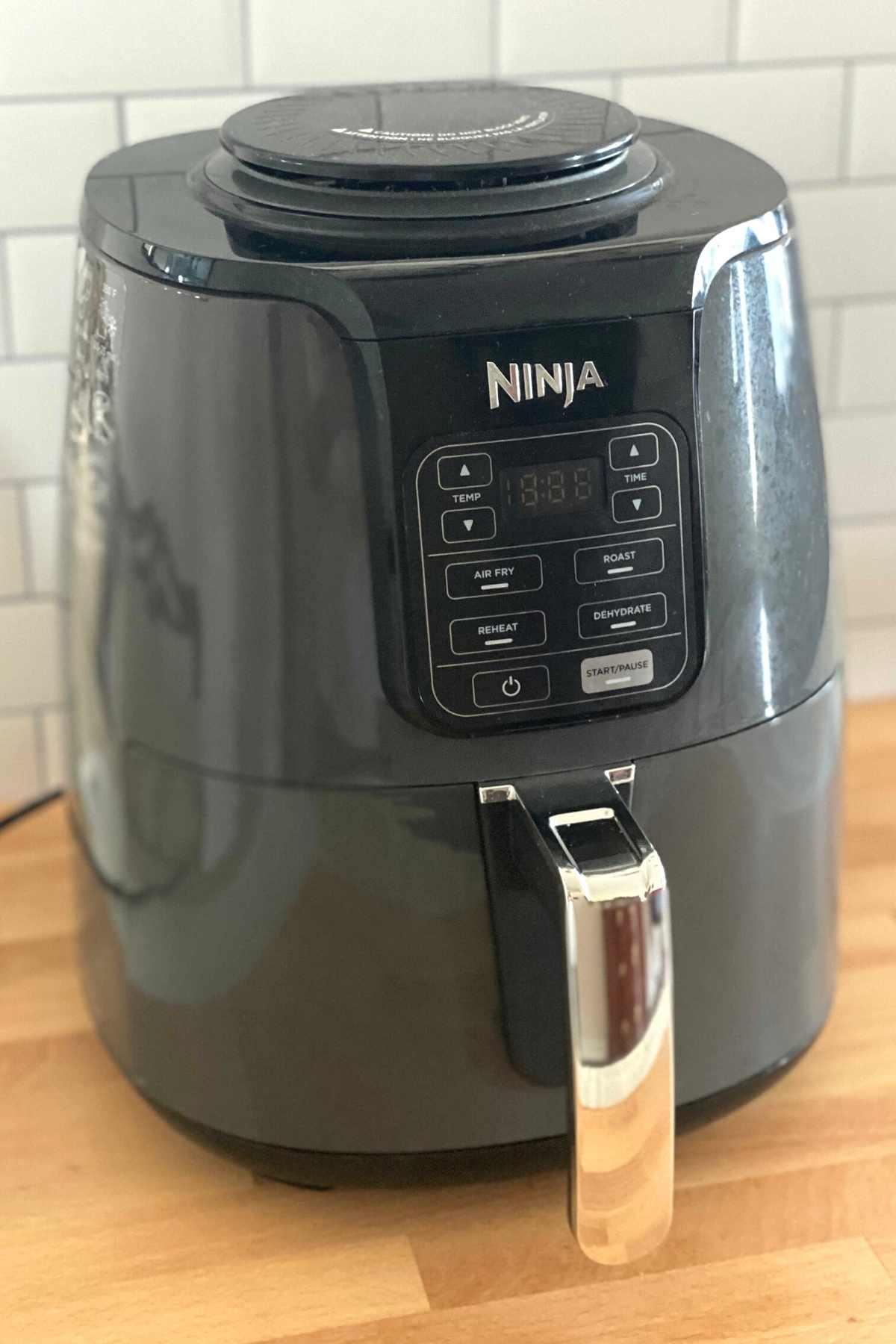 Disclaimer
Always follow the manufacturer instructions for your air fryer model. The results will vary depending upon the wattage for your machine and how it works. Start by cooking only 1 or 2 eggs until you are familiar with the result in your machine. From there, you can adjust the cook time to make larger quantities of perfect hard boiled egg.
Directions with Pictures
Similar to a convection oven, an air fryer circulates intensely hot air around the eggs to cook them. Here's the method: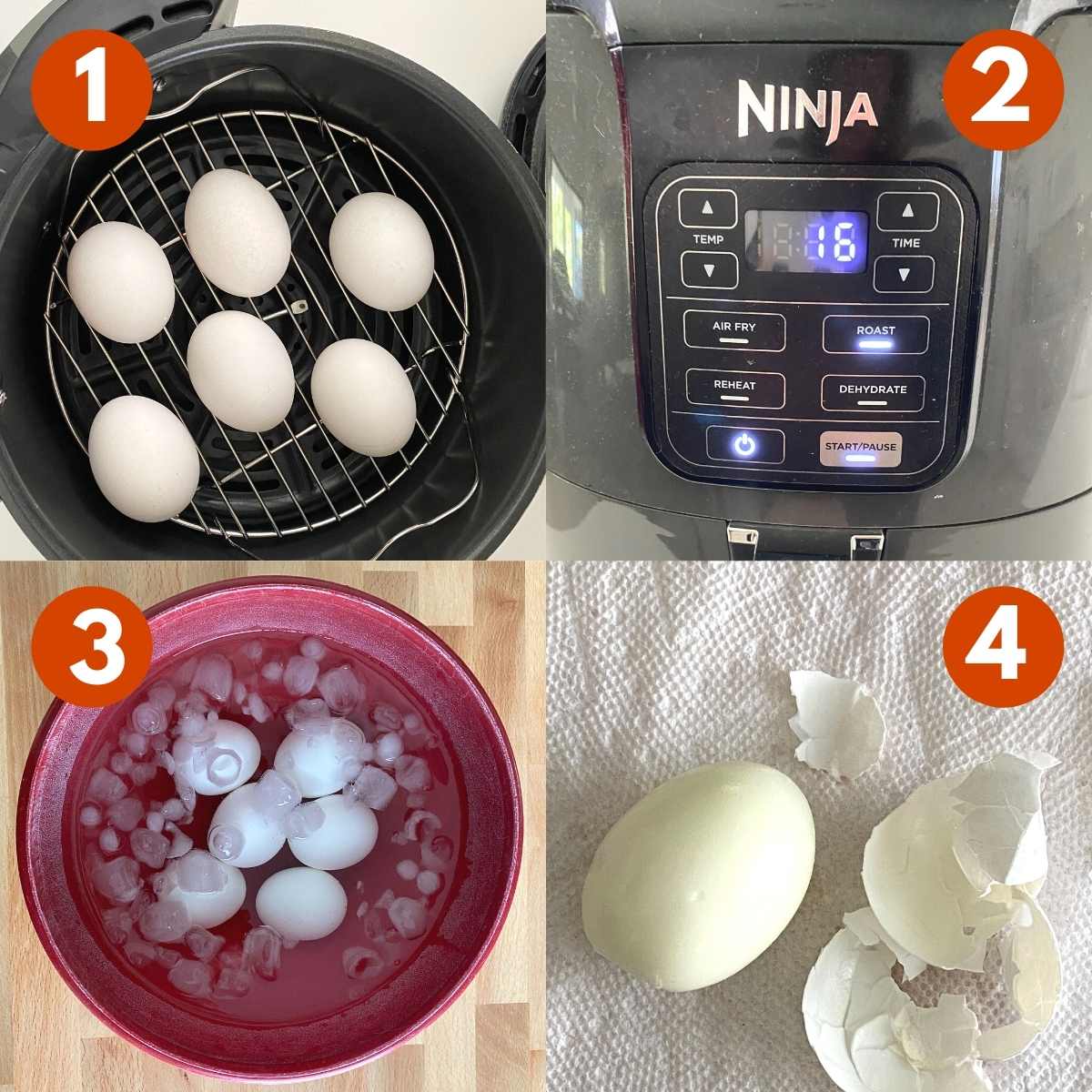 Place cold eggs in the air fryer basket. We use the trivet that comes with the Ninja model so they don't roll around as much. You don't have to elevate them beyond setting them in a basket that does not touch the bottom of the air fryer.
Set the air fryer for 250 °F for 15-17 minutes (more on the timing below.) I cook mine for 16 minutes for a firm center yolk. I go a minute longer for extra large eggs.

Note: Preheating the air fryer is not necessary. If you do, then cut down on the cook time. If you preheated for 2 minutes, then cook for 15 minutes instead of 17.

Using silicone tongs, immediately move the cooked eggs to a bowl filled with ice water. The ice bath stops the cooking process. Allow the eggs to cool for 5 minutes, which is the ideal time for easy peeling. (See tips for peeling below.)
You can peel and eat them immediately or store them in or out of the egg shells, (See storage recommendations below.)
Timing
It may take a little trial an error to achieve the perfect boiled egg based upon the model air fryer you own, wattage, and how you like the yolk.
Soft boiled eggs - 11 to 12 minutes at 250°F.
Medium boiled eggs - 13 to 14 minutes at 250°F.
Hard boiled eggs - 15 to 17 minutes at 250°F.
How to Peel
I've done much pondering as I peel my air fried hard boiled egg each morning, and a little research too!
Fresher eggs are harder to peel because they have a relatively low albumen pH which causes the membrane to cling more tightly to the shell according to the experts in this Wired article. I think of this every time my egg slips right out of the shell!
Cooled eggs peel more easily than warm eggs. Cooling the egg causes the insides to firm up and contract from the shell. I find that a minimum of 5 minutes is needed. The egg should be cool to touch. Sometimes I'm impatient and start too soon and I can confirm that the result is not good!
Gently tap the ends first which will open up a little gap. Gently tap or roll the sides. Most of the time, it will slide right out. Check out the video to see the process in action.
Storage
Eggs should be eaten or moved to the refrigerator within 2 hours of cooking to prevent the growth of bacteria.
Refrigerator: Store in an airtight container for up to a week if unpeeled and up to 5 days if peeled.
Freezer: Only the yolks can be frozen. (The whites will become rubbery.) Store up to 2 months in an airtight container.
FAQ
We had lots of questions when we began making these and I bet you do too! Here are some of them:
Does it matter how many eggs you cook at once?
Depending upon the size of your air fryer, you can do more or must do fewer eggs. There should be room for the air to circulate around the eggs. The cooking time does not need to be adjusted.
Will eggs explode in an air fryer?
They do not explode. However, on occasion the outer shell may crack open during the cooking process. These are still edible.
Why are there brown spots on my egg after it cooks?
Brown spots occur when you need to clean your air fryer!
Why does my egg yolk have a green around the edge?
If the edges of the yolk are green then, the egg has been cooked a little too long. Bump down the time by a minute or two.
Are hard boiled eggs keto?
Hard boiled eggs are low in carbs and high in protein so they are perfect for low-carb and diets. See the estimated nutritional information and ways to use them below.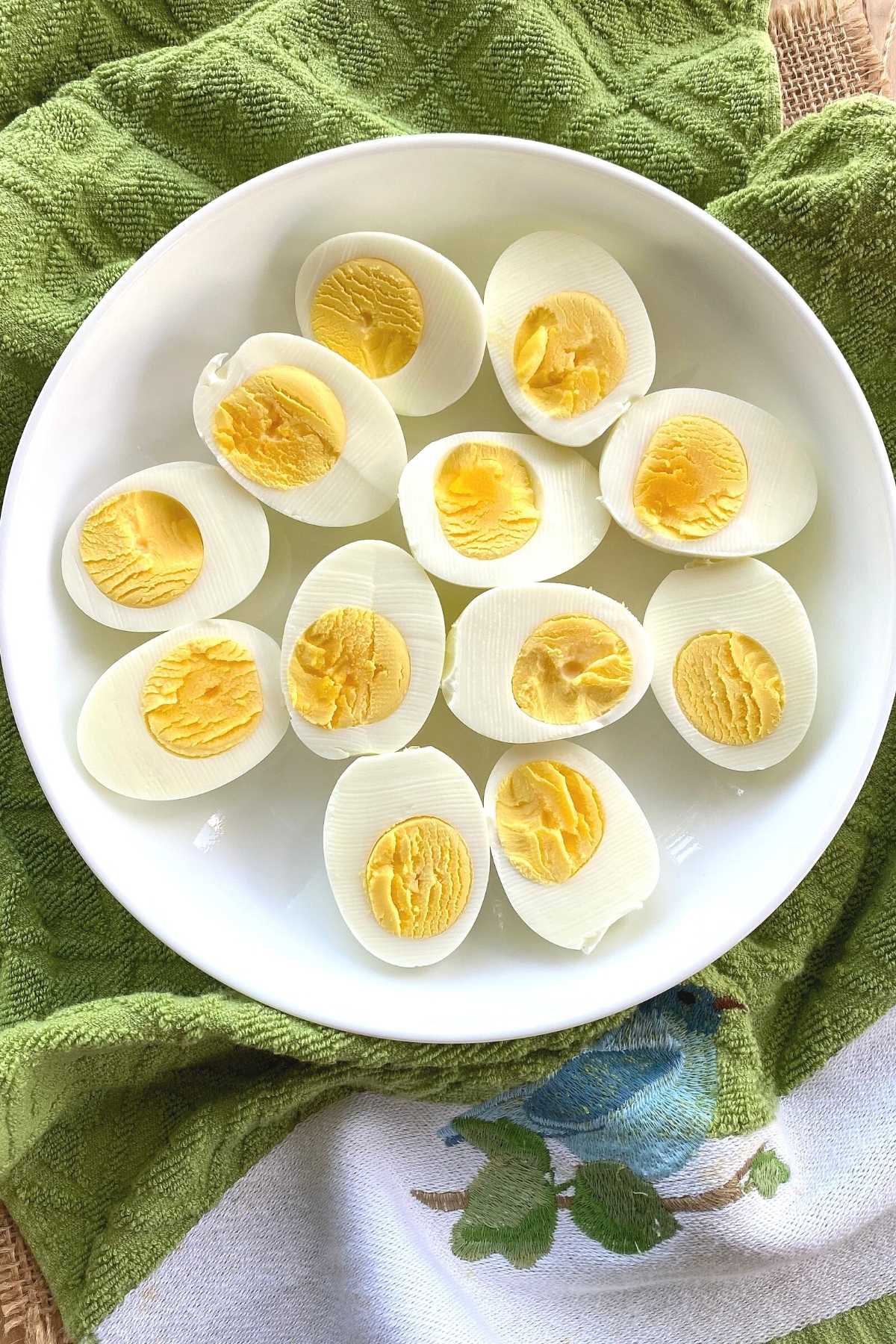 Recipes with Hard Boiled Eggs
Did you make this recipe?
Please leave a rating and tell us how you liked it!
📋 Recipe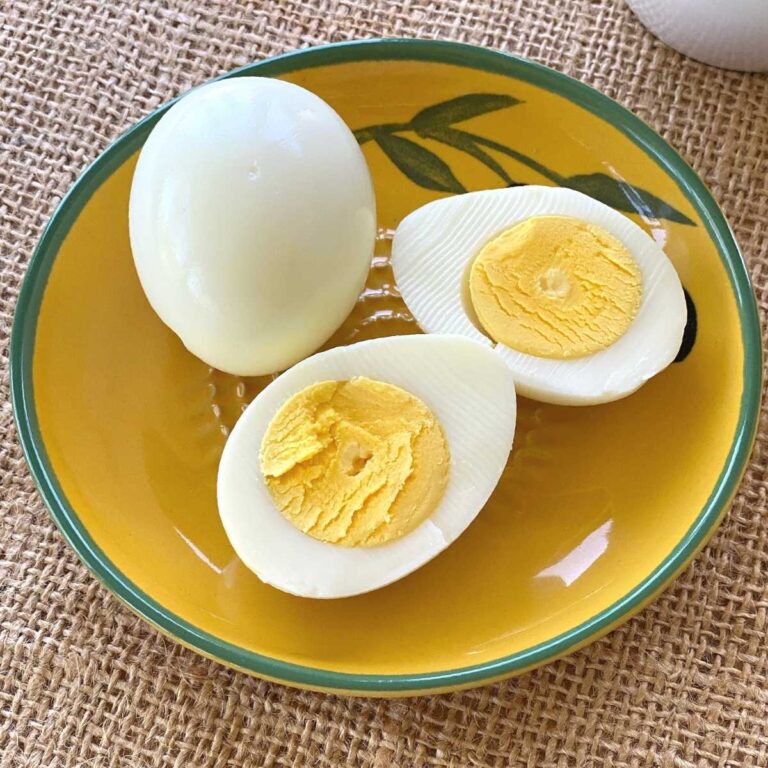 Air Fryer Hard Boiled Eggs
Make air fryer hard boiled eggs in a Ninja or other model. It's easy to do and perfect for snacks, meal prep, deviled eggs, and more.
Email Ingredients + Recipe
Print
Pin
Rate
Ingredients
6

large eggs, refrigerated

or other size chicken egg.
Instructions
Place eggs in the basket of the air fryer. A trivet may be used if available.

Set air fryer to 250 °F and cook for length of time to achieve desired yolk:

Soft boiled eggs - 11 to 12 minutes at 250°F.Medium boiled eggs - 13 to 14 minutes at 250°F.Hard boiled eggs - 15 to 17 minutes at 250°F.

When finished cooking, immediately submerge in a bowl of ice water for at least 5 minutes or until cool to touch.

Remove from water and pat dry. Peel or store in the refrigerator (peeled or unpeeled) within 2 hours of cooking.
Notes
You'll find more expert tips and step-by-step pictures above! Note: Always follow the manufacturer instructions for your air fryer model. The results will vary depending upon the wattage for your machine and how it works. Start by cooking only 1 or 2 eggs until you are familiar with the result in your machine. From there, you can adjust the cook time to make larger quantities of perfect hard boiled egg. Storage: Eggs should be eaten or moved to the refrigerator within 2 hours of cooking to prevent the growth of bacteria. Store in an airtight container in the refrigerator for up to a week if unpeeled and up to 5 days if peeled. Web Story: https://www.dinner-mom.com/web-stories/https-www-dinner-mom-com-air-fryer-hard-boiled-eggs-story/
Grab 5 Low-Carb Sauces
and get more easy, healthy recipes! JOIN HERE
Nutrition
Calories:
63
kcal
|
Carbohydrates:
1
g
|
Protein:
6
g
|
Fat:
4
g
|
Saturated Fat:
1
g
|
Trans Fat:
1
g
|
Cholesterol:
164
mg
|
Sodium:
62
mg
|
Potassium:
61
mg
|
Sugar:
1
g
|
Vitamin A:
238
IU
|
Calcium:
25
mg
|
Iron:
1
mg
Nutritional and Food Safety Disclaimer