We've created a Healthy Weekly Dinner Plan using Core Recipes that you can use again and again. It's family-friendly and many recipes can be made in batches so mealtime is even easier the next week.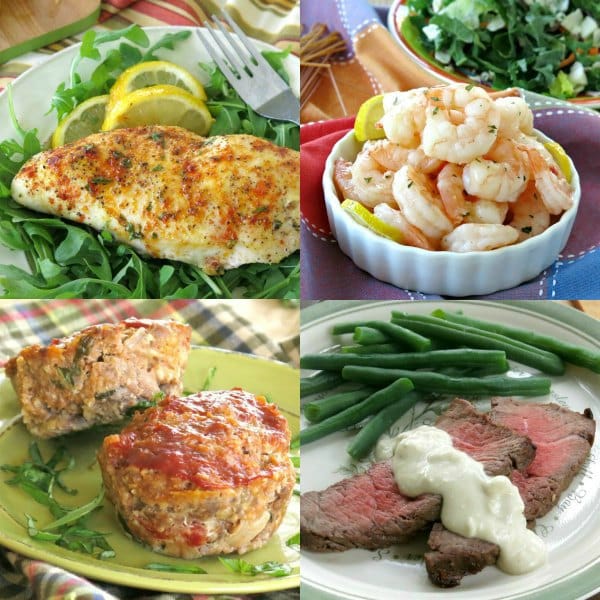 Wouldn't you love to have just one week of AMAZING dinners planned out?
Do it thoughtfully so you have a framework to use week after week. Tweak the plan and add new recipes along the way. 
We call this putting Dinner on Autopilot and it relies on the concept of "Core Recipes."
Quick Links to Sections
What is a Core Recipe?
Examples of Core Recipes
Sample Healthy Weekly Dinner Plan
What is a Core Recipe?
Core recipes are for the preparation of main ingredients that you use all the time, like chicken, beef, fish or beans. Find core recipes you love and double or triple them each time you make them.
It takes some of the guesswork out of what to have for dinner.
You don't eat the exact same thing every single week, because you vary the side dishes. Or, you make a completely different dish that incorporates the main protein. (Think cook once, eat twice.)
Even though I'm trying out new recipes and ingredients ALL THE TIME, it's so comforting to have this plan.
Simplifying dinner in this way actually allows MORE freedom to be creative…with side dishes and in selecting and using core recipes. It may even spur your family on to try new things.
In our Healthy Dinners on Autopilot Plan (it's free!), we identify 4 core recipes. Each recipe addresses a different dinner preparation struggle.
You don't have to use the exact same recipes or even the same proteins. And, yes you can definitely have more than 4 core recipes.
The rationale is that most people end up eating the same type of foods each week...so just make those foods healthy and plan on it!
Healthy means something different to everyone. We're striving to follow Clean Eating Guidelines and the guidance in Choose My Plate, eat more vegetables and fruits and use whole grains.
Note: I am NOT a nutritionist and do not have a medical background. We are simply sharing a meal plan that we have found useful at our house and for my family. Consult with your doctor about any special concerns or conditions that you may have.
Core Recipes
Here are 4 fantastic recipes that are easily incorporated into many types of diets including low-carb and gluten-free.
Baked Lemon Pepper Chicken (Cook Once, Eat Twice)
Double or Triple the recipe. Cube or shred leftover chicken and store it in the freezer to make casseroles, rice bowls, tacos and ready to go into any recipe that calls for cooked chicken.
London Broil (Batch Prep and Freeze)
Keep an extra bag of your favorite cut of meat in the freezer...marinating and ready to go on the grill or in the oven.
Gourmet Meatloaf (Batch Prep and Freeze)
Cook lots of these meatloaf muffins and store them in the freezer and dinner will never be more than a few minutes away. These can be made with ground chicken and in the shape of meatballs too!
Chicken Cacciatore (Slow Cooker)
Use this strategy to avoid the 5 p.m. scramble!
Skillet Shrimp (Easy to Defrost)
Stock your freezer with shrimp, fish or thin cuts of meat that defrost quickly. Use this easy preparation for shrimp for make pasta, salads soups, rice bowls and more.
Sample Healthy Weekly Dinner Plan
Here's how you can use these recipes to create a dinner plan. We've included lots of notes so you can customize it. Be sure to print out the Free Printable Weekly Dinner Menu Planner and check out the Step-by-Step Process so you can slot the recipes into the best days for you!
Last, but not least, add fruit to each meal! Some of our favorites are:
Watermelon,
Strawberries dipped in Dark Chocolate
Frozen grapes
Use a Seasonal Produce Guide to select fruits and vegetables that are in season. They'll be fresher and cheaper!
So, what do you think? Drop us a note in the comments.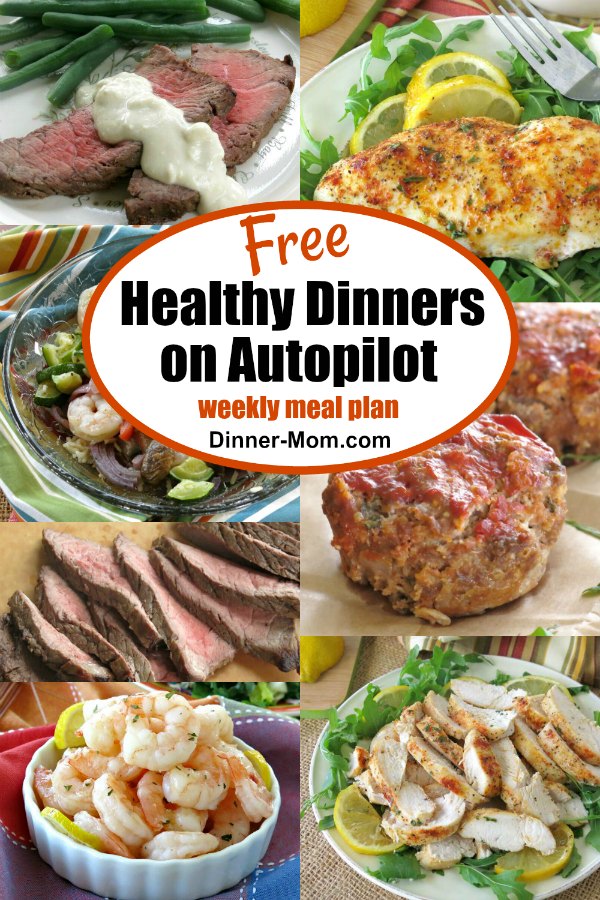 We hope you find this sample healthy weekly dinner plan something you can come back to again and again! 🙂