This post may contain affiliate links. Please read my disclosure.
Make easy low-carb tortilla chips with keto tortilla wraps. This easy, 10-minute recipe is perfect for dips, salsas, and nachos!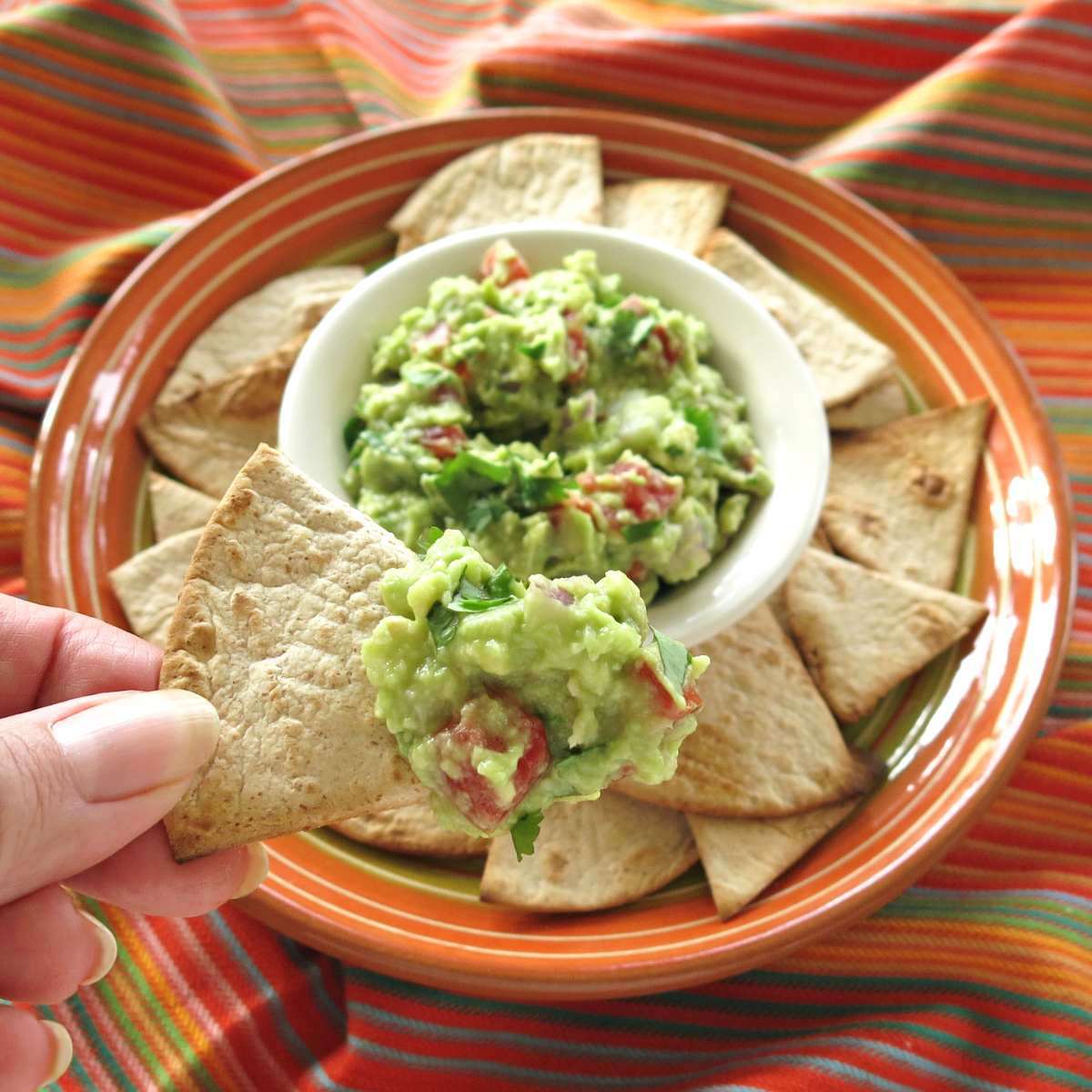 Who can resist a bowl of 4-ingredient guacamole and chips? Not me! And, although there are many low-carb ways to eat guacamole, sometimes you just crave this tried and true combination.
So, when keto-friendly flour tortilla wraps entered the market, I was thrilled! Favorite Mexican dishes, like burrito pie, instantly became low-carb friendly. And 3-ingredient, DIY keto tortilla chips were added to my list of healthy alternatives to potato chips.
Luckily, crunchy homemade tortilla chips are easy to bake in the oven (or cook in an air fryer), which is why I make them all the time.
These days you can find low-carb wraps perfect for the keto diet everywhere. And the varieties are endless, from high-protein and whole wheat to ones made with almond flour and flaxseed. You can dress them up with seasonings or literally enjoy them crisped.
Of course, this process works with ANY type of tortilla, including gluten-free and regular ones. Case in point: we were making cinnamon chips for fruit salsa long before this low-carb option was available.
Jump to:
Ingredients
Here's what you'll need to make low-carb tortilla chips: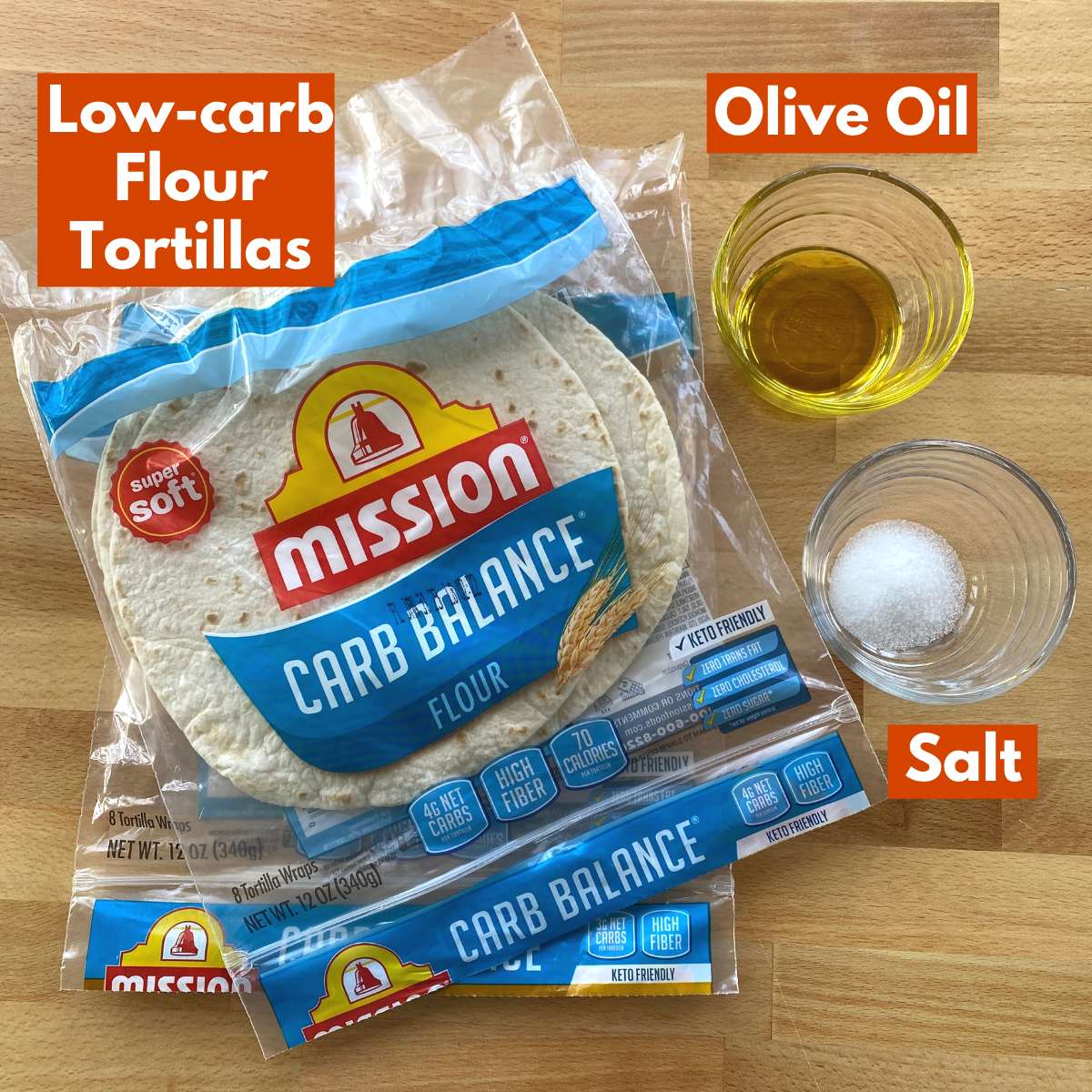 Low-carb flour tortillas or wraps - There are many brands on the market. This process has worked with every type we tried. We used whole wheat to make the chips pictured.
Olive Oil is lightly spritzed or brushed on the pan and over the chips. If adding salt or other spices, it's needed so that these ingredients stick. It's optional if you're not adding anything. Avocado oil can be used instead.
Sea Salt is sprinkled over the top. Other spices, such as garlic salt or a taco seasoning blend, can also be added. You'll find more ideas below.
Please see the recipe card at the bottom of this post for the complete list of ingredients with measurements plus recipe instructions.
Directions
Here's how to make oven-baked low-carb tortilla chips. This method is perfect when you need lots of chips!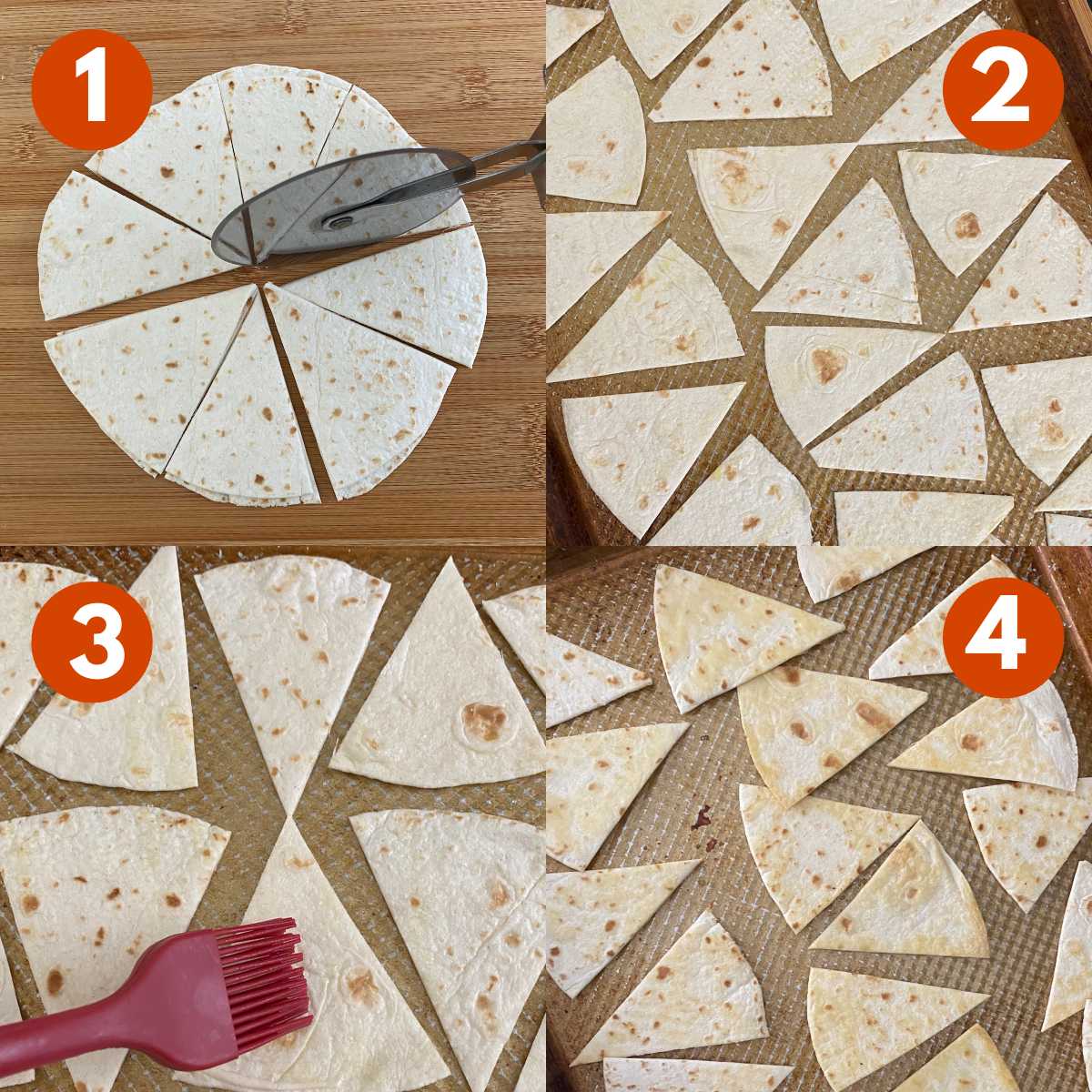 Cut low-carb tortillas into eight wedges with a pizza cutter, scissors, or knife.
Spritz a sheet pan with olive oil and spread the pieces into a single layer. Don't overcrowd the pan. Three 7-inch tortillas fit easily on a standard sheet pan.
Lightly brush the top with olive oil and sprinkle seasonings over the top.
Bake the chips in the oven until they're the desired crispiness, flipping halfway through. It usually takes about 7-8 minutes. Carefully watch the first few times until you get a feel for how they do in your oven. They will firm a little more, especially if you leave them on the pan to cool.
Tip: If desired, line the cookie sheet with a piece of parchment paper. I did not do this because I like the way an oiled pan turns the chips golden brown.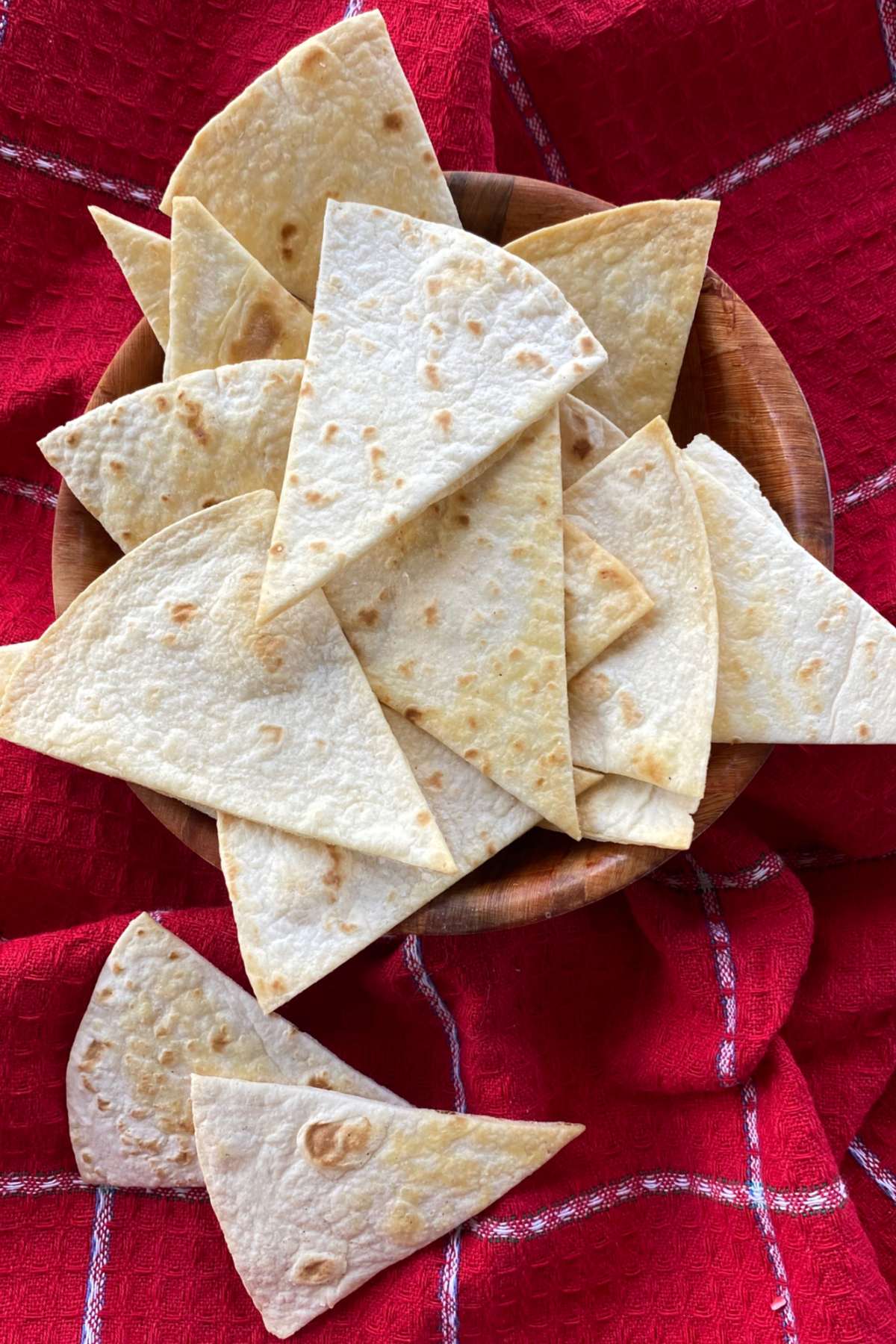 Variations
Think about all the different varieties that exist for regular tortilla chips. All of these flavor combinations are possible with keto tortilla chips too!
If the tortilla is already flavored, you just need to bake them for a deliciously flavored chip. Mission makes sun-dried tomato and spinach herb-flavored keto-friendly tortillas.
Otherwise, create your own flavored low carb chips with your favorite seasonings.
Chili lime - Vigorously mix olive oil with lime juice in a 3 to 2 ratio. Brush the chips with the mixture. Then sprinkle with chili powder, paprika, garlic powder, and cayenne pepper.
Taco flavored - Brush with olive oil and sprinkle taco seasoning over the top.
Ranch dressing - Use neutral-flavored flour tortillas, brush with oil, and sprinkle with ranch seasoning.
What to Serve With Low-Carb Tortilla Chips
Pair low-carb chips with one of these low-carb options:
Guacamole - Pair with One Avocado Guacamole for a delicious snack.
Dips - such as warm artichoke dip and queso.
Salsa
Make Keto Nachos - dress them up with low-carb toppings like chicken, cheese, sour cream, and veggies.
Crush chips and use them as a topping for soups and salads.
Storage
Store low-carb chips at room temperature for 1-2 days in an airtight container or bag.
FAQ
Why aren't my chips crispy?
Homemade chips won't get crispy if they are too saturated with oil or they are not cooked long enough.
How do you double the recipe?
If a larger quantity is needed, use two sheet pans. Place the racks close together in the middle of the oven and stagger the pans so that one pan is pushed to the far left and the other moved to the far right.
Can you eat tortilla chips on a low-carb diet?
Most tortilla chips are high in carbs and not recommended for a low-carb diet. However, chips made from a low-carb flour tortilla are also high in fiber, so the net carb count is lower, making them ideal for a carb-conscious diet.
More Low-Carb Snacks
Did you make this recipe?
Please leave a rating and tell us how you liked it!
📋 Recipe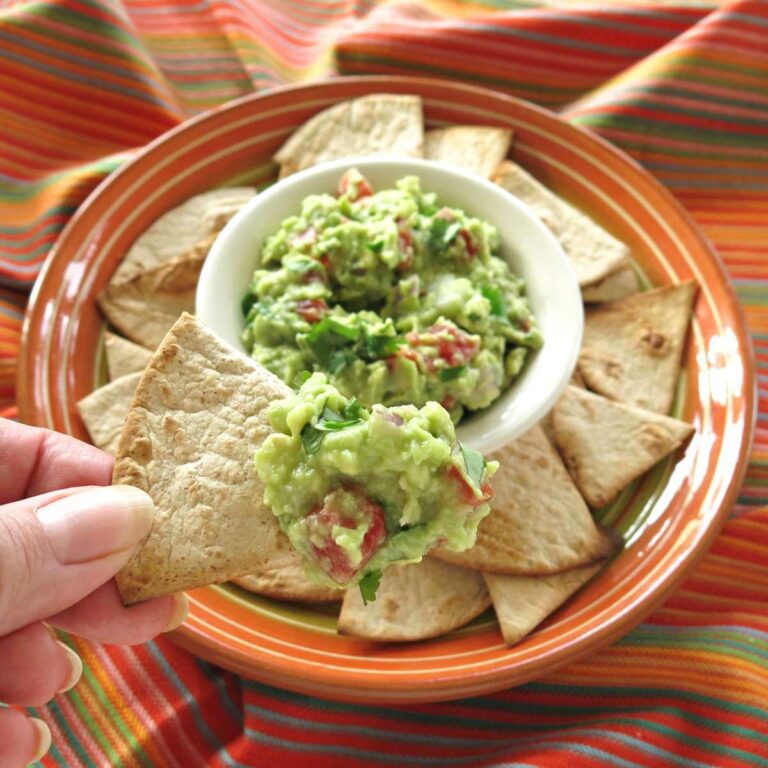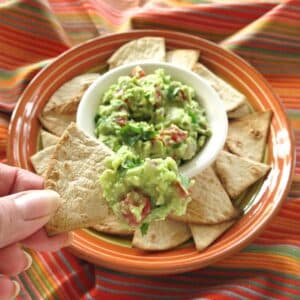 Low-Carb Tortilla Chips Recipe
Make easy low-carb tortilla chips with keto tortilla wraps. This easy, 10-minute recipe is perfect for dips, salsas, and nachos!
Email Ingredients + Recipe
Print
Pin
Rate
Ingredients
3

Low-carb tortilla wraps (7-inch)

Any size or brand can be used

2

teaspoons

olive oil

Sea salt to taste
Instructions
Preheat the oven to 375°F.

Cut each tortilla into eight wedges using a pizza cutter, scissors, or a knife.

Place the tortilla wedges in a single layer on a baking sheet lightly spritzed with olive oil.

Lightly brush (or spritz) the tops with olive oil and sprinkle salt (or other seasonings) on top.

Bake for 7-8 minutes, flipping halfway through until they reach the desired crispiness. They will firm a little more once you take them out, especially if you leave them on the pan to cool.
Notes
See more expert tips and step by step photos above! Storage: Store low-carb chips at room temperature for 1-2 days in an airtight container or bag.
Grab 5 Low-Carb Sauces
and get more easy, healthy recipes! JOIN HERE
Nutrition
Calories:
140
kcal
|
Carbohydrates:
29
g
|
Protein:
8
g
|
Fat:
9
g
|
Saturated Fat:
2
g
|
Polyunsaturated Fat:
3
g
|
Monounsaturated Fat:
3
g
|
Sodium:
480
mg
|
Potassium:
0.04
mg
|
Fiber:
23
g
|
Calcium:
0.04
mg
|
Iron:
0.02
mg
Nutritional and Food Safety Disclaimer